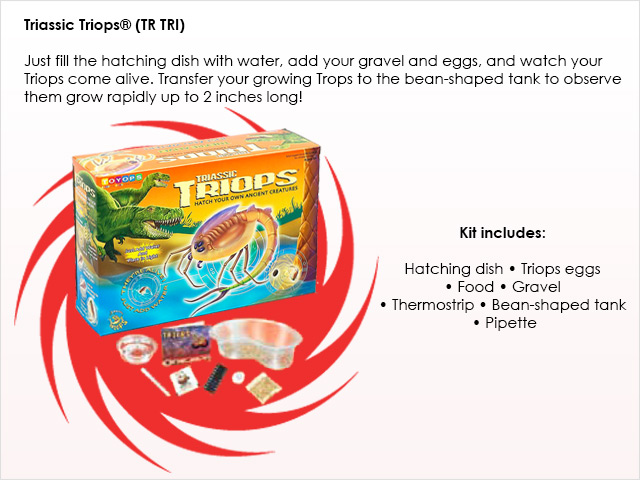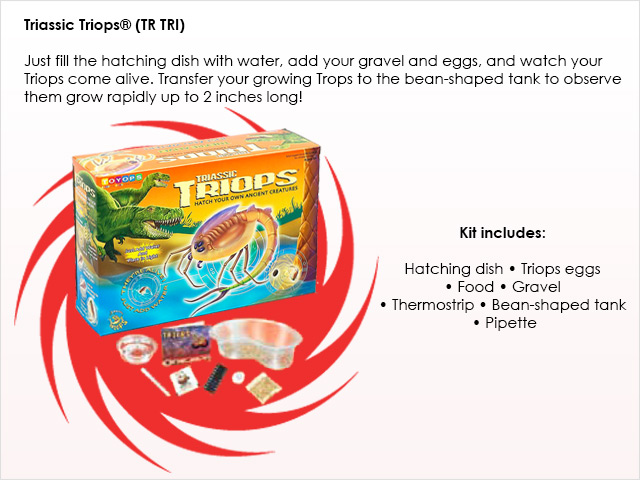 Review Fix chats with Dr. Eugen Hull, founder and creator of ToyOps who discusses his unique kit that will bring out the "Jurassic World" in all of us.
Review Fix: What inspired these kits?
Dr. Eugen Hull: Great question.  I have consulted in education and attended a NSTA show in Kansas City.  I demonstrated a large Triops named George in a jar.  Very primitive display.  I was surrounded by giants like Scholastic, NASCO, ETA and other giant publishers showing thousands of educational kits and books.  Felt poor as my little booth had a table and no art, just George.  At this show the teachers were able to bring their students to see all the exhibits.  One came by and said what a cool thing.  I explained what it was and he was mesmerized by this odd critter he never heard of.  Next he left the booth but told every kid in the show that they had to go see George.  Within an hour I had a line of children extending 300 feet.  Not one girl all boys.  For the entire show I had lines and even repeats of boys just calmly waiting to hold the jar and study this curious "prehistoric" creature that time forgot.  One little girl yelled over that it was disgusting and walked away.  Only when all boys were gone she came over to me and apologized and said George is truly cool but she didn't want the boys to think she agreed.  Funny, shortly after I had a truly coed line.   The common comment of "Mr. Ya need to do this"   So I did it.  Triops like the killifish produce dormant eggs that know the secret of suspended animation, which I study, so the understanding of diapauses made the venture not so challenging for me.
Review Fix: What are some of the things they can do with them?
Hull: Triops motivate children and adults alike to ask questions. In the end they learn that diapause (the ability to remain dormant) is very common and found in insects, deer, marsupials, chickens, fish and more.  When they learn how common it is it opens up the door for knowledge.  Science made interesting is the way to capture the minds of  children.  When they ask questions you know they are wanting to learn which makes education easy.
Review Fix: Who do you think will enjoy them the most?
Hull: Kids are fascinated by their locomotion, "aquabatics" feeding behavior, swimming upside down digging in sand and constant motion.  Even special Education children who had little interest in science came to schools early to check on their creations.  They came every day and watched them grow and grow.
Review Fix: What makes them special?
Hull: The ability to put them in a box and come back next year to bring them back to life.  They appear prehistoric in morphology, and are one of the fastest growing critters on the planet.  From a 0.1 mm egg to a 5-7 cm creature can be had in a few weeks in nature and within 3 -4 in captivity.
Review Fix: Bottom Line, why should parents pick them up for their kids?
Hull: As more and more children drift towards APPS and lose the hands on activities that have proven to be the most effective way to educate, it is refreshing that they still express interest in one of the oldest hobbies in the world with a slight new wave twist.  Bringing back to life a dormant "living dinosaur"   that survived 2 missions in space including 6 months on the space station…exposed to no gravity and freezing temperatures…  Pretty remarkable critter and brain stimulating..   And besides most say they are disgusting and cute at the same time.  If you don't grow them you never will see them as they are found everywhere, but not anywhere easy to go!