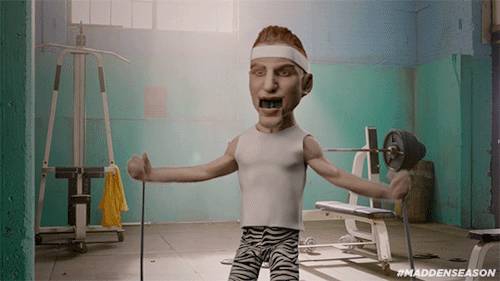 "Robot Chicken" creator, Stoopid Buddy Studios, and EA Sports have teamed up to develop a whacky "Madden 16"-inspired Web series.
"The Madden 16," which will run throughout the NFL season, is a cool companion to the video game franchise. Right off the bat it's easy to see Stoopid Buddy's over-the-top flavor embedded in the episodes. It's not for everyone; the random, nonsensical and occasionally preposterous nature of the series needs to be taken with a grain of salt.
But that's what has worked for this, er, stoodio, for years, and no one should expect otherwise.
Now, that's not saying the series is any good, because quite frankly, it isn't; however, it's a bit too early to tell for sure. Episodes release in short, normally less than 30-second, bursts, and there are only a few episodes currently available. Not every punchline hits its mark, and the fanboy-ism shines a little too bright, but there's a decent formula here and some strong talent behind it.
Several celebrities play puppet versions of themselves in "The Madden 16," ranging from Dave Franco and April Jeanette "AJ" Brooks to Odell Beckham Jr. and Russell Westbrook. It's a friggin' sports nerds fantasy. And oh, there's also a robotic teddy bear that wears the laser eye-patch thing seen on the chicken from "Robot Chicken," and a t-rex — yep, of course there's a t-rex.
Having that much talent is great, but what the series needs right now is to find a heart. Each episode so far just feels empty, and a couple of them can get pretty annoying when it comes to trying to sell the game. It won't be a shocker if some people mistake an episode for a crappy "Madden" commercial.
Like this one:
Or this one:
"But there's one thing that's no joke, and that's playing as much 'Madden' as possible every day" — seriously, guys?
"The Madden 16" is a project that could potentially take off once it's found its footing. It's something to look forward to as the NFL season progresses, but right now it's just an empty vessel. The pieces are in line: a stellar cast, hilarious penmen and an exciting partnership. All it needs to do now is step its game up.