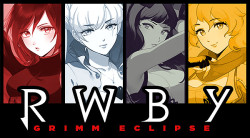 Review Fix chats with Michael P. Hadwin, Director of Game Development at Rooster Teeth Games, who discusses the Steam release of "RWBY: Grimm Eclipse." Based on the cult favorite anime, Hadwin discusses the development process as well as the possibility of a console release.
Review Fix: What was the development process like?
Michael P. Hadwin: We're a small team of five (doing the workload of 15) so daily communication is critical to our success. We follow an Agile production method working in 2 week sprints toward a specific goal. Each team member creates tasks for their portion of the goal that we display on a team Agile/Kanban board. Then we work towards finishing all those tasks during the two-week sprint. Sometimes we have scheduled meetings to discuss a specific topic/feature, but most of our communication happens organically. For example, someone might propose a design challenge/question to the team and then we'll all discuss it until we think we've found a solution. Then we split off into our various disciplines (art/code/design) to implement the feature. Rinse and repeat that until all your features are done and you're ready to ship it.
Review Fix: How have the plays played a role in the creation of this game?
Hadwin: We're doing our best to keep our community involved as we build the game. Leading up to our Early Access release on Steam, we've had several online beta-tests as well as public demos at our annual gaming event, RTX. We've conducted surveys after each beta-test and listened to direct fan feedback at RTX. Rooster Teeth has such a great community of dedicated fans who are always willing to help with feedback and ideas. We seriously have the best community in the entire universe and I'm happy to be a part of it.
Review Fix: What do you think makes it special?
Hadwin: RWBY:GE is particularly special for Rooster Teeth as it's the first game we've developed entirely in-house. And it's even more special that the fans are loving it. Gets me all warm and fuzzy.
Review Fix: What games does this one draw its inspiration from?
Hadwin: Our combat was heavily inspired by hack-and-slash, brawler games such as Dynasty Warriors, Devil May Cry, and Castle Crashers. Our 4-player co-op design was inspired by Left 4 Dead's "horde mode" missions with light storytelling and linear map progression. We also added a dash of character micro-progression similar to DOTA 2, Heroes of the Storm and Smite allowing players to purposely tweak their character's skills in reaction to the current engagements or coming encounters. Weave all those design mechanics together and you have an action-packed, co-op game that offers countless hours of multiplayer replayability!.
Review Fix: How does it feel to have received so much support from the Steam community?
Hadwin: Awesome. We are so excited and humbled by the community's response. It has lifted the team and encouraged us to work even harder as we continue building the game towards final launch.
Review Fix: How do you want this game to be remembered?
Hadwin: As a fun, intense action game that represented the RWBY show well. We sincerely hope it's a game played for many years to come.
Review Fix: Any chance at a console release?
Hadwin: Since our Early Access launch has gone so well, the chance of releasing console versions is looking better every day.
Review Fix: What's next?
Hadwin: It's too early to talk about our future game plans, but rest assured you will see many more titles coming from Rooster Teeth Games. Expect some big announcements as we approach final launch of RWBY: Grimm Eclipse!