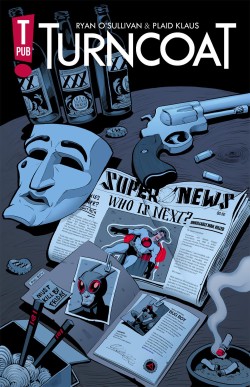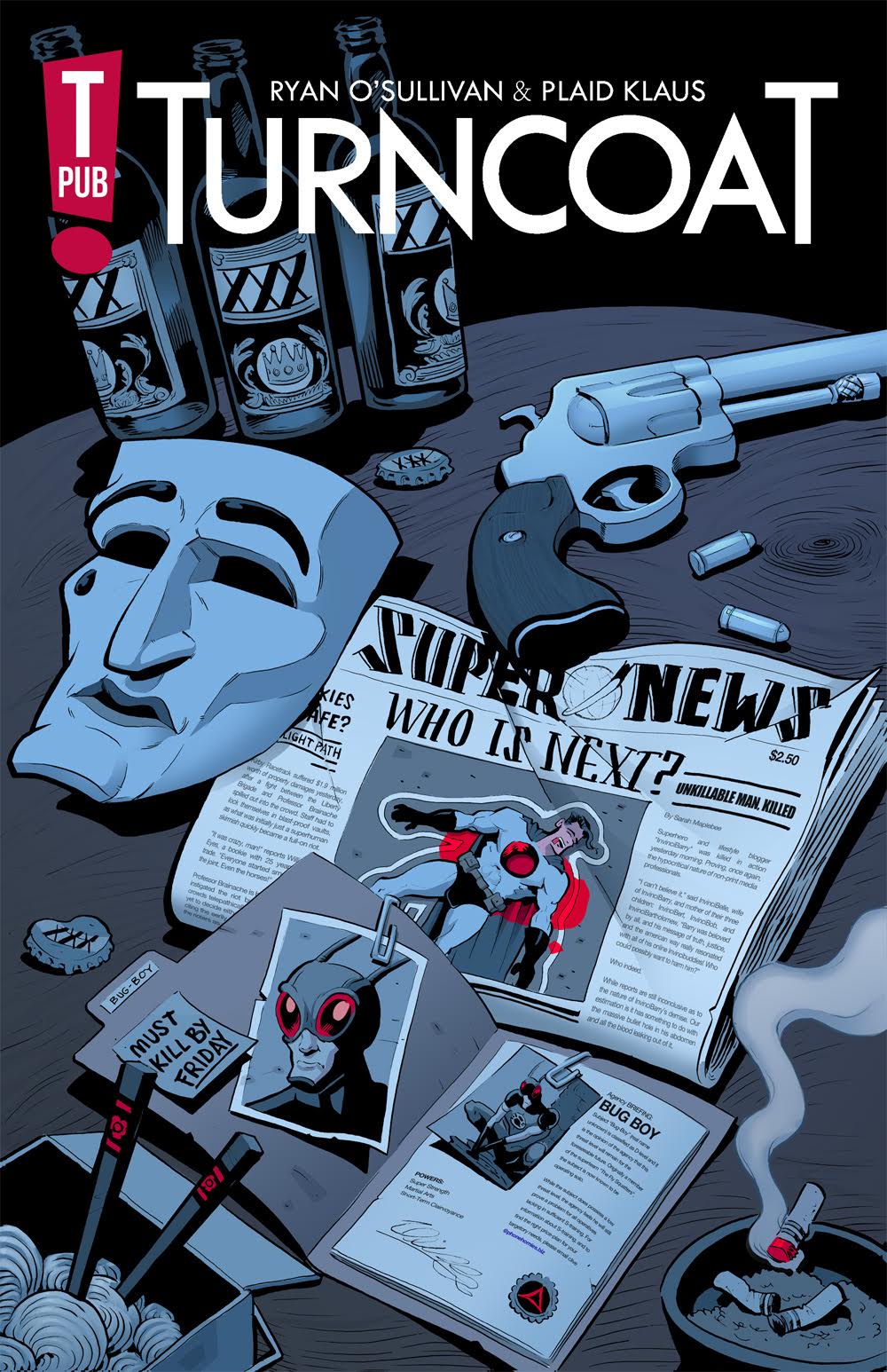 Review Fix chats with "Turncoat" writer Ryan O'Sullivan, who lets us know exactly why we should check out the comic and where it draws its inspiration from.
About Turncoat:

For fans of Deadpool or other irreverent comics, Turncoat is a different type of comic. Turncoat is about a superhero assassin, who's terrible at his job. Unfortunately, his ex-wife is brilliant at it. T
Review Fix: What was the creation of this comic like?
Ryan O'Sullivan: I raised Turncoat's artist, Plaid Klaus, from a young age despite him being older than me, for the sole purpose of creating this comic. He has done a very admirable job. I know a lot of people in comics say that you should pay for art, or offer artists lucrative backend deals, but I don't think either of these things are good really. An artist has to feed themselves, you know!? So I much prefer the idea of a lifetime of basement grooming, with food as the only source of payment. (Or should that be "sauce" of payment? Hahaha. Brilliant. You can tell I'm a writer.)
This comic in particular, though? I think it began as a joke, like I find most stories tend to for me. "Wouldn't it be funny if…" Follow that train of thought, distrust every single thing you think of, and you'll eventually have something worth writing about. Or at the very least you will have put off existential dread for however long it takes you to write the story.
Review Fix: Why is this comic special?
O'Sullivan: It's the first comic I've ever done with Plaid Klaus. We were strangers when we started on it. But now we are bosom buddies. I'm proud of the comic not just because it allowed us to push each other's buttons and discover new sides to ourselves creatively, but because it also found me a new friend.
Review Fix: Who do you think will enjoy it the most?
O'Sullivan: Probably my Mum, definitely not my Dad, and I'm pretty sure my little sister will say she likes it. I keep lending her my comics but I'm pretty sure she takes them just to placate me. Also – I still call her my "little sister", but she's 26 now. Am I supposed to just call her my "sister" now? I don't like that. Doesn't feel right. Anyway, the point is I think two people will definitely like it. Possibly three if you count Klaus.
Review Fix: What did you read as a kid? How did they inspire this comic?
O'Sullivan: My reading is, and has always been, all over the place. But the books that most inspired me as a youth would be Terry Pratchett's Discworld novels, Brian Jacques's Redwall novels, Tolkien's Middle Earth novels, Roald Dahl's short stories, and American superhero comics. Pretty much just a diet of genre stories. The classics came later, in my teens. Along with other things, if you know what I mean… (MMORPGs. Warhammer. Agoraphobia.)
Did the books I read as a kid inspire Turncoat? I'm not so sure. Turncoat was inspired primarily by 1970s/80s British Comedy such as Fawlty Towers and Blackadder, and their chief inspiration – the Commedia Dell'Arte. (Klaus especially dug into this when designing some of the characters.) The superheroes in Turncoat was just a genre hook to trick people into reading it.
Review Fix: How does it feel to be in the top two percent on Top Web Comics?
O'Sullivan: So much better than being one of those top 3% peasants. Although I live every day constantly in bewilderment of the top 1%. Occupy movement be damned.
Review Fix: What was it like to work with Plaid Klaus?
O'Sullivan: He makes me look good. I know every comic writer always says this about the artists they work with, It's very popular at the moment for comic writers to publicly castrate themselves in the court of public appeal through utter deference to artists… but, this time, it's different; Klaus genuinely does make me look good. He's constantly adding in visual metaphors to the pages (something you have to do to achieve any real depth in comics – such is the economy of every single page). I know I keep harping on about it but his panel composition is really really strong – he can take whatever point I'm trying to make and visually represent it perfectly with the arrangement of the components of the panel- helps make my average jokes a lot funnier than they are. (Sadly, he's not here for this interview.)
He's also never ever late with pages. Which is. Yeah. Thank you, Klaus.
Review Fix: What makes the artwork special in this comic?
O'Sullivan: For me it would have to be the contrasting element we get from crossing almost noir-like heavily shadowed inks with very cartoon-like style linework. It reflects the actual tone of the story – Turncoat is a largely farcical story, but it has its darker moments. It's essentially about a man coming to terms with the fact there's no place for him in the world anymore… but its narrative is that of a comedy. Klaus's contrasting art style really helps hammer this concept home.
Review Fix: What did you learn about yourself through this work?
O'Sullivan: I reaffirmed my own sense of writer brilliance, and that my massive ego makes me impossible for an editor to work with without arguments. (Marvel and DC won't read this will they?) I also learned that a script is nothing without an artist prepared to draw it. Seems like an obvious thing to say, but seeing the characters you've carried around in your head laid out on the page is a great, and yet humbling, experience. It made me realize that the artist owns you. And this will never ever change.
Review Fix: What's next?
O'Sullivan: Well we're launching the Kickstarter for a collected edition of Turncoat on February, 29 so that's going to keep me busy for a good few months. Hopefully, it'll do well enough to let us carry on with a second volume. I've also got a few other things in the pipeline, but for more info on that, you'll have to follow me on twitter at @ryanosullivan. Nothing I can talk about yet.