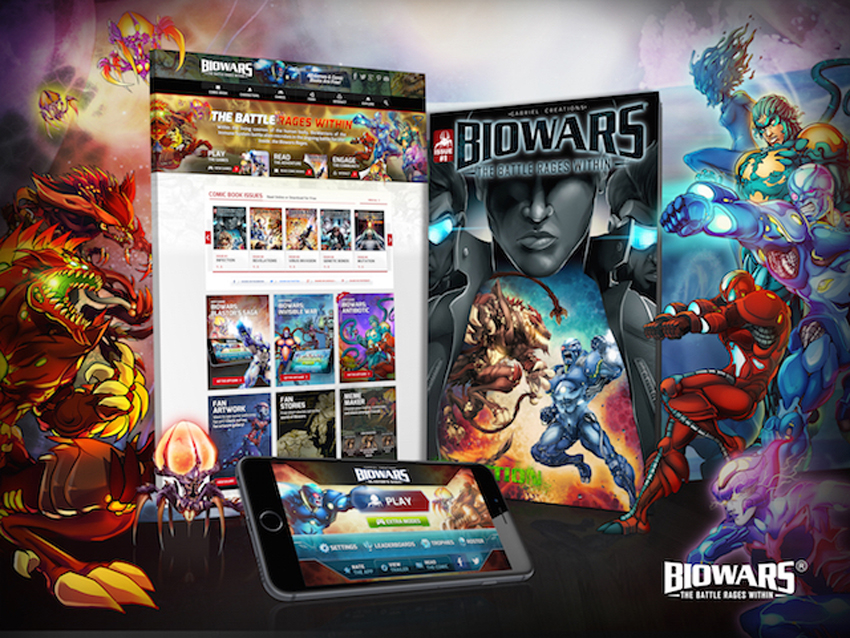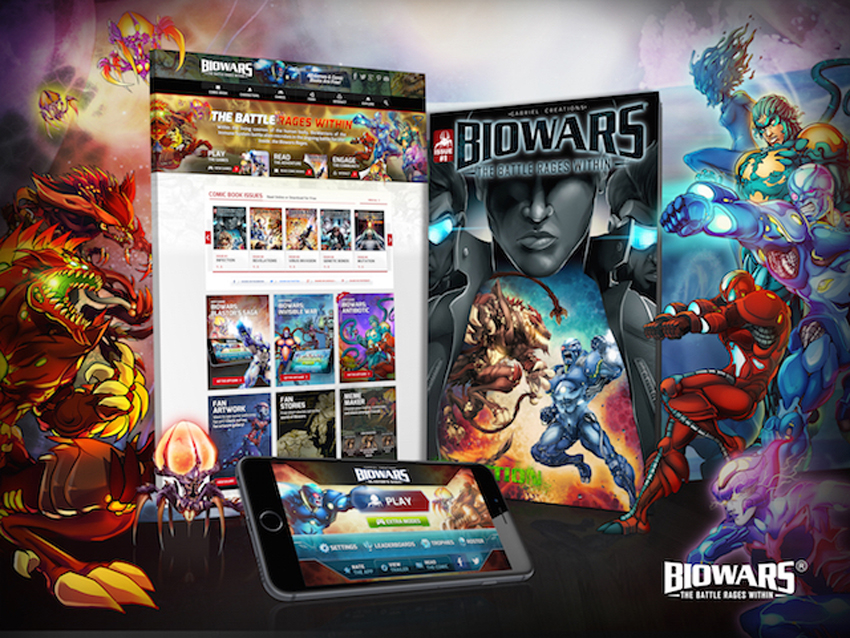 Review Fix chats with Biowars creator Gabe Shaoolian, who discusses the quartet of games the company has released on iOS and Android over the past year and how they tie into the brand's website and comic book series.
Review Fix: For those that haven't played any of the games before, what are they?
Gabe Shaoolian: They are an assortment of adrenalized, arcade-style games. They are all unique in their own way. Here's a summary of each Biowars game that is currently available:
Biowars: Blastor's Saga (available on iTunes and Android)
Transform yourself into the buff B-Cell BioWarrior Blastor and protect the inner realms of mankind, using your Antibody Cannons and cyto-skeletal armor to keep you protected from the onslaught of viral hordes. The game is a slide-scrolling shooter.
Biowars: Invisible War (available on Facebook, iTunes and Android)
Play as the entire team of BioWarriors and rid the human body of invading pathogens over more than 24 levels of extreme terrains and dangerous villains with the help of another BioWarrior by your side. This shooter game also brings in the task of avoiding the terrain by moving higher or lower using the controls.
Biowars: Phagien's Quest (available on iTunes or Android)
Sometimes when "the battle rages on," you're the only one who can do the job. This is certainly the case for Phagien, Macrophage Commander and member of the Protectors of the BioCosmos. It's up to you to take command, jumping, blasting and tentacle-striking your way through gangs of intruders with aggressive savagery
Biowars: Swipe 'N Slash (available on iTunes and Android)
Want to test out your speed, dexterity and hand-eye coordination while cleaning up a microbial threat to the BioCosmos? Then select your favorite BioWarrior hero and slash your way through over 10 levels and 100 missions worthy of a smartphone ninja like yourself. And if you don't seem to be having any luck with a certain type of weapon, merely switch over to another BioWarrior who has the kind of firepower you need.
Review Fix: What do you think makes these games special?

Shaoolian: We noted right from the beginning that we needed to bring the digital comic book to life in a new way, and take these characters from a reader's imagination to their fingertips. Creating an assortment of adrenalized, arcade-style games was the obvious next step for Biowars, and it makes perfect sense when you consider how many comic book fans also play video games. It was an easy transition in so many ways, as both the Biowars characters and the BioCosmos itself translated easily and seamlessly into Facebook and mobile gaming.
Review Fix: What games are they inspired by the most?
Shaoolian: It's very hard to come out with a unique game that's action-based and not have it be like something else. The games I looked at were very complex, whereas the Biowars games are much simpler. For example, Blastor's Saga can be compared to Terminator and the arcade game Galaxy. My hope is for Biowars to give a unique twist in the gaming marketplace.
Review Fix: How have they grown over the last few months?
Shaoolian: Right now, the games are growing organically, meaning we are not currently doing any marketing for them. We're waiting on a few big things, and it's great to see that people are downloading the games and the great impact word of mouth is having.
Review Fix: What kind of feedback have you gotten from the community?
Shaoolian: We have received very positive feedback on our current games. People really enjoy the artwork, and the fact that they are free.
Review Fix: What's next for the video game series?
Shaoolian: We brought out these apps as a test trial into the market. What we're looking to do now is much more significant and impactful, which will take a while. Unfortunately, we cannot disclose what it is at the moment, but we're very excited about it.
I would also like to thank everyone who has helped bring Biowars to life, including the Biowars team at Blue Fountain Media. Biowars would not have been possible without them, and their hard work and dedication is very much appreciated.