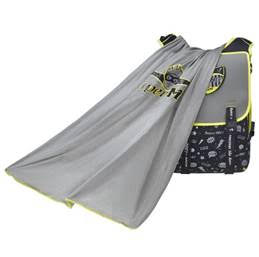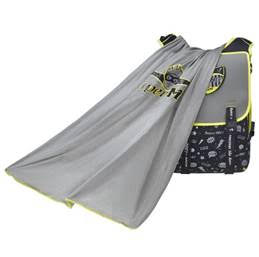 Review Fix chats with SuperME Creator Daphne Kaufer, who discusses the cool superhero-inspired backpack line and her goals for it moving forward.
About SuperME:

The inspiration for SuperME came from her own children- Adam and Anna, who love dressing up and playing superheroes. Daphne wanted to create a line of functional superhero inspired products that are fun to play with and reflected the uniqueness of each child in a meaningful and sustainable way.  The SuperME cape backpack came about when Daphne's son asked her for a superhero backpack. Not wanting to buy him the standard, commercial product that was then only available Daphne made him the first cape backpack – making him his own superhero! This first prototype became the foundation to a whole new line of other unique SuperME products.
Review Fix: What was the development process like for this product?
Daphne Kaufer: The first SuperME cape backpack was a simple version that I made for my son Adam (who was 3.5 at that time) and really wanted a Superhero backpack with real super powers and a cape attached to it! The next day he took his special superhero backpack to preschool and it was clear to me that this is my next big design call and project and that we need to bring this cool invention to production soon so other kids can enjoy it and be empowered!
3 months later I traveled to Taiwan and the first prototype was approved and our first production was on its way! 3.5 years later the cape backpacks are our best seller hit and are sold  in the USA and internationally with many little hero supporters out there including some super cute celebrity fans :)
Review Fix: Will you be doing any other colors in the near future?
Kaufer: Yes!  We try to come up with 3-4 new colors twice a year and have recently added the graffiti printed fabrics which are doing great so far. We are always open to suggestions and new color requests from our hero supporters.
Review Fix: Any idea on if you could eventually work with gaming and comic book companies to do licensed school bags?
Kaufer: Our philosophy is that kids should be their own heroes and should have their own special hero name and symbol – SuperME!  However if the right partner comes we might consider cooperating and extending our line of licensed characters still keeping our identity, looks, and great quality.
Review Fix: How does it feel to work with PACER?
Kaufer: Great! As a Mom with two young kids, I always feel that bullying is something that we should not tolerate and that we should teach our kids to avoid and stand against from a very young  age and that the more that we speak about it and educate the better! PACER has some amazing programs for young kids and their tag line is 'The end of bullying begins with you!' We truly believe in this and support this important cause.
Review Fix: Who do you think will enjoy them the most?
Kaufer: Kids love the  fun dress up aspect and the surprise undercover power aspect of the cape and the mask, parents love the functionality of our products and the fact that they are made from great quality Neoprene, are machine washable and super durable!
Review Fix: What do you think makes them different from other kids school bags?
Kaufer: Everything! It's the fine quality and our detailed patented unique design. We have put thought to each and every stitch on our bags and from what we hear from parents the attention and love that we  put into each and every one of our products is evident and loved by many kids and adults!
Review Fix: Where can people purchase the bags?
Kaufer: We sell our products in over 300 specialty stores around the USA and internationally as well as on our website and on Amazon.   Personalized patch orders are free shipping and should be ordered on our website. 
Review Fix: What's next?
Kaufer: We are launching 2 new and exciting lines the 'Giggly Goggles' swim masks and the' Bonbunz' hair accessories, a preview of the new products are already live on our website.  We are excited to be able to expand the line and look forward to adding more fans and supporters.