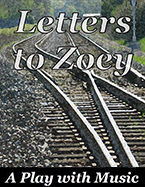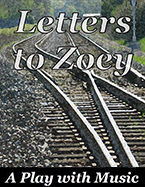 Review Fix chats with playwright Garrett Buhl Robinson who discusses his production at the 2016 Midtown International Theatre Festival, "Letters to Zoe."
About Letters to Zoey:

LETTERS TO ZOEY by Garrett Buhl Robinson, directed by Garrett Buhl Robinson; starring Garrett Buhl Robinson. Take a journey through lyrical stories and foot stomping songs on a wild search for liberation and love. (Solo Show, Musical, Coming of Age) Performance Schedule: Wed 3/23, 6:00pm; Fri 3/25, 8:00pm; Sun 3/27, 2:00pm
Review Fix: What was the inspiration for this project?
Garrett Buhl Robinson: My own life experiences.  In 1992, I jumped on a coal train and hitchhiked around the country for a year.  Although the story is a fictional account, most everything happened.  Nearly all of my stories are drawn directly from my life experiences.
Review Fix: What's your creative process like?
Robinson: The creative process is a very disciplined exercise for me.  I maintain a regimented schedule.  I begin with my morning exercises – simple journal entries.  As I warm up the wiring in my mind the connections between my memories and my free association abilities begin to fire and I circulate this through my motor skills as I articulate my thoughts into text.  Eventually, musical lines arise.
I have long since learned that waiting for inspiration is futile.  I work for inspiration.  The ideas will only arise through engaged activity and they seldom come when one might expect.   I make sure that I am engaged in work as often as possible so when those ideas present themselves, I am ready to record and develop them.
Review Fix: What did you learn about yourself through this process?
Robinson: That I can sing!  I had no idea.  Before performing this musical, I had never sang in public. Last summer, I was singing for a lady in the park and she asked me with astonishment – "Where did you train?"  I said, "The shower."
Review Fix: How does it feel to be a part of something like this?
Robinson: Absolutely thrilling.  I have always had friends in theater and I have always considered their lives continuous performances.  They are always projecting their personalities in the most fantastic ways.  It it sheer bliss to be surrounded by creative people as we all work together to promote the living arts for the public.
Review Fix: What are your ultimate goals for this production and for the future?
Robinson: I have been working to adapt the performance for schools.  Episodes of the musical could be used as a teaching tool to illustrate various literary tropes. Plus, the coming of age story teaches life lessons as an individual struggles through a rite of passage that would be beneficial for students.
Review Fix: What do you think your audiences will enjoy the most?
Robinson: The transformation of character.  I love to show how we change through our experiences.  I find life extremely dynamic and I present this through the vitality and passion of the characters I compose.
Review Fix: What's next?
Robinson: Another collection of poems and more theater work.  2016 is going to be a very busy year for me.  But of course, every year is busy.