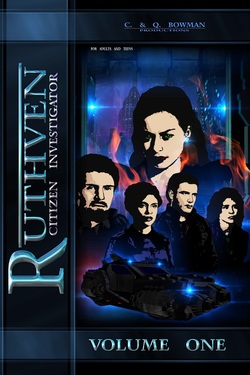 Review Fix chats with "Ruthven: Citizen Investigator" co-creator CQ Bowman, who discusses the creative process behind the book and his goals for the series moving forward.
About Ruthven: Citizen Investigator:
In the back alleys of a futuristic City-State, a young waitress finds herself thrust into the hands of an insidious gang. James Ruthven, a citizen investigator, thwarts her murder and inadvertently stumbles upon a plot to overthrow the City-State. But with the clock ticking, can Ruthven prevent the putsch from succeeding? Or is it already too late?    
For More on The Series, Click Here. 
Review Fix: What inspired the creation of this comic?
CQ Bowman: Basically, what started it was that we were dissatisfied with most of the comic books we had seen. The entertainment value was really low to us, and they just didn't keep us engaged long enough to continue reading them. We found that we didn't care anything about the storyline or the characters, in most of them.
From cover to cover they reflected hopelessness and horrible, unrelenting despair in pukey green or blue colors.
For us, we didn't need, nor want that in "entertainment."   
Additionally, we found that many of the storylines were not well thought out, were convoluted with no point to them, and had massive plot holes, which convinced us that the creators perhaps were rushed to meet a deadline, and left off cohesion of story to the wind in an effort to meet the deadline.
The quality of the art is routinely inconsistent too throughout many comics.  And to top that off, there are flat out just too many angry super hero characters, with chips on their shoulders. 
We challenged ourselves to quit complaining about it, and try to develop a series that we ourselves would enjoy.
We wanted characters that are multi-dimensional, each with varying attributes, as all humans have.
Review Fix: What did you guys read as kids? How did it inspire this comic?
Bowman: We had more enjoyable reads with comic books from the 60s and 70s that we had come across, along with stories such as The Time Machine, Sherlock Holmes and 20,000 Leagues Under the Sea. We also enjoyed reading the accounts of various personages found all throughout the Bible (KJV).  It has been great for revealing the inner thoughts, motivations, and also how the actions of various individuals impacted themselves and others in their day, and beyond, being a running historical account of actions and reactions that are impending on us in the world even to this day.  
No man is an island:
No man is an island,
Entire of itself,
Every man is a piece of the continent,
A part of the main.
If a clod be washed away by the sea,
Europe is the less.
As well as if a promontory were.
As well as if a manor of thy friend's
Or of thine own were:
Any man's death diminishes me,
Because I am involved in mankind,
And therefore never send to know for whom the bell tolls;
It tolls for thee.
We are avid watchers of PBS news programs, major network news and current events programs, and the like.
All of these elements factored into the making of Ruthven: Citizen Investigator.
 Review Fix: What's your creative process like?
Bowman: Initially, it is a very intense process of throwing out a lot of ideas, possible scenarios, and a lot of "what ifs," trying to analyze and craft the story from multiple angles.
During the creative process, we pray before we start constructing each page and the inspiration we get as a result makes the artwork take on a dimension that far exceeds anything we had planned.
Review Fix: What was it like to work together?
Bowman: It's your typical brainstorming scenarios where various ideas are bounced back and forth, and we question ourselves and research whether a given thing is plausible or not, and also taking the time necessary to reach a consensus.
Review Fix: Who will enjoy this comic the most?
Bowman: People who like great entertainment with high adventure, intrigue, innovative technology, complex character development, those who enjoy stories that take you somewhere in a different way, and those who want to unwind with a satisfying read.
Review Fix: Bottom Line, why should someone read "Ruthven: Citizen Investigator"?
Bowman: Ruthven: Citizen Investigator is a dramatic move away from the common comic book or graphic novel. From the rich cinematic feel and detail of the graphics, the gripping storyline, and with a cast of multi-faceted characters, combine to keep the reader fully engaged to the end of the books. It looks like a movie, but it's a comic book!
The reader comes away with so much more for their money.
Review Fix: What's next?
Bowman: Future Ruthven stories will revolve around expanding on the unanswered questions in Volume One and the aftermath of the "The Big Event."
We also have plans for an additional sci-fi series and also a comedy series.  Stay tuned.