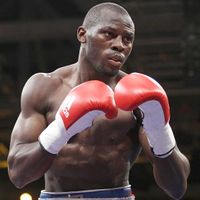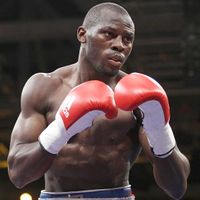 Review Fix chats with boxer Steve Cunningham, who discusses his comic book company USS Comics and his upcoming bout on April 16 against Krzysztof Glowacki as a part of the Premier Boxing Champions on NBC fight card at the Barclays Center in Brooklyn, NY. Discussing his goals for the line and his favorite artists, Cunningham gives us an inside look at what he'd like the platform to become.
Review Fix: How do fighting and drawing intersect for you?
Steve Cunningham: I'd say there're three ways; The first is my physique. I just look like a superhero. I just naturally have that 'ripped' look. If you put an "S" on my chest I could be Superman. The second is that I'll take a component from a fight or fighter and grow the idea. I incorporate things from opponents or sparring partners and will exaggerate it. The third is that Title sponsors me so there's shout-outs and placements for Title peppered in there. So the opportunity for boxing sponsors tie-ins is there, too.
Review Fix: When did the idea to start USS Comics begin?
Cunningham: In 2009, I was at Chris Byrd's (http://boxrec.com/boxer/4923) house relaxing and it just dawned on me to turn this into something. The original characters that I had in mind were so corny, just Steve Cunningham fighting "bad guys," but my art and the story line has transformed many times since then.
Review Fix: What artists inspire you the most?
Cunningham: I love Frank Miller and I try to borrow some of what he does. He's vicious, and his art is beautiful. He uses black, white and red so well. I try to use some of that bright red to make my pieces really stand out too. I also really love Todd McFarlane's Spawn. That character and his art were unbelievable to me. The writers for Marvel have done some of my favorites also. X-Men was kind of the first series that inspired me.
Review Fix: Are you looking for writers and artists to expand the brand?
Cunningham: I had a boxing writer hit me up and send me his stuff. It was good, too. But I need to develop the vision myself first and then maybe we can grow this thing. I'd love to bring other artists in one day, but that's if we're at the point of putting out books and doing big things.
Review Fix: What are your goals for the brand?
Cunningham: I've got lots of ideas. The problem is trying to narrow it down. I've got something in the works right now actually, but it's hard while I'm still fighting professionally. But when I get some down time I really try to work drawing into my routine. As far as the Long-term, I want to solidify things with a publisher and start seriously working on developing a graphic novel to bring to print.
Review Fix: Has drawing played a role in your upcoming encounter with Krzysztof Glowacki?
Cunningham: Drawing helps me relax when I'm in camp. You can go crazy thinking about an upcoming fight. So when I draw I'm in my own world and my mind can concentrate on something else.
Review Fix: What's next?
Cunningham: Right now it's about working on some of my graphic novel ideas in my spare time so that I can continue developing the ideas. Eventually, I hope to turn this into something for me to get more involved in once my career inside the ring is over.