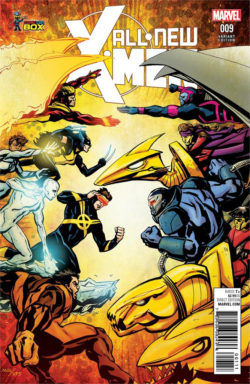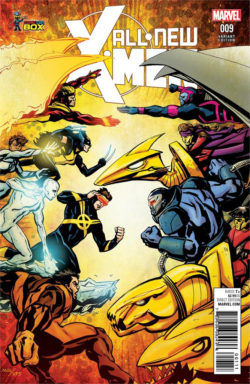 Wizard World, Inc. (OTCBB: WIZD) and Marvel today announced that the "All New X-Men #9″ (Apocalypse Wars Part 1) with variant cover by Michael Gaydos will be included in the June ComicConBoxâ"¢. Monthly subscribers will receive the color variant cover available only through ComicConBox.
The All New X-Men are on a mission to step out of the shadows of their predecessors and write their own futures. And none are more determined to forge their own way than Evan Sabahnur, who is allegedly destined to one day become the genocidal villain Apocalypse. But now, by way of an unintentional intervention by his teammate Beast, Evan is brought face-to-face with Apocalypse himself and also brought face-to-face with the question he's been running from: Can you escape your destiny?
Gaydos has established himself in various artistic channels. For the past twenty plus years he has worked in the world of the illustrated word and the graphic novel. His list of credits include work for Marvel, DC, Archie, Dark Circle, Boom, Virgin, Dark Horse, Fox Atomic, Image, IDW, NBC, Tundra, NBM, Caliber, and White Wolf among others.
He has received two Eisner Award Nominations for his work on Alias with Brian Michael Bendis for Marvel and is co-creator of Marvel's Jessica Jones who has her own Netflix series.
ComicConBoxâ"¢ packages will be sent to U.S. members on or around the first week of each month.
Fans can join ComicConBoxâ"¢ at http://ComicConBox.com and can interact with the service on Facebook, Twitter, Instagram, Pinterest and other social media outlets as well as via email at [email protected].