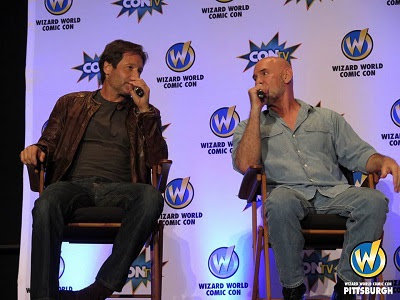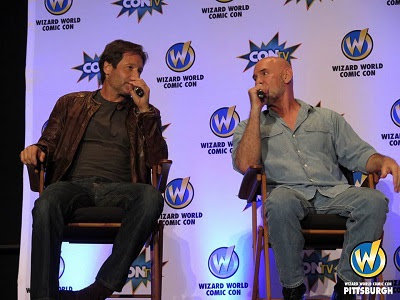 Fox Mulder' On Iconic Sci-Fi Series, 'Hank Moody' On 'Californication' Joins 'X-Files' Co-Stars Mitch Pileggi, William B. Davis At Pennsylvania Convention Center
David Duchovny , best known for portraying such iconic characters as "Fox Mulder" on "The X Files" and "Hank Moody" on "Californication," returns to the largest pop culture and comic con tour when he attends Wizard World Philadelphia on Saturday and Sunday, June 4-5 at the Pennsylvania Convention Center. The two-time Golden Globe winner is currently starring in the NBC TV series "Aquarius" and in the reboot of "The X-Files" on Fox.
Duchovny will release his second novel, Bucky F*cking Dent: A Novel , following the success of his debut Holy Cow, which landed on The New York Times' Bestseller List.
In Philadelphia, he will be joined by fellow stars of the iconic series Mitch Pileggi , who played "Walter Skinner" and William B. Davis , who portrayed "Smoking Man." The three will conduct a group Q&A as well as pose for dual and triple group photo ops during the event.
Aside from his most recent achievements, Duchovny has appeared in numerous television shows, including "The Larry Sanders Show", "Twin Peaks," "Life With Bonnie," and "Sex and the City," alongside his illustrious film credits including The X Files Movie, Zoolander, Beethoven, Kalifornia, Full Frontal, The Rapture, Evolution, Return To Me, Julia Has Two Lovers, Chaplin, and Playing God. Other feature credits include Trust The Man, The TV Set, and his self-directed and self-written House of D .
Duchovny will also begin his much-anticipated European "Hell or High Water Tour" concert series in May.
Wizard World, Inc. (OTCBB: WIZD) continues its 2016 schedule In Philadelphia, June 2-5. In addition to Duchovny, Pileggi and Davis, the star-studded celebrity roster already includes the Back to the Future trio of Michael J. Fox, Christopher Lloyd and Lea Thompson and "The Walking Dead" standout Norman Reedus , with many more to be announced.
Wizard World comic con and gaming events bring together thousands of fans of all ages to celebrate the best in pop-fi, pop culture, movies, graphic novels, cosplay, comics, television, sci-fi, toys, video gaming, gaming, original art, collectibles, contests and more. Philadelphia show hours are Thursday, June 2, 3-8 p.m.; Friday, June 3, noon-7 p.m.; Saturday, June 4, 10 a.m.-7 p.m.; Sunday, June 5, 10 a.m.-4 p.m.
For more on the 2016 Wizard World Philadelphia, visit http://wizd.me/PhiladelphiaPR .