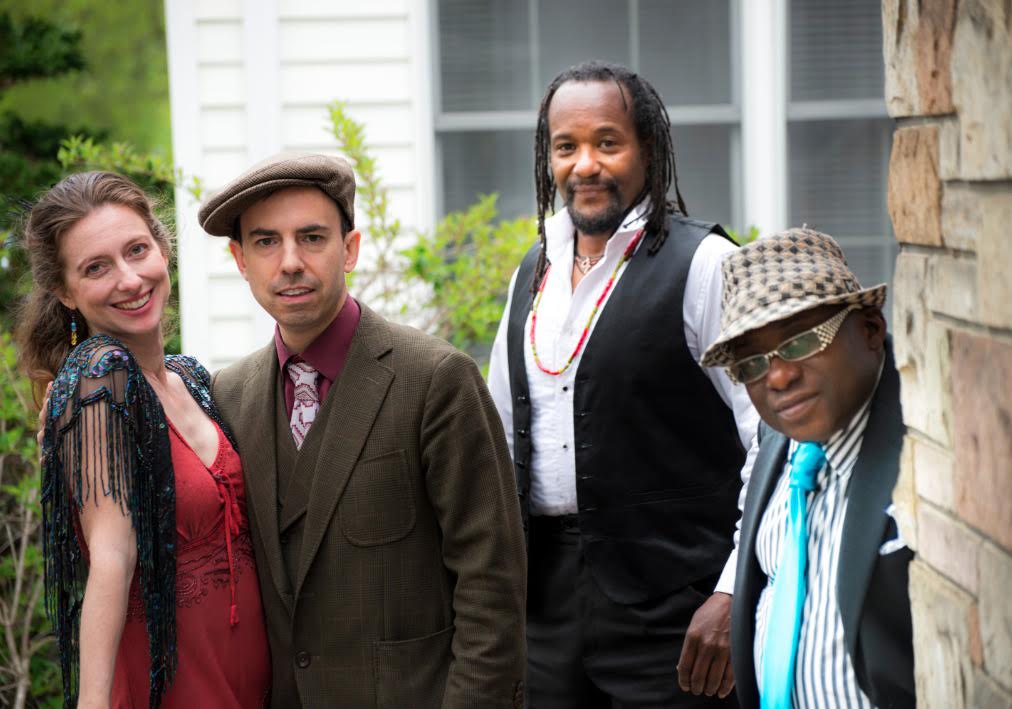 New Group Infuses Elements of Gullah-Geechee Culture With Folk Traditions, New Orleans Influences and Music of the 1920s
10-Track 'Very Next Thing EP' Includes High-Spirited Renditions of Classics by Elizabeth Cotton, Fats Waller & Clarence Williams
Instrumentation Includes Voice, Banjo, Resonator, Guitar, Bass, Drums, Harmonica, Trumpet, Trombone, Clarinet & Piano
Special Guests Include Trumpeter, Gordon Au, Pianist, Air Hirahara and Bassists, Essiet Essiet, Mamadou Ba & Nathan Peck
New York City's Banjo Nickaru & Western Scooches are likely the only band infusing elements of Gullah-Geechee culture with folk traditions, New Orleans influences, and music from the 1920s. Their brand new album, Very Next Thing, includes 10 songs and will be released on September 30.
Gullah-Geechee was developed by Africans on the islands and coasts of Georgia and South Carolina centuries ago. They introduced traditional instruments (banjo, fiddle) and novel playing styles. Drums were banned—so they used their hands, feet, stick, and mouths to create drum sounds. This strong influence on the band gives a distinct sound. Dr. David Pleasant plays 8 out of 10 songs on percussion that have Gullah influence. David is an esteemed African-American culture bearer. He uses his body, voice, and a drum set made of tambourines.
"This powerful and strong influence for our band brings spiritual energy to our shows," says Nick Russo. "My musical life has always been surrounded by an eclectic combination of unique musicians and scenes. So naturally, my own band has been a melting pot of many different cultures, genres, instruments, and sounds!"
TOUR DATES
7/15 – Brooklyn, NY @ Pete's Candy Store
7/16 – Oyster Bay, NY @ Planting Fields
7/17 – Oyster Bay, NY @ Planting Fields
8/22 – Johnson City, TN @ The Acoustic Coffeehouse
9/09 – Kingston, NY @ Alley Cat
9/30 – New York, NY @ Rockwood Music Hall (Stage 3)
MUSICIAN BIOS
Nick Russo leads the charge as bandleader and composer. He plays banjo, resonator, and guitar. Russo had the honor to play with Sir Paul McCartney while performing at Gwyneth Paltrow and Chris Martin's home. Nick has performed on ABC's "Good Morning America" and appears in the Sam Mendes film "Away We Go."
Percussionist and composer, Dr. David Pleasant has performed with Wynton Marsalis, Paul Simon, Cecil Taylor, and many others. He has also performed on Nickelodeon, TED talks, ABC with Ted Koppel, Broadway, and around the world.
Betina Hershey (vocals, guitar) has appeared as a principal dancer in Disney's Enchanted and Mona Lisa Smile with Julia Roberts. Hershey performed on international and national tours of Broadway shows including "West Side Story" and "Phantom of the Opera."
Rounding out the band is Miles Griffith. His non-traditional use of the voice as a percussive instrument, combined with an uncanny harmonic sense makes a singular force in the ensemble. He has performed with Max Roach, Reggie Workman, Paul Simon, and others. He played the lead role in Wynton Marsalis' jazz oratorio "Blood On The Fields," which premiered at Lincoln Center's Alice Tully Hall.
"My mom used to sing 'You Are My Sunshine' and I loved singing harmony with her. She passed away three weeks after Nick and I got married and she's had a huge influence on my musicality since she loved country, bluegrass, and so many genres of music," says Betina.
"'I Don't Believe in Love' is a saucy flirtation of a song. I do believe in love, but it creates all kinds of pressure. By the way, we didn't get married in Spain, but we did have a musical honeymoon there."
"Elizabeth Cotten's 'Freight Train' had to be our first track," says Nick. "The vibe Betina creates with this tune with my added slide fills, and David's harmonica playing creates a beautiful texture. The way Elizabeth Cotten sings and plays guitar is a masterful part of our country's African-American heritage.
"We started playing 'Jock-A-Mo' (Iko Iko) as a band because of a New Orleans gig we played in Manhattan a few years ago," says Russo. "We added Miles Griffith and he improvised a vocal line and Betina harmonized during the interlude section and an arrangement was born! On a second studio recording date, we improvised yet another version with Mamadou Ba on bass and I'm playing resonator with a brass slide. We used a short version for Very Next Thing."