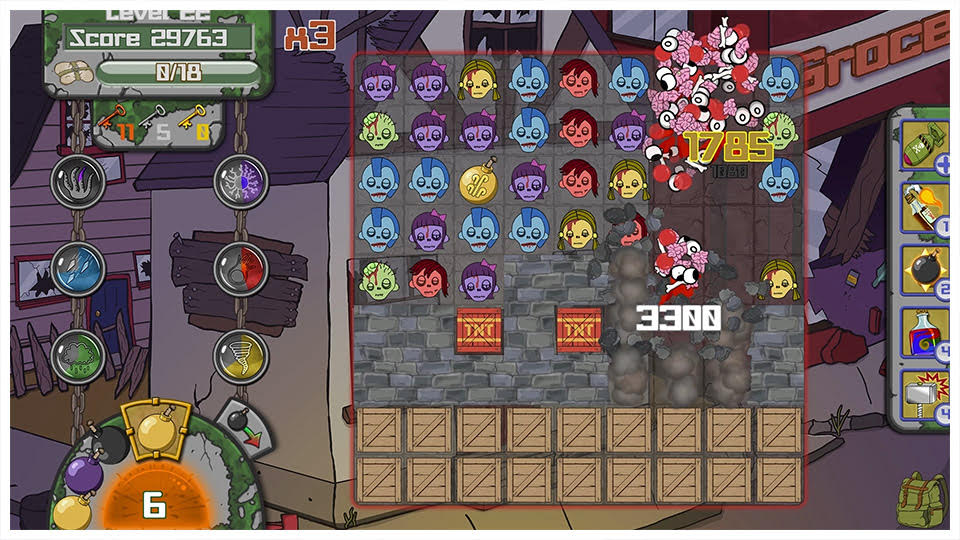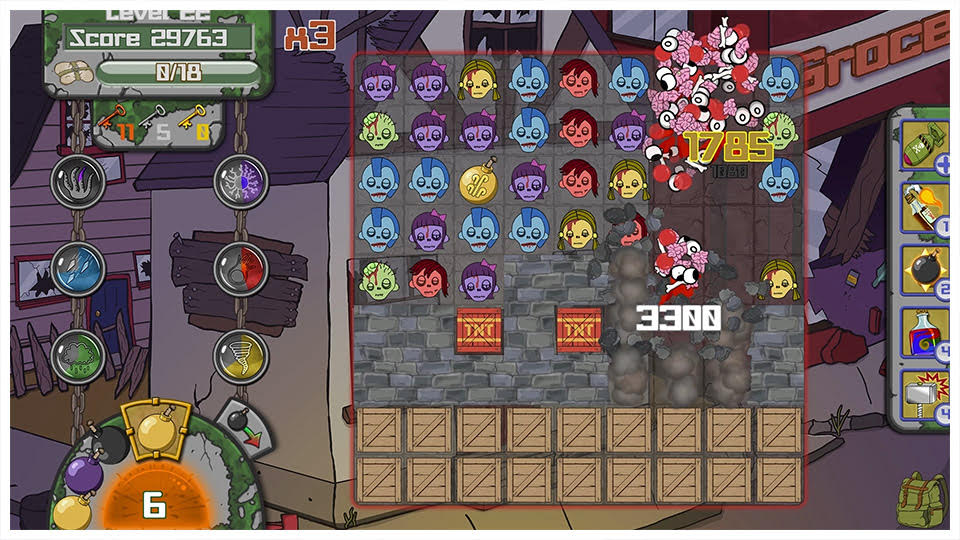 Review Fix chats with Jesse and Justin Gaylie from Fatcat Games, who discuss the inspiration, development and goals for their awesome puzzle genre-bender, "Bombs'n Zombies," which is set for a late 2016 release on iOS.
Review Fix: When did the initial idea for this game come to you?
Jesse Gaylie: The initial idea came from a board game I was designing. Â We decided to create a 3D mock up, as a turn based game. During the development, we realized a full 3D turned based RPG was too much for a two-man team. We needed to do something more manageable, so we started looking at the mobile device as a platform. The simplicity of mobile games is a great basis for creating something complex, yet fun at its core.
Review Fix: There are so many puzzle games out there, what makes this one special?
Justin Gaylie: The most unique thing about our game is the match system that we came up with. We put a lot of thought into designing it so that it would work with our concept. We wanted a system that was easy to learn, but hard to master, and I think we have achieved that.
Review Fix: Why do people love zombies so much?
Jesse Gaylie: I can't speak for everyone, but I think the idea of a zombie apocalypse is thrilling. Using your wits to survive in a world fraught with danger is appealing. No longer having to work for a living, the world is there for the taking. No rich people or poor people, just survivors. Banding together to fight off a common enemy. These monsters that used to be human, maybe they can be saved, maybe not. Give them mercy or give them death, either way it seems to strum the cords of our humanity.
Review Fix: What games inspired this one?
Justin Gaylie: The game was originally inspired by some of my favorite Zombie board games. Many of the elements in the game are inspired by pop culture over the last 30 years. The title Bombs'n Zombies is an homage to the first NES game I ever played, Ghosts'n Goblins. The idea for the bomb blast shapes came from a combination of Bomber Man and Tetris. We have been avid RPG gamers for a long time so definitely a lot of those mechanics have crept into the game as well.
Review Fix: Let's talk about the in-game art. What inspired that?
Jesse Gaylie: The art style is a compilation of my favorite cartoons, what I like to draw as an artist, and something light hearted. We purposely went for a darker more desaturated color look, to help distinguish us from a lot of the mobile games on the market today.
Review Fix: What has development been like?
Justin Gaylie: The closest thing I can think of, to describe the development process, is grinding experience points in an MMORPG. We started out with practically nothing, and now we are leveling up our skills, finding groups to help us finish our quest, and hopefully going on some T6 gear raids soon.
Review Fix: With all the competition on the mobile market and in the indies now, how difficult was it for you guys to try and make something that stood out?
Jesse Gaylie: We started out just wanting to make a video game that we would enjoy playing. It has evolved a lot since the initial concept and continues to do so. We are constantly discussing how we can improve the features that we have, and add new features that make sense. We have put a lot of love into this game, and I hope people will recognize that.
Review Fix: Who do you think will enjoy this game the most?
Justin Gaylie: The game is in the puzzle genre, so fans of puzzle games will definitely enjoy this. Most of our levels are designed without any type of time limit, which should appeal to the casual gamer. However, the levels require you to think strategically about where and when to place bombs, spells, or power ups. So in this regard I would say fans of strategy games will find it challenging. The RPG elements add an additional level of strategy and immersion, for those looking for something a little more in depth. And the zombie theme will hopefully give zombie fans that sense of desolation.
Review Fix: Bottom line, why must someone play this game?
Jesse Gaylie: If your looking for a fun game that challenges your brain, has lots of cool particle effects and explosions, then this is the game for you.

Review Fix: How do you want this game to be remembered?
Justin Gaylie: I want people to have a feeling of nostalgia when they play our game. Match games have been around for decades, but I think players will be pleasantly surprised when they play ours. It's unlike other match games out there right now. Bombs'n Zombies is not just another clone, it's a work that stands up on its own.
Review Fix: What are your goals for this game?
Jesse Gaylie: We are striving for a late 2016 release on IOS, Android and Windows Phones. We are hoping to get Steam Greenlight by then, and will release on PC, Mac, and Linux shortly after that. At launch, players can expect 100 hand crafted levels. Which on an average linear play through, constitutes roughly 20 to 30 hours of gameplay. However, unlocking all of the avatars will take much longer than that.

Review Fix: What's next? Any DLC?
Justin Gaylie: This completely depends on how well we are received by the gaming community. I would love to continue working on this game and add more content for our fans to enjoy.

Review Fix: Anything else you want to say?
Jesse Gaylie: Developing Bombs'n Zombies has been a tough but rewarding experience. Making a game is not for everyone and requires a lot of patience and discipline. Making a video game, however small, is an enormous task. Love what your doing and others will too. To the other Devs out there doing it, I commend you. I would also like to thank our fans and everyone who has shown us their support.