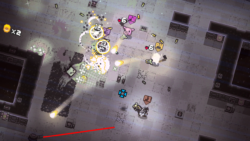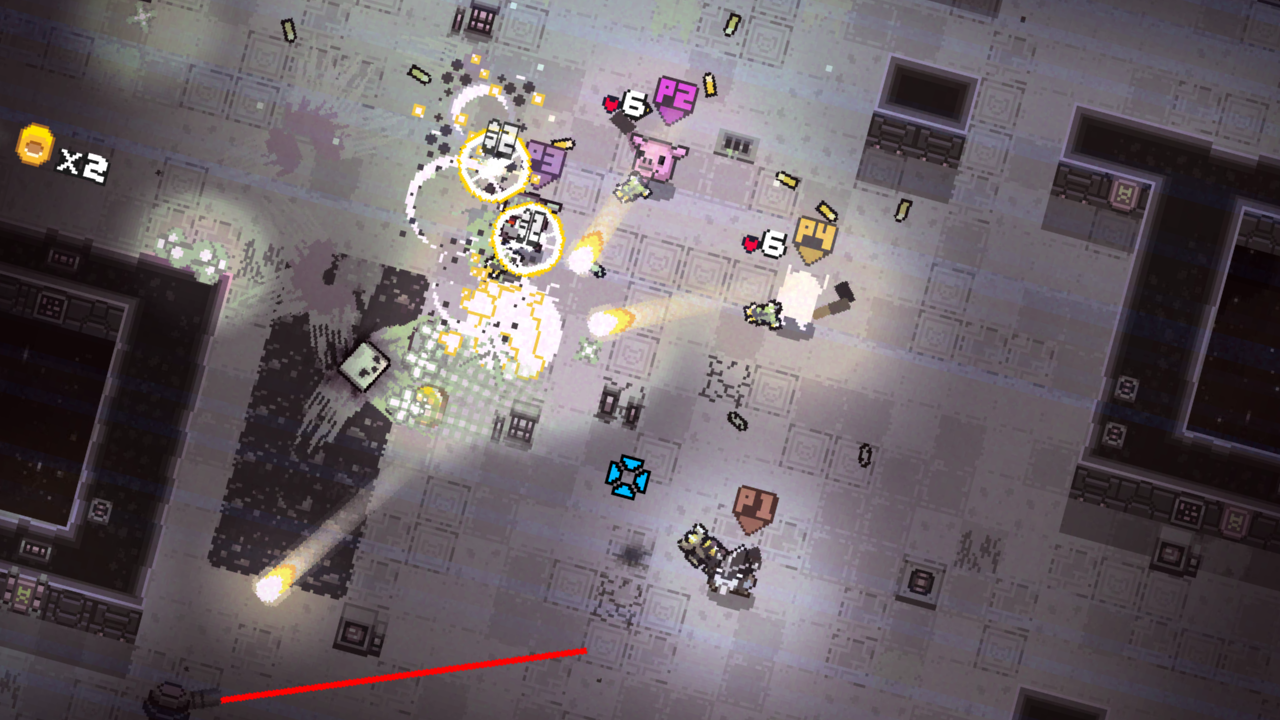 Review Fix chats with Sorob Raissi, Founder/CEO of Spread Shot Studios, who discusses his upcoming game, "Space Jammers."
About Space Jammers:

Space Jammers is top down looting and Rogue-like/Bullet Hell action for 1-4 players. It's a combination of Gauntlet 2 and Galaga. Pirate space ships, bunkers, or other dimensions in bullet hell stages each with randomly generated bosses, weapons and rulesets. One to four friends or mutual acquaintances can play together as a rock band of Alien Space Pirate Kittens who fly around the galaxy in custom starfighters grabbing loot to fund your musical tour.
For more on the game, click here.

Review Fix: What games inspired this one?
Sorob Raissi: Hotline Miami, Nuclear Throne, Gauntlet 2, Galaga and Diablo 2 are the main ones. I also borrow ideas from older games like ZZT and Rogue.
Review Fix: What has development been like?
Raissi: Tough, haha! I run the company by myself so that means I build/maintain the website, do the taxes, trailers, Biz Dev and publishing. And then I also do all the programming, design and art for my games. I do some of the sound effects myself but most of the SFX and Music are found online for free. I make sure to make friends with the folks who run the various Indie marketplaces (Itch.io, IndieGameStand, and GameJolt). I've met with these awesome people in the past and they have all helped me in various ways for which I'm greatly thankful. It's tough getting started, and staying motivated and so it's very important to know WHY you are doing what you are doing. For me, it's really important to make games that respect the player's time, that creates an atmosphere for people to play together and create memories.
Review Fix: How does it feel to be featured by Apple?
Raissi: I assume it feels great? But to my knowledge, I've never been featured by Apple. Perhaps you know something I don't?
Review Fix: With all the competition in the indie market, how difficult was it for you guys to try and make something that stood out?
Raissi: Well I hope that this game stands out, I don't know if that is the case yet since there is still a lot more development left. I don't necessarily try to stand out.
My main concern is quality. With Space Jammers, I wanted to make a better version of Nuclear Throne crossed with Gauntlet 2 and peppered with Hotline Miami. I could have made a brain-dead clone, but why would I waste my time and the player's time? So I look at these games as a jumping off point and ask myself what I liked/disliked and make changes accordingly. For example, in Nuclear Throne and Diablo you can run out of ammo/mana. I decided to change this since I'm making an arcade game and it's meant to be fast paced and played with multiple people. I didn't want players waiting around for their teammates to sell their gear or look for more ammo, so I give players unlimited ammo for the weakest bullet type and limit the ammo for stronger bullet types.
Review Fix: Bottom line, why must someone play this game?
Raissi: If you are short on time, like to live-stream games, enjoy retro graphics, want to play cooperatively with friends/roommates (or alone), or who like games that give you something different each time you play then this is your jam!
Review Fix: How do you want this game to be remembered?
Raissi: I'd like Space Jammers to be remembered as that game you played in College or after work with your friends that created some fond memories, not just about the game itself but about that point in time in your life when things
were good. That was what games like Halo and Castle Crashers did for me :)
Review Fix: What are your goals for this game?
Raissi: Well, technically this is only my 2nd game. My 1st game was a Flappy Bird clone that I made to teach myself programming (I'm a 3d artist by trade and have never programmed before). After I released that on the app stores I realized I didn't want to make mobile games so I decided to pivot to console and PC games. That's when I started working on Space Jammers back in the beginning of 2015. I wanted to make a fun, no-BS game that me and my roommate could play together because we always had a tough time finding QUALITY co-op games to play. Big emphasis on quality because there's a lot of games out there, but so many seem to be a quick cash grab (mobile games) on whatever is hot right now or it's someone's 1st game and they don't really know what they are doing. Then again, one could say the same about me, Ha! But I'm not doing this for money alone. Several years ago I almost died and I realized that whatever I'm doing with my life right now needs to count for something because I could have so easily been washed away and forgotten, literally. Every day I wake up and ask myself, "If I die today, would I be happy with what I've left behind?"
Review Fix: What's next?
Raissi: I'm working my way towards a Kickstarter. I recently got onto the Square Enix Collective which is where games can go before they start their crowdfunding campaign. If you are reading this and like the game please consider voting YES as that will increase my chances of being offered marketing help by the folks at Square Enix when I launch the Kickstarter. If the crowdfunding does really well then they also offer to publish the game when it's finished which also helps me immensely since I am just one person running everything myself and can use all the help I can get.
Review Fix: Anything else you want to say?
Raissi: I'd like to explain a bit about the Kickstarter. Players have asked for Online Multiplayer support which will be one of the things I'll be raising funds for. I will also be raising money for contracting an audio
professional to do all the sound and music for the game. And if I reach the stretch goal I will also make the source code for the demo available for free for everyone, not just backers.
Another interesting feature I am toying with is Global Achievements. So there could be a goal, let's say kill 1 thousand enemies, and everyone in the world can contribute to this goal each time they play the game. At the end of a season, if the goal is met, every player would be awarded a prize (new character skin, level unlock, weapon, etc). I'm even considering offering these rewards in the form of free DLC to keep players engaged in the constant evolution of the game.