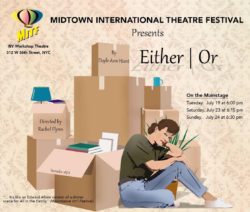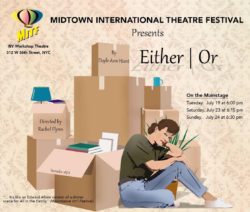 Review Fix chats with director Rachel Flynn, who discusses her new production "Either/Or," which is set for a run at this year's Midtown International Theatre Festival.
For more on this production, click here.


EITHER/OR by Dayle Ann Hunt, directed by Rachel Flynn. Deni Rutland's 40th birthday proves to be ground zero regarding her need to finally break free of her past and escape her dysfunctional family. Presented under an Actors Equity Agreement Tues 7/19 @ 6:00pm; Sat 7/23 @ 6:15pm; Sun 7/24 @ 6:30pm
Review Fix: What was the inspiration for this project?
Rachel Flynn: The initial inspiration was a woman I saw on an express bus from Queens, heading to work in Manhattan, who was clearly straddling two worlds. I recognized this woman, understood how badly she wanted to leave her upbringing behind and be someone else, live a different life, but could see that she had no idea how to make the transition.  As I began to write, the play evolved into a tangle of dysfunctional family dynamics. It felt so personal that I put the draft in my desk drawer for a decade, thinking no one else would get it. Once I took it out and continued to work it again, turned out everyone thought I was writing about THEIR family!  So I guess I found a common thread.
Review Fix: What's your creative process like?
Flynn: I love structure.  I come from a screenwriting background, so usually, I begin by graphing my major plot points, my arc — at least what I know of it at the start — so I have a kind of roadmap to work with.  A lot of people balk at this, I know, but to me, structure is very freeing.  Like if you played a ballgame without the boundaries of the stadium, the game would be all over the place while errant balls were being chased, and it would have no momentum. A story grid, to me, is like the walls of the stadium, the bases the major plot points that you have to hit to advance the game. You can wander off the field as much as you like, play however you like within the walls of the stadium, but your story will never get lost or go too far off the rails because you are working within a structure that keeps you on track…. Usually, I start with the ending, for some reason I always see that first, then I work my way back to how we get there.
Review Fix: What makes this different or special?
Flynn: I don't know if my process is different or special, it just works for me. Also makes the rewriting easier.  Second act problems are so common, and they are almost always first act problems. With a grid in place, it's easier to go back and see what's not working.  It saves a lot of time and effort rewriting scenes that inevitably will not fix the problem because it's usually structural anyway.
Review Fix: What did you learn about yourself through this process?
Flynn: I am still learning to trust myself that nothing is ever as personal as it feels, so just go ahead and write it, put it out there.  The more I fear sharing something, the more I tend to find that it's something everyone else is sitting with too.  "What's most personal is most public," right?  So I would say a better sense of trust in myself and in the material is what I am learning.
Review Fix: How does it feel to be a part of something like this?
Flynn: It feels fantastic. MITF has provided an incredible opportunity to take a work in progress and get it up on its feet, work it with an amazing group of people, and see how it lands with an audience.  What is better than that? It's what we, as writers, live for.
Review Fix: What are your ultimate goals for this production and for the future?
Flynn: This is the first time I will have seen the play off the page and up on its feet. My goal for this production is to just let go (never one of my strong points), let my awesome director, Rachel Flynn, and this amazing cast of actors we've found take it from here, then sit back and see what I do and don't have. I would love to continue working with Either/Or in hopes of getting a full production mounted at some point. Getting the funds to do that is always the challenge, but we keep trying, right?  We always have hope.
Review Fix: What do you think your audiences will enjoy the most?
Flynn: The feedback from our first reading was tremendous in that people seemed to recognize characters from their own families, or elements of a family dynamic that they, too, have experienced.  So maybe what is most enjoyable is just the relating to something both painful and absurd that also feels familiar — and being able to step back from it and laugh.
Review Fix: What's next?
Flynn: A very personal project going up in Houston in December, a manuscript for a middle grade reader that is currently being edited (and which also begs for a musical adaptation), a stage adaptation of a multi-finalist screenplay, a historical play about an amazing woman and a move to Chicago in the fall! It feels good to be busy.