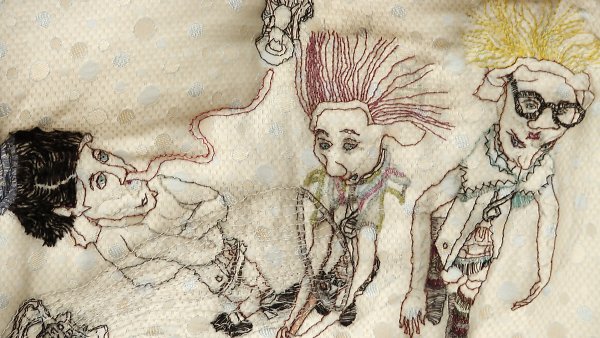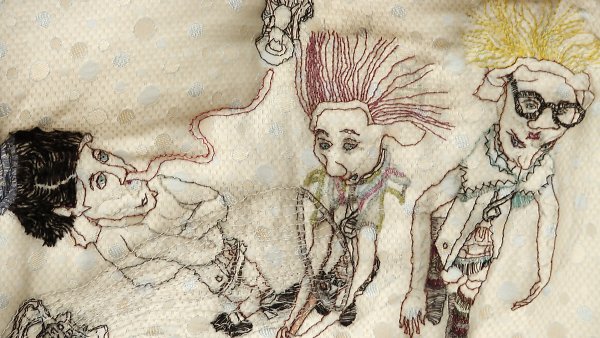 Review Fix chats with filmmaker Catya Plate who discusses her film "Hanging by A Thread," set for at a run at this year's summer screening session of the Queens World Film Festival.
For more on the film and the festival, click here.

Review Fix: What was the inspiration for your film?
Catya Plate: "Hanging By A Thread" is inspired by a series of paintings ("Button In The Garden Of Earthly Delights") that I created, in which "clothespin freaks", two-headed figures made of a clear clothespin and sewn pieces, are depicted in a futuristic, verdant environment next to my dog, 'Button', where humans merely exist in fragments. I invented the "clothespin freaks" in a series of drawings in 2003 realizing that these small, freakishly funny-looking characters had many more adventures ahead of them. In fact, I felt that being at the center of a new mythology would give them the potential to comment on our angst-ridden times in a serio-comic way.  Without being consciously aware of it , these paintings had become story boards that led to "Hanging By A Thread". Eager to find out how the "clothespin freak" would evolve and transform in different media, I created artist books, sculptures, and paintings. Throughout the course of development of these diverse visual art creations, I became compelled to give the "clothespin freaks" a voice of their own and for me there was no better medium with which to accomplish this, than with stop-motion animation and film.
Review Fix: What was the most challenging part of making it?
Plate: "Hanging By A Thread" is a stop-motion animated film. Stop-motion is a very physical and difficult technique that requires, among many other things, a lot of patience. The most challenging part is that you never quite know what the next challenge will be.  Creating the characters, the sets, and the sense of complex motion at 24 frames per second is a constant challenge as well.  You are always solving problems and learning new things.  It helps if you love very detail-oriented work, which I do. I also embrace this medium because, although it's the hardest and most challenging thing I've ever done,  it's also the most gratifying, allowing me to realize my artistic vision.
Review Fix: How do you want it to be remembered?
Plate: In a FilmThreat review, Mark Bell wrote: "'Hanging By A Thread' is a short film that welcomes interpretation and mental involvement. For me, the short explores the idea of creativity being the salvation of humanity, with a nice assist by other elements of Nature."   I love that and if "Hanging By A Thread" could also be remembered for being fun, wacky, quirky and for being realized as part of a much bigger story — that would be great. 

Review Fix: How does it feel to be a part of the festival?
Plate: I feel grateful to be part of the close and caring community that Katha and Don have created.
Review Fix: What's next?
Plate: There is a lot on the horizon for me. I'm currently working on "Meeting MacGuffin: An animated Ecological Thriller", the sequel of "Hanging By A Thread" and the second in a trilogy of shorts.  I have just released the trailer and there are two more scenes to go before production wraps, hopefully by November. Once production is complete, I'll be hitting the film festival circuit.  After that I will work on the last short of the "Hanging By A Thread" trilogy (working title" "Leaving Las Nogas") and then onward to the creation of the stop-motion animated feature film "Hanging By A Thread–The Beginning". That should keep me busy for a while.