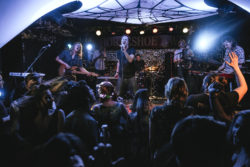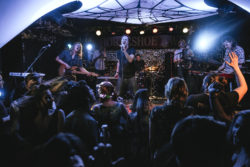 Review Fix chats with Gold Complex guitarist Andrew Dawson, who discusses the band's origin, new track "Backbone" and first EP.
About Gold Complex:
Toronto's Gold Complex fuses classic soul with pop and R&B into a fresh sound that is all their own. Described by CBC's Errol Nazareth as 'smooth, catchy and sexy', Gold Complex is a dynamic octet that has built a strong fanbase in Canada, headlining renowned venues such as Lee's Palace, The Rivoli, Mod Club and the Horseshoe Tavern. Their debut self-titled EP was released in April last year. Their first two singles 'Tread On Me' and 'Backbone' received regular rotation on radio nationwide and were featured on the Nickelodeon television series, Open Heart, now on Netflix.
Review Fix: How did the band get together?
Andrew Dawson: Sometimes it feels like this band has been in the works for a decade! Will (lead vocals), Henry (drums) and myself (Andrew – guitar) met in high school in Toronto and instantly hit it off. We jammed a lot, played cover sets at house parties, but only ever talked about getting a real band together. Flash forward a couple years to the Humber College jazz performance program, where I met Blake (keys), Dan (bass) and Graeme (tenor sax). An opportunity arose in late 2013, to play a well-attended art opening in Toronto, and without hesitation I called the best musicians I knew. We put a set of covers together with one original song, Tread on Me. After witnessing the crowd's incredible reaction to the original, we just looked at each other and knew that this was something we had to keep doing. Gold Complex was born in an art gallery, but has evolved (and grown in size) far beyond what we first imagined on that night. These days we're up to 8 on stage with recent additions Nebyu (Trombone) and Max (trumpet).
Review Fix: What is your creative process like?
Dawson: We have a few different approaches to writing. Most of the time, songs are brought to the table more or less completed, in that the chords, melody, hook and form are all or mostly there. At this point the rest of the band finds their part, everyone bringing their own style and flair to build the groove – some would say backbone (pardon the pun) – of the song. Adding a trombone to our horn section for the new album completely changed our approach to the arrangements, taking us much deeper into the world of three-part horn harmony.
Review Fix: How would you describe your sound to someone who's never heard you?
Dawson: It's a mix of old and new, a fresh take on soul sprinkled with pop, funk, R&B, jazz and prog rock. We're all influenced by so many different styles of music and we love bringing them all together! The result are highly danceable grooves, classic vibes and frequent spells of head-boppery.
Review Fix: What makes "Backbone" a special song?
Dawson: Backbone is very special to us because of the way the song came together. It was possibly our most collaborative effort to date, in that every section of the song came from a different member of the band. Will came with all the lyrics and melody already written, and from there all the other parts seemed to write themselves as each instrument had something different to say. It really all came together when Graeme played the vicious lines in the chorus, ha!
Review Fix: How do you want it to be remembered?
Dawson: As the beginning of our journey, the first of many hits to come.
Review Fix: What's your biggest weakness as a band and how are you working on making it a strength?
Dawson: Straight up our social media game. But I think we're getting a bit better now. We've come up with a solid strategy to divide the workload between all the different platforms that we need to stay on top of. But man is social media ever a seemingly endless pit… we just want to write new music, you know!?
Review Fix: What makes this EP special?
Dawson: It's our first EP, and the first real step towards our goal of sharing our music with the world. We feel the EP defines the early evolutions of our sound, and is just a hint of what's to come. I think we'll be able to listen back in 20 years and that will still hold true. The EP is also particularly special to me (Andrew) as it is the first full album/EP I arranged and produced, and as a result I've since had the opportunity to work with lots of great artists.
Review Fix: What's next?
Dawson: Our debut LP "New Soul" comes out in spring 2017 – nine brand new songs, new hand-painted artwork, vinyl shipping internationally… we are very, very stoked!
Review Fix: Anything else you'd like to add?
Dawson: We really want to play in your hometown, wherever it is – Tweet us, Facebook, snapchat, whatever and let us know! You can find us on social media platforms as @goldcomplexband.