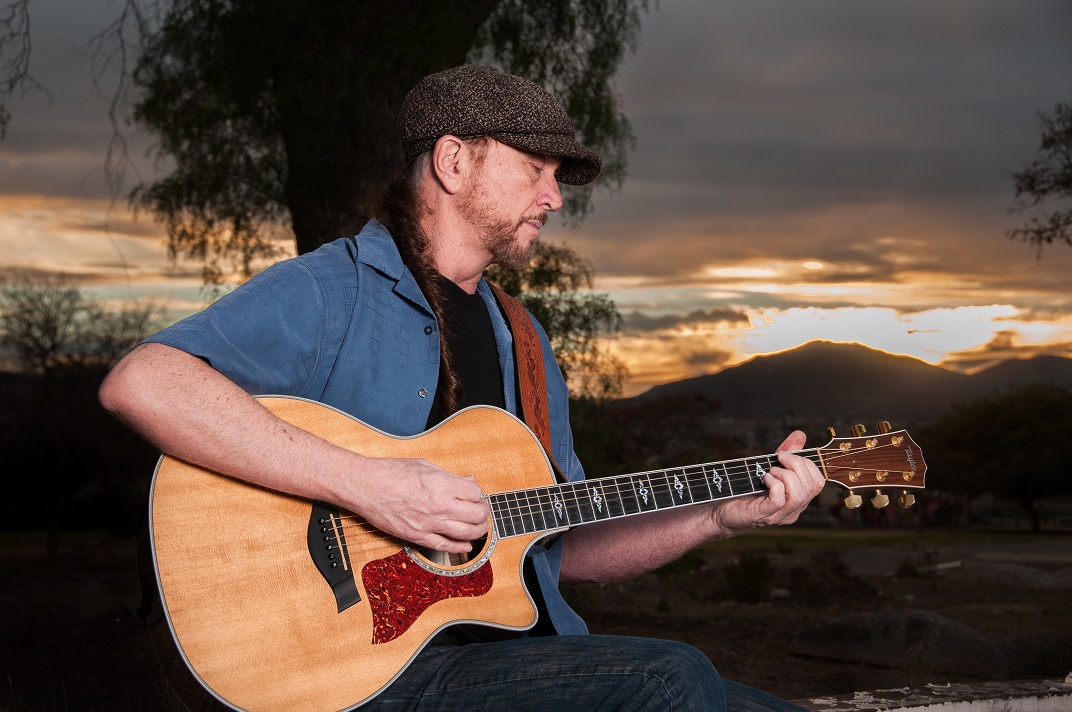 Review Fix chats with singer/songwriter Michael Brondstetter, who discusses the inspiration behind his latest single, "Dark Cloud Blues," as well as his creative process and goals for the future.
About Michael Brondstetter:
Michael Brondstetter is a versatile Americana Artist who draws inspiration and influence from his upbringing in musical cities Detroit, Louisville, & New Orleans. He eventually landed in LA where he was lucky enough to meet many legendary artist at McCabe's guitar shop, his favorite local hangout. There he would come into contact with Jackson Brown, Linda Ronstadt, Hoyt Axton, & Doc Watson, to name a few, all performing unplugged on Friday and Saturday night shows.
Review Fix: What do you think makes you special as a musician?
Michael Brondstetter: I'm not sure that I am any more special than anyone else! I think the term being "special' is for others to decide. I am just Me! As an artist, I've been forged by life's experience and tempered by love of family and friends.  As for what makes my music sound different and to some, "special", I'd have to say my own personal filter. I heard John Mayer, once use "filter" as a term describing the process of writing a song he which started out being like someone else's song, but in the end sounded like a "John Mayer" song.  I believe that's a great term for what many call style or talent. I hear certain things internally all the time. I don't need a radio, TV, other outwardly entertainment because I've always something going on inside my own personal soundtrack. In many ways getting it out has been the challenge. Learning to reproduce one's own personal sound or filter is commensurate to one's self-aware.
Review Fix: How did your childhood influence your music?
Brondstetter: I've always been interested in music! From as far back as I can remember there was always music in my life. I was in Kindergarten when I was moved from the back of the class chore to the front to be closer to the microphone. My mom would put Prokofiev's "Peter and the Wolf" narrated by Boris Karloff on and give me the Child Craft book with all the orchestral instruments and I would listen and pick out which character was which instrument.  I guess it gives her a 30 minute break from bothering her! I remember fondly my father playing his big band albums. Later my 3 older sisters were was always a steady stream of new and exciting music. When we settled in Los Angeles, I was always into music, even though it took me years till I could get my own instrument. Since I work after school and on weekends I rarely got involved in school music programs because I wouldn't be able to afford the cost of an instrument or the time to participate.  Maybe that led me to appreciate when I did get a chance to play, write songs, or be in a group, I cherished more than most.
Before my parents divorced, my father wouldn't let me participate in any orchestral school projects, saying that it was a waste of time. Couldn't make a living doing such work.
Review Fix: Why does Americana matter?
Brondstetter: Americana, or Alt. Country, and in other parts of the world Root Music, is a very inclusive style of music. I think the definition is a confluence of the shared and varied traditions merged from folk, country, blues, rhythm and blues, and rock & roll! Along with jazz, it really epitomizes what I've grown up listening to my whole life.  There are heartfully real stories in the tradition of Hank Williams, B B King to Chris Stapleton. Wonderful hard driving rhythmic songs from Willie Dixon to Western Swing's Bob Wills.  The artful playing of Doc Watson, Vince Gill to Allison Krauss.  More and more examples of rock & roll, R&B, honkytonk, blended with Bluegrass, Country, and Folk.  It allows me to bring all the wonders I've seen and heard my songs and not have the worry of categorizing it. I know there are many new listeners every day, adding Americana to their playlists.
Review Fix: What inspired "Dark Cloud Blues"?
Brondstetter: It's a story about choices. I wanted to represent one's self-going through a day/life having to decide which way they want to go.  A little purposefully cryptic to allow listeners to imagine their own journey through the song. Not a heavy talking blues but a lightly sarcastic voyage to either embrace the struggle or the joy of the day.
Review Fix: Why should someone listen to "Dark Cloud Blues"?
Brondstetter: It is very well played. Jim Soldi (played with Johnny Cash & J. Paycheck) plays guitar & bass and Bob Sale plays drums. Those two lock in on that song while Dennis Caplinger (Fiddle on Eric Clapton's Road to Escondido) adds killer fiddle and Dobro.  Producer Kirk (Dove) Arnold blending it all together with great skill and excitement. It's a wonderful groove that keeps you wondering about what's next.
Review Fix: What's next?
Brondstetter: Iron Mountain is going to be going into North American distribution, that's to record stores and outlets on Jan 20th, 2017.  We're hoping it does well, of course.  With that being said I have 8 new songs I'm working on with producers Kirk (Dove) Arnold and Jeff Berkley. I'm very hopeful that a new single will be able to be released by July-Aug and depending on how well that does, maybe the new CD release in Nov-Dec.
Meanwhile, I'm working on touring for the Iron Mountain distribution and doing as many quality shows as I can put together to support that release. On those shows, I'll be playing some of the new songs being worked on in the studio now. So those who book me and people that come to the show will get a sneak preview of the new CD.
Review Fix: Anything else you'd like to add?
Brondstetter: I like to thank all those who buy or download a copy of Iron Mountain or a track from the CD. It's so very important that people show their support financially. Whether it at shows, or online. I'm an independent artist and it's my life blood. Taking the time to add my songs to your Spotify playlists. Asking a radio station to play my song. Spreading the word to all your friends, family, loved ones.  Every person can make a difference and a change.