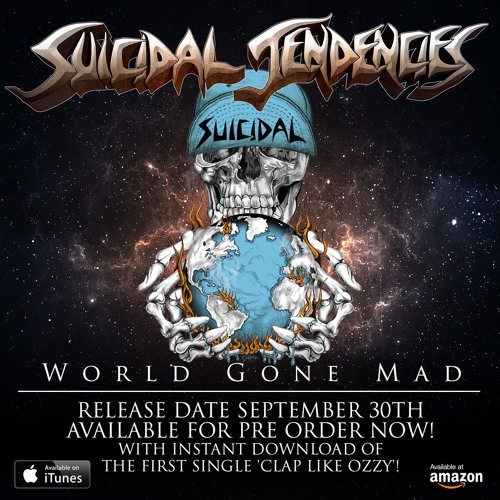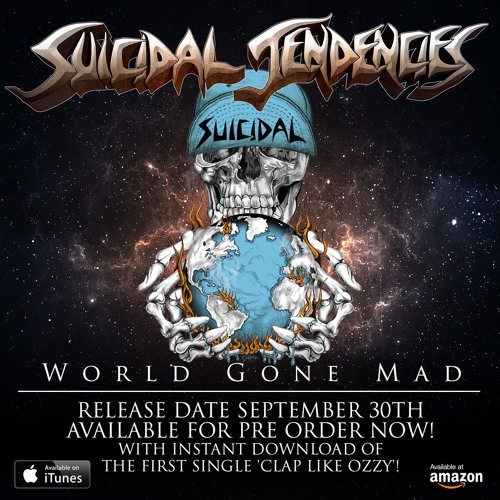 Inspired heavily by the current climate of events in the world, "World Gone Mad" by Suicidal Tendencies is a fast-paced and energetic callout to the questionable state of affairs that many people have become too accepting of. Mike Muir's delivery still stands as unique after over 30 years of performing as he manages to deliver many powerful messages without sounding too preachy. The addition of Slayer drummer Dave Lombardo may shine in many of the titles, but fellow newcomers Ra Diaz on bass and Jeff Pogan on rhythm guitar manage to keep up with the long time icons without bringing "World Gone Mad" down at all.
It is safe to start with maybe the only flaw of the album and that is wrapping it up with a cover of previous "13" title "This World." With such a cohesive group of new faces to the band, it seems almost insulting to have a cover of the previous album when only two of the members remain. It does have a different sound to it though, being much smoother than previously played. Accompanied by the bass of Diaz, the tune feels much smoother than it did on "13."
The album itself starts off like a wake-up slap to the face with "Clap Like Ozzy." While Ozzy Osbourne may not be the ideal role model, the title is more about living life to its fullest and is the perfect message to start off an album that is followed by much less idealistic views.
There are many anthemic titles that a newer, younger audience can hopefully relate to. "A New Degeneration" is a fueled by heavy riffs and powerful drums from Lombardo that the current generation, fueled by dissatisfaction of the current state of things, can identify and be motivated by.
"One Finger Salute," while the title is obvious the message is not as simple as it may seem. A track that shows off the talent of all members, is relatable on a much larger scale than just "Eff you" to one particular individual.
While technically a thrash crossover band, Suicidal Tendencies shows off their versatility with this unexpected combination of talent. Lombardo's powerful drums give many of the songs more of a metal feeling after his long career in Slayer, while newcomer Diaz has some more smooth funky bass to support some of the more dulcet tracks.
Muir hinted earlier this year that this may be ST's final studio album, but it is hard to see this crew settling down and resting easy after releasing tracks such titles as "Get Your Fight On!" and "Happy Never After." Even though Muir is the only remaining member of the original Suicidal Tendencies, it is safe to say that with the addition of Lombardo and even Diaz and Pogan, "World Gone Mad" lives up to the reputation of Suicidal Tendencies. The track does not disappoint as it showcases the talent of all of its members new and old. It is just a shame that this synergetic gathering may not be putting out any other studio albums.