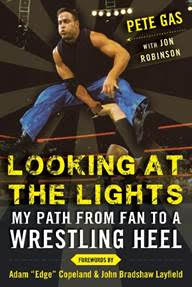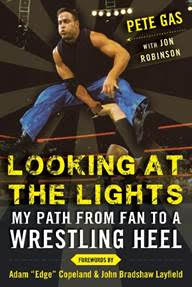 Review Fix chats with former WWE Hardcore Champion Pete Gas, who discusses his new book with author Jon Robinson, "Looking at the Lights: My Path from Fan to a Wrestling Heel." Breaking down his creative process and goals for the book, Gas lets us know just what it was like to be a part of the WWE during the "Attitude Era."
About the Book:
As a childhood friend of Shane McMahon, Pete Gas was given the opportunity most only pray for. Beginning with appearances to interfere in McMahon's matches, his role blossomed into becoming a full-fledged wrestler and leading the Mean Street Posse to WrestleMania, becoming one of the most fascinating success stories of the era.
From his humble upbringing and friendship with Shane (and the McMahon family as a whole), Gas shares how a nine-to-five average Joe got the chance of a lifetime and made the most out of it.
Review Fix: How was this book born?
Pete Gas: It was something I always wanted to do but having never written a book, I had no idea how to even get started. Then back in 2014, Jon Robinson was writing a book on the "Attitude Era" for WWE and I was asked to be apart of his book. While telling my stories, I had Jon really laughing hard. He asked me why haven't I written a book? When I told him why, he offered to write it with me. Probably the best move I've ever made. Jon is a great writer and he really got the best out of me.
Review Fix: What's your creative process like?
Gas: Jon would interview me for hours. After that he would go back and listen and outline the interesting parts. He would write, send it to me to either add to it or subtract. Once I would edit it, I would send it back to him. We did this for almost 2 years.
Review Fix: What do you think makes this different from other wrestling books?
Gas: It's different because there's no other story like it. It tells the story of how the WWE took two guys with athletic ability and zero training, and put us in the ring with the best in the business, at arguably the hottest era in professional wrestling. It was something that was only supposed to last for a few weeks that we parlayed into 3 years. Along the way it tells how we had to earn respect in the locker room, pay our dues in the business and a lot of fun stories about the biggest stars back then in the WWE.
Review Fix: How was it to be in the locker room during the attitude era?
Gas: At first, no one including us expected us to be around very long. So everyone was cool. As time went on and we weren't going away and we were "getting heat" with the crowd, some guys seemed to get distant and you could tell they weren't happy.
Review Fix: Was there any resentment towards you and the other talent?
Gas: At certain times we would face guys who would be pretty "stiff" with us. They would hit us harder than usual in the ring. But over time we were able to earn the respect from our peers and build relationships with them that are still strong today.
Review Fix: Why is your book a must-read?
Gas: Any fan of professional wrestling would love this book. Whether they remember the "Attitude Era" or not. It's for any fan who has sat in their living room and wondered what it's like to be in the ring with Superstars like The Rock, Stone Cold, The Undertaker and Mick Foley to name a few. It explains how through all the beat downs and everything that goes along with the business, I always had a smile on my face because I was in love with the business and everyday brought a new challenge. Like I said before, there's no story like this out there.
Review Fix: How hard was it to edit all of your experiences?
Gas: Not hard at all. I was able to take advantage of the WWE Network to remind myself of stories by watching every match I had during my tenure.
Review Fix: Can you share a cool story that didn't make the book?
Gas: I can honestly say I gave this book everything I have.  It's all in the book!
Review Fix: What's next?
Gas: Now it's just about promoting the book and getting the word out there and hopefully get people to enjoy it.
Review Fix: Anything else you want to add?
Gas: Fans can follow me on Twitter @iampetegas. I love feedback. Good or bad I want to know what people thought of the book.  I'm also looking forward to shooting the second season of "The Edge and Christian Show that Totally Reeks of Awesomeness" in the near future.