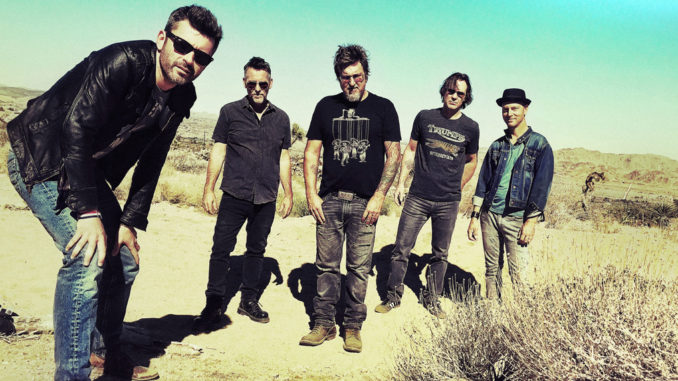 Review Fix chats with Dishwalla's Rodney Browning Cravens who discusses the band's new lineup and new album, "Juniper Road," which is set for a May 5 release. Known for their killer single "Counting Blue Cars," the group is back and according to Cravens, is ready to start a new chapter.
Review Fix: What makes this album special?
Rodney Browning Cravens: Well, for starters, Juniper Road is our first studio album in just about 10 years, and were quite proud of it. We poured every ounce of experience we've gained over the last 25 years of writing, recording, and touring the world into the making of this album. It marks the re-introduction of George Pendergast, our original drummer from our first two albums: "Pet Your Friends" and sophomore release "And You Think You Know What Life's About." Juniper Road also introduces long time vocalist (since 2008), Justin Fox. This album was years in the making and recorded out in solitude on Juniper Road out in Joshua tree.
Review Fix: What was it like working with Sylvia Massy?
Cravens: In a single word: amazing! I think it would be safe to say that I've had a musical crush on her since working together on our last self-titled studio album "Dishwalla." She's a mad creative genius, who's really good at thinking outside the box. She's got great musical sensibilities and her unbiased ear was just right for this project. And of course her uncanny ability to get great performances out of all of us. She helped us get out of our own way!
Review Fix: What is the standout song?
Cravens: Well, this is a really hard question! Honestly, if you talk to every one of us you'll get five different answers. We did release "Give Me A Sign" early, to the people who took part in our pledge music campaign. Also, Yahoo Music has featured "Don't Fade Away" on their front page as we ramp up to the official May 5th. release. All in all, it's a very diverse and strong album, and there are no filler songs to be found on this recording. Personally, I've been so heavily involved in every Dishwalla album to date, I can say with complete and absolute certainty that in Juniper Road, we've found ourselves creatively and sonically on point and intact.
Review Fix: How was this album different from previous works?
Cravens: Well to me, one of the notable differences on this album compared to previous albums is the energy and pacing of the songs. Over the past eight years we started touring again, and this time around we wanted to create something with the live energy and push that we feel when we play live concerts. In essence, we wanted to get back to our roots and make a kick ass Rock record, full of depth, and variation.  You'll still hear the  "Dishwalla sound," but you'll also hear us covering new sonic territory with songs like "Sirens," "Mazelike Garden," "Miles Away," or "Darkness Conceals." This album showcases our ability to grow musically, while successfully keeping our core sound intact.
Review Fix: What's next for Dishwalla?
Cravens: It's time to hit the road and get loud! We have a lot of shows coming up. Starting in May, Dishwalla will be touring with Candlebox, Fuel, and Marcy Playground. We are pumped about this bill and I'm really looking forward to playing new songs for the first time in too many years.
Review Fix: How do you want this album to be remembered?
Cravens: I think if I have any hopes as to how this album will be remembered or perceived, I keep coming back to two words: Classic. Pure. Classic in regards to the recording style and in the instruments chosen- no "flavor du jour" production styles was used. And Pure. Pure in its intent and realization. We've all been here doing this for the right reasons for a long time now, and I think it really shows.
Review Fix: Anything you'd like to add?
Cravens: Just a big warm thank you to all of the core fans out there that have stuck with us over the years, we wouldn't be doing all this without your aloha and support. Also: a quick reminder that we're gonna be out touring and promoting this album this summer, and to tune in and come check it out for yourselves…Dishwalla has hit the reset button, and we are firing on all cylinders.