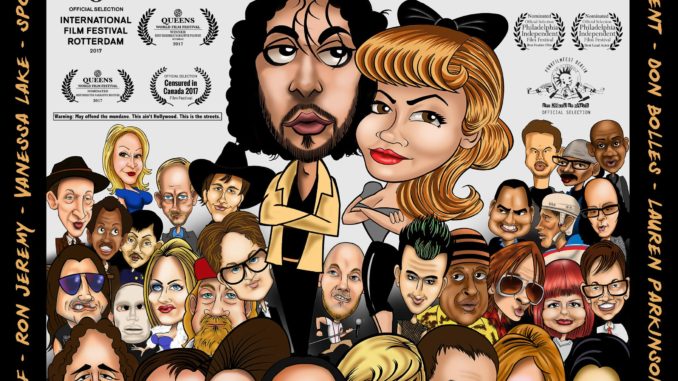 Review Fix chats with filmmaker who discusses his latest film, "Scumbag," which is coming off a highly successful run at this year's Queens World Film Festival, where it won Best Ensemble Narrative Feature at Queens World Film Festival and was nominated for Best Director Narrative Feature.
Review Fix: What was the inspiration for your film?
Mars Roberge: I lived the movie and wanted to make something real. After 16 years of recovery (after "living the movie") I was finally able to put all the pieces together and remember what happened, like self-therapy. At that point I realized I had gotten through a totally insane life that must be put on film as nobody could believe it if I told them. Today, I have people think I was trying to "shock" people but the truth was all I did was put my life on film. Didn't change nothing. Now people in the Netherlands are saying I make "slap-in-the-face, take-it-or-leave-it comedy." I can live with that, especially since I usually hate what is considered comedy today: shows like Friends, etc. In my world people don't talk in a phony high-pitch like they are on a stage, punchlines aren't spelled out for you with a muzak jingle and I don't restrict my mouth when I speak. I wanted a movie that elevates the audience from mundane morons who laugh at Mighty Mouse or Hello Kitty cartoons to grown up adults who hate their jobs but really see the streets for what they are. I need to make movies that I live because nobody is else is talking about it. And as for my disdain with "fake" theatre, I do have a soft spot for John Osbourne because he spoke from a real point a view. In the end, people either love "Scumbag" or they walk out of the movie theater. It's that simple. In fact, we had to slap on a disclaimer to our posters which is "Warning: May offend the Mundane. This ain't Hollywood. This is the streets."
Review Fix: What did you learn about yourself while making?
Roberge: That I can play the role of "father," listen to everyone's bickering and try to make decisions based on facts while being responsible to the group's whole. Before that I just assumed I was an immature 44-year old ex-telemarketing S&M DJ. I also realized I'm a bit of a control freak and sometimes paid for it in lack of sleep. I'll definitely want to hand over more responsibilities on my next film.
Review Fix: What was the most challenging part of making it?
Roberge: How am I going to make this with no money, 220 actors, no insurance, a ton of locations without permits, actors who disappear to rehab, crew members who go to jail, actors who aren't allowed to film in the same state as the production because of their parole and the death of star cast members who haven't been shot yet? I guess the real question is how do I make this film and not go to jail?
Review Fix: How do you want it to be remembered?
Roberge: As a cult classic from a bunch of people in Hollywood who wanted to fuck up the system that wasn't paying their livelihoods. The film that started it all…
Review Fix: How does it feel to be a part of the festival?
Roberge: Regarding Queens World Film Festival, it feels proper. Queens World Film Festival was the first festival to nominate my last film, a documentary on Sex & the City Stylist called "The Little House That Could" for an award: Best LGBT Documentary Feature in 2014. After that, it went on to win several awards. Queens World Film Festival hosted Scumbag's North American Premiere. It was also nice because I lived in Queens, a few blocks from Museum of Moving Image, right before moving to Hollywood. Everything comes full circle.
Review Fix: What's next?
Roberge: Right now, I'm concentrating on touring the festival circuit with Scumbag until the end of this year. We've already played International Film Festival Rotterdam, Queens World Film Festival, Too Drunk to Watch – Punkfilmfest Berlin and we will be playing Philadelphia Independent Film Festival next weekend (April 29th) where it has been nominated for Best Feature Film as well as Best Lead Actor. After that, we play in Toronto at Censured in Canada on May 27th. Both of these events have after-parties where I'll be djing along with all the local legends. Other than touring with the film, I writing a whole bunch of other films that I plan to make within the next few years. My goal is to eventually cover every genre so that I'm never pigeonholed. Let's just say I have Scumbag Part 2, as well as an urban drama, a children's cartoon, a romantic comedy, and a horror film all ready to go. That and I'm in the middle of creating an entertainment iOS app that should hopefully hit the market around this time next year.
Review Fix: Anything else you'd like to add?
Roberge: I don't like following formulas or base my decision on the masses. I've always been a loner. I wish more filmmakers would stop copying other people's movies and go get their own life experiences so that they could write something that's original with merit. Hollywood won't change unless we do.
Scumbag Trailer 2017 from Mars Roberge on Vimeo.