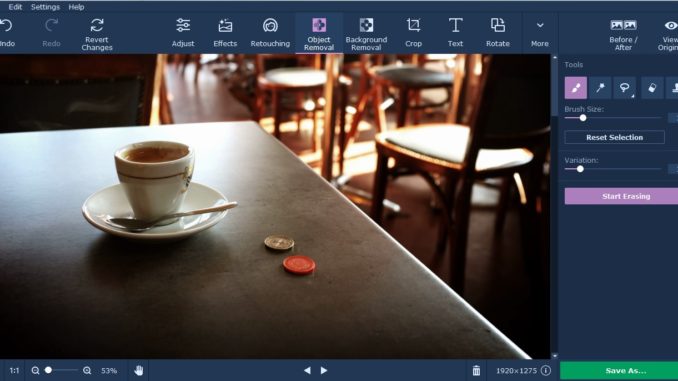 Ideally every element in your photo will be part of its composition and help to set the scene, accentuate the subject, or provide contrast in some way. In practice, however, it is close to impossible to make sure that only the elements you want appear in your photos – unless you're in a studio setting where you have full control over the environment.
That is why it helps to know how to remove any unwanted items from your photos. In some cases, it can help to remove any objects that are in the way, or in others, it can be used to alter the composition and perhaps even completely change the way that a photo looks. Assuming you'd like to do any of that, the easiest way is by enlisting the help of Movavi Photo Editor.
Within Movavi Photo Editor you'll find a collection of tools designed to help you easily remove any elements from your photo under the aptly named 'Object Removal' menu. In particular, you should look for the brush that you can use to simply paint over the item that you want to remove to select it. Learning how to remove a person from a photo is similarly straightforward, though in some cases it may help to use the 'lasso' or 'magic wand' to make selecting them easier.
In any case, once you've selected the item that you want to remove, you can delete it with a single click. Sometimes there may be imperfections that are left behind once you've deleted an item, in which case you should use the stamp tool in Movavi Photo Editor to copy part of the photo from elsewhere and paste it over the imperfections to clear them up.
All in all, it shouldn't take you long to get the hang of removing elements from your photos. The intuitive nature of the tools in Movavi Photo Editor will make it easy for you to apply them, even if you have absolutely no experience editing photos in the past.
When you are done you should also make use of the other features in Movavi Photo Editor to improve your photo further. With their help, you could improve the image quality, fix common issues, apply artistic filters, insert captions, touch up portraits, replace the background, and much more.
As you start to use these features and experiment with them, you'll start to become more familiar with how they work and what they can do. In no time you'll be confident enough to use them to edit your photos in a number of ways, and maybe even transform them completely into professional-looking masterpieces with the help of Movavi Photo Editor.