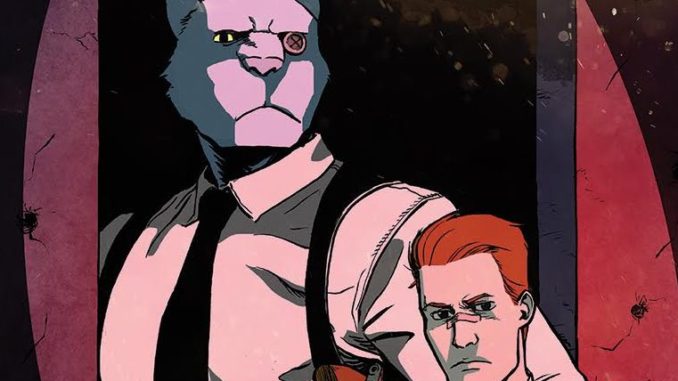 ReviewFix talks with creator and writer of Spencer & Locke David Pepose and get his take on his multidimensional duo.
Review Fix: The premise for Spencer & Locke is an inventive take on crime noir. How did you come up with the idea?
Pepose: SPENCER & LOCKE was one of those ideas that just felt immediately right to me the moment the image popped into my head. I'm a longtime comics fan, and after years of working in the periphery of the industry, it was perhaps inevitable that I'd make the leap to writing a book of my own. I'm a huge fan of mashup music — discovering awesome and crazy remixes like "Call Me Maybe" slammed together with "Head Like a Hole" — and I started thinking about that in terms of comics. What could be a more celebrated comics achievement than Bill Watterson's Calvin and Hobbes? And what could be a seemingly more discordant comics counterpoint than Frank Miller's electrifying work on Sin City? Once that remix popped into my head, the image just kept lingering — and as I dug into the potential reasons why a kid would have to cling to an imaginary friend with such conviction and detail, the idea of SPENCER & LOCKE was born.
Review Fix: If you could go anywhere at any time in history where would you go and why?
Pepose: Five years from now, to see how this whole comic book writing thing is going to go! (Laughs) Otherwise, I'd go back to 1985, and bring my copy of Gray's Sports Alamanac with me.
Review Fix: With cartoons taking on more mature themes, do you envision Spencer & Locke breaking out into animation?
Pepose: That's incredibly kind of you to say — honestly, I'd love to see SPENCER & LOCKE make the leap to multimedia in some form. But I do think this book lends itself to at least some degree of animation thanks to Spencer being Locke's imaginary friend and, y'know, a walking, talking panther in a suit and tie — sort of a Who Framed Roger Rabbit kind of thing. So I think we could definitely have our cake and eat it, too, as far as animation and live action is concerned! But honestly, having people even reading the book is already icing on the cake — any sort of adaptation would just be the cherry on top.
Review Fix: What is the collaborative process like with Jorge Santiago Jr., Jasen Smith and Colin Bell?
Pepose: I've gotten really lucky with a lot of things coming together just right on this book, but the luckiest thing that ever happened to me was to work with Jorge, Jasen and Colin. I'd go back and forth with Jorge for pages and pages of emails, just to figure out the best way to knock out a particular sequence or story beat. Jorge is so ingenious and so thoughtful with his pages, that I honestly got an incredible education just working with him! Jasen and I, meanwhile, would be IMing each other in the middle of the night, always testing and tweaking different color schemes and shading for each scene. (I'm particularly proud of how great our colors look in Issue #3.)
Review Fix: What genre would you like to incorporate in the oncoming issues?
Pepose: It's funny you ask that, because I think each issue of SPENCER & LOCKE does dabble in a different genre. Our second issue, which hits stores this week [May 31], switches gears from street-level noir to a rip-roaring car chase in the vein of The Fast and the Furious, while our third issue veers into hard sci-fi as we meet Locke's spacefaring alter ego, Rocketman Reynolds. Even our fourth issue was written with that same sort of structure of a good old-fashioned western shootout! But I think that speaks to the elasticity and versatility of our central concept — SPENCER & LOCKE is a story about perception and imagination and mental health, and that lets us explore a lot of different avenues that many other noir stories can't.
Review Fix: What sort of impact do you want for this miniseries?
Pepose: Boy, that's a great question. At best? I hope there's people out there who can relate with Locke, and can feel some comfort based on our story's themes of depression, of mental illness, of whether or not we're defined by our scars, or whether there's ever any hope that we can transcend them. SPENCER & LOCKE is absolutely a dark story, but there's a redemptive arc to our characters that I think ultimately makes them some of the most hopeful protagonists I've ever worked on. But as a creator who's putting their work out there, I guess I also just hope readers just feel something — anything, really. We created this book with a lot of wiggle room for the readers to be active and really interpret things, because I do think the best kinds of comics are a little bit of a Rorschach test. There's a beat in one of my favorite plays, The Shape of Things, that I've been thinking about a lot as we've been rolling this book out. Obviously, I want people to love this book — and I think it's a very lovable book because of all the hard work Jorge, Jasen and Colin put into it. But I also know our book is going to draw a lot of opinions just by virtue of our high concept — and you'll never win everyone over every time. And that's okay. If you're reading our book and you're talking about our book, I'm happy. For me, apathy is the only unacceptable response. Our team worked too hard to shout into the void.
Review Fix: What's next for you?
Pepose: I've got a few other pitches in the pipeline, which I'm very excited for the rest of the world to see sometime soon. But I'm also just committed to making sure SPENCER & LOCKE has the best possible launch it can — because who knows? I think there's a pretty wide universe that we've only just begun to explore. Maybe if there's enough demand, we could see some more adventures this with this unlikely pair of gumshoes!