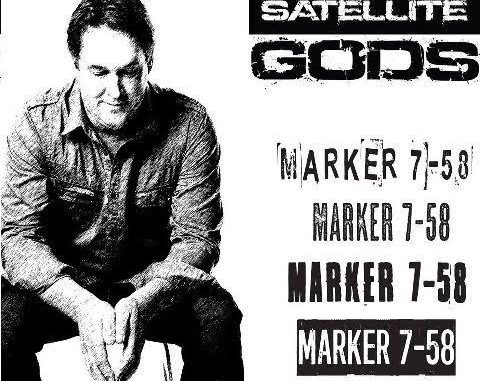 For someone with a "five albums in five years" plan, Brendan McMahon and his Australian band, Satellite Gods, do not have filler songs in their 13-track album, "Marker 7-58." Each song is unique and catchy on its own and shows off the lyrical talents of songwriter, McMahon. It also features some great guitar solos, along with some unexpected instruments for a rock album. This is what makes it worth the listen; even non-rock fans can enjoy McMahon's rocker vocals thanks to the album's creative production.
The first track on the album is "Falling to Earth," a song designed to lure you in with its catchy rock melody and great electric guitar. The song describes the feeling of falling from the sky, with lyrics like, "Let go/ open up your arms/ Eyes open / I'm falling a thousand miles an hour /There's nothing left I can do."
"Saturday Night in Riga" is a pop tune with great backup vocals, and is also the first song on the album that experiments with different sounds such as a continuous beat that is reminiscent of a street musician who uses a pot as a makeshift instrument.
"1 Through 8" is an emotional track that adds acoustic guitar to the mix. It speaks of the unconditional love a parent has for a child, with lyrics like, "And I never asked for more/And never would I change/ Anything of you / Anything at all." This is one of the more meaningful and personal songs on the album and arguably one of the best.
Since there are about a hundred songs titled "Invisible," one can probably guess what the sixth track on "Marker 7-58" with the same name is about. Nonetheless, Satellite Gods' version of the song manages to be original. It was written after McMahon witnessed a transgender person become uncomfortable from people's stares. The song calls for equality, with lyrics like, "I want to feel like you do/ but most times I want to be invisible/ I don't want anyone to look at me/ unless it's equally."
"My Friend" is a beautiful track, with equally beautiful lyrics. The first minute of the song is only McMahon's vocals backed up by a chorus. This quasi-acapella song is about being a good friend. This is expressed with lyrics like, "If you're broken/ your body or your soul/ I will carry you/ I will carry you home." If you thought the song was perfect already, it gets better when it includes just the cello to accompany the lyrics.
"Once" proves that Ed Sheeran is not the only songwriter who can write a hit song that includes Celtic vibes, while "Turn Away" is enhanced with saxophone and "Hold Your Ground" has a gritty country/rock sound and includes expertly played guitar. "Walk" is a piano ballad which is an incredible final track for the album.
Overall, "Marker 7-58" is a solid album with originals songs. McMahon and his band are not afraid to experiment with their sound and the risk was worth it. The array of instruments is what makes each song stand out, making "Marker 7-58" an album to listen to and "Satellite Gods" a band to watch.