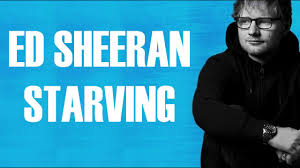 Only five months into 2017, there are hundreds of song covers that have been released into the universe this year. In a year filled with social media, musical apps, and YouTube, it can be hard to sift through all the musical covers to find what you are looking for. Luckily, the hard work is taken care of. Here are the top ten song covers of 2017.
10: Ed Sheeran cover of "Starving" by Hailee Steinfeld
Ed Sheeran shows off his loop pedal skills with this acoustic version of Steinfeld's hit song. I mean, the dude can do it all. He somehow transforms every song he sings as if it was written for him. Let's not forget his cover of "Take Me to Church" which didn't make this list since it had the misfortune of not being a 2017 cover. But back to the point. It is always thrilling to see Sheeran build up backup vocals and guitar on his loop pedal, and that's why every cover he makes is a good one.
9: Madilyn Baily cover of "A Million Reasons" by Lady Gaga
There's a reason why Madilyn Bailey has three million subscribers on YouTube; the girl can SING. With the high expectations that comes with a Lady Gaga song, it is hard to do such a tune justice. However, Bailey manages to sing the ballad effortlessly and beautifully. She has excellent control over her vocals that it makes you think that perhaps she's an alien.
8: Kina Grannis and Kurt Hugo Schneider cover of "It Ain't Me" by Kygo and Selena Gomez
This song is transformed from a pop dance song to a softer acoustic tune in this version of "It Ain't Me." It's an enjoyable cover that brings back the Pitch Perfect cup, a bit of the old finger snap, and other unconventional items which makes this cover a version that you should purchase on iTunes.
7: Conor Maynard and The Vamps cover of "Shape of You" by Ed Sheeran
Okay, so this isn't technically a cover of Ed Sheeran's latest hit, but Conor Maynard and The Vamps put different songs to the tune of "Shape of You," so it still kind of counts. Maynard has done many of these sort of covers, but this is the best one. In this "sing off" between Maynard and The Vamps, different songs are paired with the musical brilliance of "Shape of You." Some of these songs include TLC's "No Scrubs," Clean Bandit's "Rockabye," and Sean Paul's "Temperature." Maynard's flawless vocals and his unique take of a song cover is the reason this song made its way onto the list.
6: AJ Mitchell cover of "Issues" by Julia Michaels

For a 15-year-old, AJ Mitchell has an impressive set of pipes. The young self- proclaimed singer-songwriter displays mature vocals and hits every note in his cover of "Issues." His version of the Julia Michaels tune beats out the covers of professional singers Ashley Tisdale and Sabrina Carpenter, both who have incredible vocals.
5: First to Eleven cover of "I Don't Want to Live Forever" by Taylor Swift and Zayn

It is difficult to impress a Swifty with a cover of a Taylor Swift song. For instance, when I heard I Prevail's version of "Blank Space," I almost puked, and may have lost it. However, even a T-Swizzle super fan can appreciate First to Eleven's rock version of this sultry tune, probably because there is no yelling in this one, but mostly because it is different with its electric guitar sound, but still features the less frantic vocals of a pop singer.
4: Rebecca Black, Alex Goot and Kurt Hugo Shneider cover of "Chained to the Rhythm" by Katy Perry
Rebecca Black is back! This non-political version of Katy Perry's latest song brings back fond memories of Fridays. The duet is great mainly because it lacks Perry's annoying voice, and is replaced by the smooth vocals of Black and Alex Goot. This is also the first time I can enjoy a Katy Perry song since the Swift-Perry feud began (#TeamTaylor). But seriously, the piano and original beat makes this cover a good one.
3: Joshua Evans and Erin Elyse Evans cover of "True Colors" by Cyndi Lauper
Beware, this cover will make you cry. You're probably thinking right now, "Really? This song?" You would think there was no more room for another cover of "True Colors," but I assure you that you will want to give this one a listen. Joshua Evans put out this song shortly after his separation from his wife and creator of the popular YouTube character, Miranda Sings. His sister adds her sweet harmony, and she comforts her emotional brother in the music video.
2: Vanessa Hudgens and Ashley Tisdale cover of "Ex's and Oh's" by Elle King
This cover of Elle King's break-up song will make you nostalgic for a High School Musical 4, and wishing there were more Sharpay and Gabriella duets in the first three. The girls reunite in this slowed down, seductive version of the song, and it's amazing. It's hard to imagine someone rocking this song better than King, but these guys change it up enough to make it sound like a completely different song, and their version suits their voices perfectly.
1: Pentatonix cover of "Hallelujah" by Leonard Cohen
This must be everyone's number one, period. There hasn't been such a good cover of this haunting song since Kate Voegele's version on One Tree Hill. But this cover by Pentatonix makes the song sound more chilling than you thought it could ever be. It creates goosebumps with every note, and may have the power to turn atheists into religious fanatics. Can I get a Hallelujah?