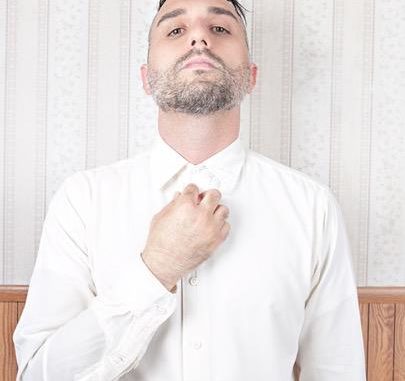 Whether it's a theatrical play or film, the audience's attention is focused on the actor performing rather than what is happening behind the scenes. Chris Loupos is an experienced photographer and an actor that knows the merits, insight and experience of what's it like to work behind the camera and to be on stage.
Since his youth Loupos always held a fascination with media. As a student of Toms River High East, he was in an educational media program titled TV-21 Educational Access. In the program, he learned how to be a reporter as well as a newscaster, how television production worked and was taught how to work the camera and audio equipment in a news studio. Eventually, he enrolled at Kean University to study Media & Film but dropped out after two semesters as he felt he wasn't learning anything and resorted to working at retail and restaurants.
"I didn't actually start doing photography until I was 29 or 30. I was shooting a band and I was doing a video for a band in Maryland and we were shooting a live show and there was a girl on the stage, shooting stills," said Loupos. "I always wanted a still camera, and I asked her 'Can we swap cameras for a song?' and we swapped and I loved it after taking five images. I was like I gotta get one of these."
Shortly thereafter, Loupos bought his own camera and started photographing whatever he could. What started as a hobby became a full-time occupation as Loupos throughout his career photographed athletes, chefs, stand-up comedians and even models such as Jerry Rice, Michael Solomonov, Gary Gulman and Rebekah Marine and posted their portraits on his website, chrisloupos.com.
Aside from taking photographs of celebrities, Loupos engages in other projects such as Young At Heart, where elderly folks are photographed to act as young people by blowing bubbles out of bubblegum, dressing up as fairy princesses, having multi-colored paint on their hands, eating ice-cream and holding a slingshot. Other projects such as Follicled Faces and This Brick Wall are photographs of people with long beards and mustaches and people modeling next to a brick wall. People in Cinematic are photographed to dress up after characters in famous films and television shows such as The Warriors, Sherlock Holmes, Games of Thrones, 300 and some dressing up as cowboys from Westerns.
"Chris' photographs are great, I think they really show a person's true character, he always finds a way to incorporate something special about what his subject are into, what they do," said Stefania Orrù, a digital creative coordinator of Rolling Stone and an associate of Loupos. "He does a lot of editorial photography, which means he shoots for magazines, the photos are usually coupled with an interview. He finds a way to incorporate what that person does for a living into the shoot. He always makes sure their character is shining through."
As mentioned before, Loupos is not only a photographer but an actor as well. Along with Matt de Rogatis and Greg Pragel, Loupos previously performed in the theater production of Lone Star in the Wild Project and the Triad Theater in 2017 where he played Ray, the simple-minded younger brother of the protagonist Roy (de Rogatis).
"You gotta learn your lines, which is hard and this play is especially challenging to me. I'm not used to being an actor per se and I have the most lines in the play, so it's a lot of memorization," said Loupos. It's a lot of being able to hit your cues and also being able to have that timing down, which is really really important in a play. It has comedy in it and also has a lot of drama, so you kinda have to play it both ways. For me, the most challenging part was memorizing all your lines and adding a true person to those lines."
Loupos' performance was riveting as critics praised his role as Ray. Perhaps due to being lifelong friends with de Rogatis only added to the chemistry of the play, as two have known each other for years and even lived together as roommates in New York City.
"All the reviews have been great, it's helped that Chris and I have been friends for so long, it sort of a built-in chemistry that I think people are picking up. For a while, the reviews talk about the chemistry Chris and I have and that's not something you can just manufacture," said de Rogatis. "I mean we have 20 years of friendship, more than 20 years of friendship, so I think that definitely plays into our on-stage character, so I think that is going really well."
Even though he enjoys acting, his true devotion is to photography. One of his future projects is photographing people in their swimsuits on the beach. Loupos will photograph people presenting themselves on the beach, particularly on how they wear their swimsuits, put on sunscreen, sit underneath an umbrella and any other interaction people have on the beach.
While other photographers take photographs of architecture, sculptures or even the scenery of nature, Loupos takes photographs of human beings. He photographs people, as he wants to capture the human essence in all of its imperfect glory and show people who they are and why they should admire themselves.
"I always say this, 'I want to take a picture of someone, anyone, whomever I photograph and I want for them to look at it 10, 20 years and just be like 'that's a really great picture of me,'" said Loupos. "I don't want it to be overly Photoshop, I wanted it to actually look how the person looks or I don't want to make them really skinny if they're heavy, take out all their imperfection because they're part of who you are. I want anyone that looks at my work to look at it from ten years or whatever and still be happy with it. That is one number thing that I feel every time I go to a shoot, that is my goal every time, is to make an image of someone that is timeless."