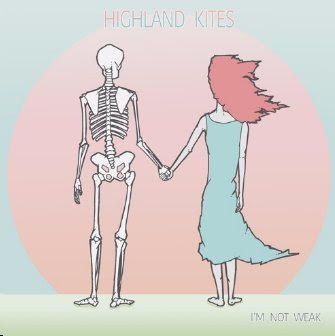 What stands out in Highland Kite's EP titled "I'm Not Weak" are the lyrics of each song. Lead singer, Marissa Lamar shines through with her expert songwriting. She transforms her band with thoughtful and powerful lyrics, which makes the band stand out. This EP, however, is not diverse with its tempo. The songs are slow and portray emotion and the EP does not have any tracks that you can dance to.
Alanis Morissette comes to mind when you listen to the EP's first song, "Nothing to Say." Lamar's voice is not the same as Morissette's, however, in this song about a critical friend, Lamar's airy rock vocals have that similar 80s rocker sound. The lyrics are equal in quality with words like, "I overthink/I'm cynical/I do things wrong sometimes/I break/I spill my guts on stage to people I don't know." The hook, which consists of just the title of the song, is repetitive which therefore makes it a catchy track.
The second song on the EP is "Monster," a slow self-reflecting track. In it, Lamar battles her inner demons with lyrics like, "When will the day arrive where I don't eat myself alive/Where my monsters die and leave me in peace." This song is just another car on Lamar's honesty train, as she opens up through the lyrics in this song.
"Temporary Life" brings acoustic guitar plus beautiful backup vocals into the mix. One may even say that the backing vocals make the song, while the band follows the same tune with the instruments. This track talks about a breakup and putting all you can into a relationship that ends in failure. Again, the lyrics are authentic and honest with words like, "Excuse me for being so damn jaded/Excuse my enthusiasm, it's obviously faded/ from breaking and shaking and trying and dying/ it was all for a temporary life."
Lamar talks about her battle with Lyme disease in "You'll Never Know." She says, "My body was so frail from all the meds that I was on/You didn't want to hold me." Lamar criticizes her friend who could not be there for her when she needed it the most. The song features a steady electric guitar tune and experiments with different instrumental sounds.
The final song on the EP, "I'm Not Weak," starts off with the same slow tempo as the rest, but then the hook transforms into a frantic electric guitar sound, as if Lamar demands to be heard before the EP ends. The song then goes back to its softer side when Lamar realizes that it's okay to let go. She says, "I finally realize that's it okay to break/I finally realize that it's okay to not feel hate/I finally realize I'm not weak for always forgiving/That I'm not weak."
Highland Kite's "I'm Not Weak," is filled with self-exploration and realization. Lamar digs deep and comes through with her lyrical talent. Her willingness to share her thoughts is what makes this EP.