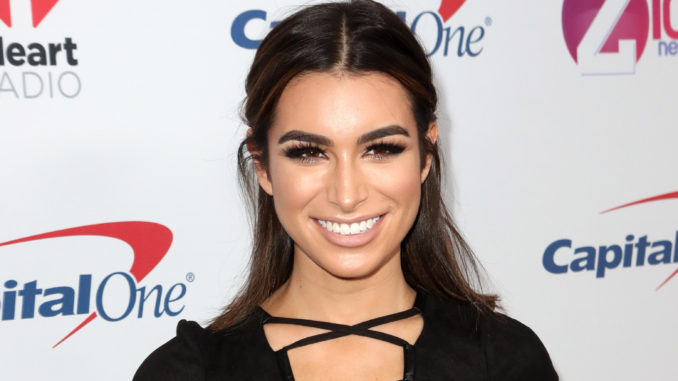 Step aside Boss Girl; Boss Woman is in the house.
After she cried a hurricane of tears on The Bachelor and two seasons of Bachelor in Paradise, Ashley Iaconetti successfully stands directly in the eye of the storm which is the media. With Access Hollywood appearances, a gig with ClevverTV, and an unapologetically honest podcast, Iaconetti makes the most out of her new-found fame and uses it to chase her dream and break through society ideals.
"I'm so lucky that the Bachelor has opened doors for me the way it has," Iaconetti shares. "I always wanted to be an entertainment/pop culture reporter and host and I've been fortunate to be able to accomplish what I have so far. Entertainment news is the hardest to break into."
After a stint on Chris Soules' season of The Bachelor, where she got sent home after a two and one with the season's villain, Kelsey, and two runs on Bachelor in Paradise, Iaconetti has made a name for herself in the media world. As well as being busy when The Bachelor franchise airs; with TV appearances, Snapchat recaps for FabFitFun, and Cosmopolitan articles, Iaconetti has interviewed celebrities like Goldie Hawn and Amy Schumer, and you can tell that she was born to do it.
"I've always been pretty chill when it comes to meeting celebrities, except for my celebrity crushes," Iaconetti shares. "I can clam up with those a little bit. Ever since being on The Bachelor and having Bachelor fans approach me out in public, I've been extra chill with meeting celebrities now because now I really know, like they say, "Celebrities, they're just like us!""
Those celebrity crushes include Leonardo DiCaprio and Harry Styles, both which she has dedicated podcasts to on her "I Don't Get It" podcast, which includes herself, her sister Lauren, and best friend Naz Perez.
When her agent presented the idea of a podcast, Iaconetti agreed, excited to do something unrelated to the Bachelor franchise. It was a way to share more of herself and her personality and get away from the persona given to her through Bachelor edits. On the podcast, the girls discuss the things that confuse them; from guys, dating and pregnancy to Coachella. It also features guests, like Bachelor Alums Jade and Tanner Tolbert and former editor-in-chief of Seventeen Magazine, Anne Shoket.
Iaconetti holds nothing back in her podcast, and no topic, or so it seems, is off-limits. She is about being open and she shares everything and anything with her listeners, from her past diary entries to her dating experiences.
"I feel like we live in a society where picture perfect is too strived for," Iaconetti explains. "Look at Instagram; the Insta stars only share the prettiest, sharpest, best lit photos of us doing the most fun, luxurious things. I think people are starved of realness. Starved of rawness. I make them question how normal their thoughts, emotions, appearances, etc. are. I believe in political incorrectness and the truth. I see the beauty in the mess. Being open helps people connect and relate to you. I want people to feel like they can connect and relate to me. Communication and relationships are so important and in this image conscious world I feel like we're not connecting in deep, honest ways. I want to help facilitate changing that."
Iaconetti is qualified for the media world too; her success is not only thanks to The Bachelor. With a Master's degree in Broadcast and Digital Journalism from Syracuse University, and as owner and CEO of her video production company, E and S Media Creations, Iaconetti has always been ready to get herself out there.
In fact, Iaconetti uses her media company for her podcasts, celebrity interviews and her website. The Bachelor was the segue which helped her become well known, but Iaconetti did plenty of the work on her own.
"Before going on The Bachelor I thought of doing freelance wedding videography," Iaconetti says. "I love romance obviously and love stories so I thought it would be awesome to tell them. I have the video and editing skills to do so. Rather than report news, you can share love with the world."
Iaconetti did share love with the world; she was criticized for being the over-emotional girl on Prince Farming's season of The Bachelor, and Bachelor in Paradise. There was a tally on how many times she cried throughout the show.
"I don't understand how people can emotion shame like they did to me on The Bachelor," Iaconetti shares. "How is it that my vulnerable, broken hearted state demonstrates weakness or dramatics to some people? I think it's brave that I put my heart out there for the world to see and vocalized all the feelings I had internally."
This is why despite the hate, this experience does not stop Iaconetti. She continues to share details about her life as a single girl, and her "journey to find love," as The Bachelor host, Chris Harrison, would say. This is also the reason her fans love her. They appreciate that she is unapologetic of who she is, and her podcast calls out to the other single girls out there going through the same struggles.
Iaconetti looks up to Megyn Kelly, who has a great career and is also a mother and wife. Like Kelly, Iaconetti has the career and she continues to look for love; a love like her parents, who have a "wonderfully happy, healthy, long marriage." Iaconetti realizes that if you are happy with yourself, the relationship will follow. She takes women on her journey of trying to understand how things work through her podcast. This makes it sort of an advice column; although it is not necessarily meant to be so. Her experiences, however, make her relatable to other single women.
"If a guy asks you out and there's a slight connection or attraction, just go," Iaconetti shares. "You've gotta get out there. I think dating practice is important even if the guy will never be anything monumental to you. Also, the busier and more successful you are personally, the more attractive you'll be to the right guy."
Listen to the "I Don't Get It" podcast, and the "Almost Famous" podcast with Ashley Iaconetti and Bachelor alum, Ben Higgins.