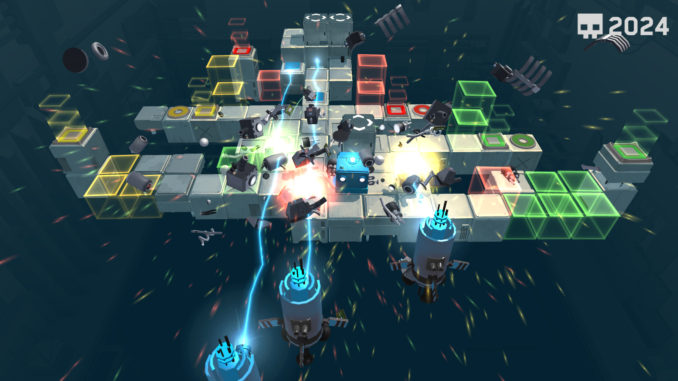 Although late to the Switch launch party, "Death Squared" arrives on the new system ready to heat things up.
"Death Squared" is an increasingly fun and challenging puzzle game with a simple goal: Using the analogs, successfully move each cube onto its respectively colored platform and continue to the next level. It's extra cool on the Switch thanks to the Joy Con controllers, as you either comfortably hold each side and play or pass one off to a friend and enjoy some local co-op. Just try not to let your anger get the best of you.
But if you're really looking to end some friendships, there's also a four-player co-op mode. The game tallies up individual deaths and presents them on-screen after a level's completed, so there's no confusion as to who needs to step his or her game up; nevertheless, "Death Squared" is best played with friends. It's more difficult to approach when you add an element of teamwork, but the payoff is even greater.
If you're a lone wolf, you still won't miss out on anything "Death Squared" has to offer. Party mode, which features the four-cube puzzles, can still be played by one person. It again requires controlling two cubes at a time, but now the trick is to switch between the remaining cubes using the shoulder buttons. It's going to take patience, more patience than before, because you will die. And die. And die again. You're going to die so much that you'll soon stop caring about death counter like some cube-killing sociopath. But it's all good fun.
There are more than 100 levels, some more challenging than others, but all uniquely crafted to be completed in moments. It may take 10 minutes to get it right, but mastering a level means learning to finish it quickly — sometimes in just a few seconds. It would have been nice to be able to compare stats with players online, but you'll have to settle for bragging to the person next to you.
"Death Squared" doesn't have a story, but it tries to at least explain what the puzzles are all about: basically it's testing how sophisticated the AI, or cubes, are. Occasionally a commentator, or tester, will utter remarks on your play. It adds a little flavor as the voice, YouTuber Pirate Rice, as a matter of fact, usually quips after a failed attempt. He even screws with the game itself at times, reversing the controls or accidentally dropping a bunch of cubes onto the stage, causing the system to reset the level.
The Good: The Switch is an excellent platform for a game like "Death Squared." Its detachable controller offers comfort while playing through the game's challenging levels, and both single-player and co-op are crazy fun options.
The Bad: There isn't much replayability. Level completion times and deaths are marked, but there's no online connectivity to compare your scores against other players.
Final Thoughts: Simple. If you're a Switch owner who likes puzzle games, or rather a Switch owner looking for something new and entertaining (because let's face it, your options are still limited on that console), you'll want "Death Squared" in your library.