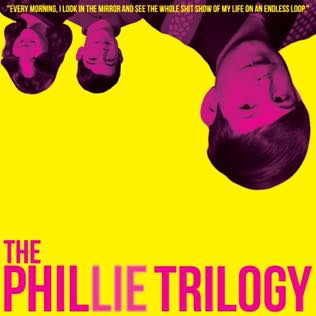 Review Fix chats with "The Phillie Trilogy" playwright Doug Devita, who discusses the production and its appearance at this year's Fresh Fruit Festival.
About the Production:
AN ALL-STAR CAST BRINGS DEVITA'S PHILLIE TRILOGY TO LIFE.
Opening night: Wednesday July 19 at 6:30; Saturday July 22 at 4:30;
Sunday July 23 at 3:30, performing at The Wild Project
"In the canon of works that include The Boys in the Band, Torch Song Trilogy, and Falsettos, DeVita's play, The Phillie Trilogy, will stand proud… and equal" columnist and reviewer, Bob Green, about Doug DeVita's play, which receives its first full production at the Fresh Fruit Festival this summer.
Winner of Scrap Mettle Arts Emerging Playwrights competition, The Phillie Trilogy looks at homophobia through the eyes of its title character, Philip "Phillie" McDougal, over the course of more than 40 years. It played to a standing room only crowd for the inaugural performance of David Beck's Finding the Queer Voice at 13th Street Repertory Theater.
Review Fix: What's your creative process like?


Doug Devita: More and more each day, as we're irrevocably sliding into dystopian Trumpism, I'm fueled by Martinis, Imitrex, and Rage. 

All kidding aside, I usually write in the morning and then let things percolate throughout the day. I'm often inspired by conversations I hear, behavior I observe, memories of my own experiences, anything and everything that pops into my head at any given moment that can be filtered through my own twisted logic. I bring pages into my writing group, The 9th Floor, to be read during our weekly meetings, and adjust according to the sometimes aggravating-but-usually-spot-on feedback. Once the first draft is done – my least favorite part of the process, by the way ­­– I'll put together a private reading of the piece, and then start tearing it apart and putting it back together again – which is my most favorite part of the process.
Review Fix: What makes this different or special?
Devita: The Phillie Trilogy, like The Fierce Urgency Of Now last year, is personal; unlike Fierce, however, Phillie is a memory play in which the stakes are higher, the themes are deeper, and the humor darker. I had to dredge up some very painful, sometimes embarrassing, sometimes infuriating memories, and then turn them into something less personal and more universal, and make them funny; the laughter followed by gasps of recognition I've heard in every single reading of the play as it's evolved over the last few years have told me I'm on the right track; the journey each character takes seems to strike a chord in everyone who's attended the (many) readings it's had so far, whether they're gay or straight. Also, unlike Fierce, which takes place over the course of a few months, Phillie spans decades, allowing audiences to not only see Phillie and Barbie as children, but to also see them as adults, and experience how the events of their childhoods shaped who they've become.
Review Fix: What did you learn about yourself through this process?
Devita: For better or worse, I'm far more competitive than I'd like to admit; last year, when The Phillie Trilogy was competing against some damn good work in Scrap Mettle Arts' competition, the whole experience was nerve-wracking and yet exhilarating. Initially I was indifferent to the whole thing, at one point even hoping to be eliminated early. But as the play kept making it through round after round (the competition is sort of like The Food Channel's Chopped), I realized I really, really wanted to win. And when it ultimately did win, I was unabashedly thrilled Phillie emerged victorious over some incredibly well written pieces, each one of which would have deserved to win. Having grown up Catholic, admitting to myself that my play deserved its win was HUGE! My shrink would've been so proud of me if she were still alive. My mother? I'm not so sure. "Don't get cocky, Doug."

Of course, the next day, when I received three rejections from three different theater companies to which I'd submitted Phillie long before the competition… [Shrugs] As Barbra sang in Funny Girl: "Well, kid, that's life in the theaytuh!" (And thanks, mom! [Laughs])
Review Fix: How does it feel to be a part of something like this?
Devita: I love the Fresh Fruit Festival. Louis Lopardi, the executive director, and Liz Thaler, the artistic director, along with their staff and everyone at All Out Arts, go the extra mile to make all involved feel welcome, taken care of, and part of a magical community. That's amazing for a festival, which can be a stressful, chaotic and unnerving experience. There are several festivals I've participated in I'd really, really, really have to be coaxed into doing again. Not this one. After last year's wonderful experience with The Fierce Urgency Of Now, there was no question I would be submitting The Phillie Trilogy this year. And when it was accepted, there was no question I'd say yes to working with them again.

Review Fix: What are your ultimate goals for this production and for the future?


Devita: Dennis Corsi, my brilliant director, and I want to see this show on its feet. Unlike The Fierce Urgency Of Now, which had had a prior production in Seattle that allowed me to work out the kinks, this will be the first time The Phillie Trilogy is being fully staged, with real set pieces (integral to a few of the plot twists), and with real teenagers playing the roles of Phillie, Barbie, Keith and Jude. It's exciting. It's also a test run for what we hope will be a remounting of the show off-Broadway in the near future. (And that's all I can say about that.)
Review Fix: What do you think your audiences will enjoy the most?

Devita: I'm hoping they'll enjoy the dark humor of the piece; as Truvy says in Steel Magnolias: "Laughter through tears…"

Review Fix: What's next?
Devita: I'm currently taking a workshop with Rogelio Martinez at ESPA/Primary Stages, finessing a script about the disenfranchising effects of social media. It's a sort of light comedy about dark people living private lives in public places, and I'm hoping to have it ready for a reading in the fall. I'm also planning to head to the beach for a mini-vacation right after Phillie closes. My dog Max has never seen the ocean, and I kinda wanna watch him freak out when he experiences the sand and surf for the first time.