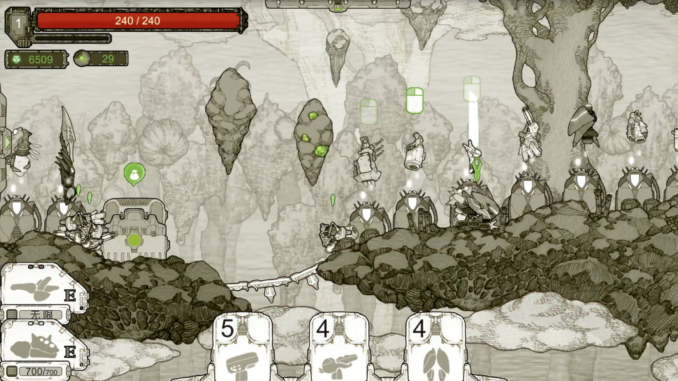 Review Fix chats with Xiaodan Xu, CEO of Bonfire Entertainment who discusses "Original Journey," detailing the creative process and goals for the upcoming game.
About The Game:
Explore an uncharted alien world in Original Journey, a sci-fi action-adventure with painstakingly detailed pencil art from publisher Another Indie and developer Bonfire Entertainment, coming to Windows via Steam on August 16, 2017. Nintendo Switch, PlayStation 4 and Xbox One releases are planned for Q1 2018.
Engage in fast-paced space shootouts utilizing over a dozen upgradable weapons, turrets and customizable mech armor. Take time out to race or craft new equipment before blasting and hopping back out onto the constantly changing, puzzle and platform filled, mysterious planet.
Review Fix: How was this game born?
Xiaodan Xu: Original Journey is the vision of Bonfire Entertainment's lead producer Linam Tan. Tan has always been a massive fan of video games and, while studying at the Central Academy of Fine Arts (one of China's most respected art academies), developed a demo of Original Journey. The demo got a lot of attention in China and won IGF China's student award for excellence. After this success, Tan decided to gather a team and turn his demo into a full game.
Review Fix: What was development like?
Xu: Our development process has always been intense but never crossed into suffering. The company founders did everything in their power to have a suitable and supportive work environment. That's not to say we didn't have some major setbacks and get stuck in certain areas. One particularly tough point was changing the development engine from MMF2 to Unity.
As we were mostly Art graduates our weakest area was programming. Finding team members to strengthen our weak areas while adhering to our strict budget was a challenge but in the end, we gathered a team consisting of a producer, programmer, scenario editor, and administrator. This was very tough in China and very few teams manage to stay together to produce something like Original Journey. We're proud of that.
The most difficult period was probably during the run up to the IGF competition. It wasn't the lack of money but the loneliness that really affected us. Our game was unknown, we were unknown, and we didn't know if people would even like Original Journey. It was a tough time. This changed after IGF when media and publishers began contacting us and talking about our games. It felt good to be affirmed by the rest of the Chinese games industry and it gave us the motivation to push further.
Original Journey is a procedurally generated action game and most games of this genre don't focus on narrative. After getting feedback from many people we decided we wanted to do something different and create a game that uses procedural generation while having a strong story. Making this decision pushed back our development time but the response we got from the Chinese community made us believe that was worthwhile and after a lot of internal discussion we decided to make the game as perfect and as polished as possible.
After 15 months of development Original Journey is bigger, better, and more beautiful than we expected. And most importantly, it really stands out in a crowded marketplace with its incredible art and unique mix of procedural generation and narrative. It's possible that we have taken too long to get to where we are but it's hard to say that time spent polishing our game wasn't time well spent.
Review Fix: What makes this game special?
Xu: The most striking thing about Original Journey is the art style. Everything you see in the game is hand drawn, then scanned and uploaded to PS for animation and tinkering. While the method was a little tiresome, we really wanted to capture the beauty of Tan's art style and this was the best method to accomplish that. Judging by the reaction we've gotten from people across the world, we made the right choice.
Additionally, we've worked really hard on Original Journey's story and think people will really engage with our characters. We think people will be surprised by depth of our story and hope we can take them on a truly Original Journey.
Review Fix: What games influenced this one the most?
Xu: Tan is a crazy fan of Super Meat Boy, The Binding of Isaac and Contra. These games influenced us a lot.
Review Fix: As an indie studio, what do you think you guys do differently than the big studios?
Xu: We are a six-member team, which means our producer needs to take care of both art and game design and we are always under pressure. However, compared with bigger companies, we treat our games as our own children and our team is a family.
Sometimes having fewer members means having fewer issues. Our excellent working relationship with one another enables the team to get a lot done in a limited amount of time. Things have also gotten easier since we engaged with Another Indie, who has taken over publishing the game, allowing us to focus on development.
Review Fix: Any fun stories or wild moments during development?
Xu: Like all indie developers, we are a little bit crazy! We love games but developing them has been tough and we have to remind ourselves to stay sane. We're in an interesting situation because all three of our programmers are ladies, which is rare worldwide and almost unheard of in China! Initially, we had a male programmer and when he left we had to run around like madmen putting together a new team. Since getting through that painful handover, things have been very stable.
Review Fix: How does this game disrupt the video game landscape?
Xu: Working with Another Indie has enabled us to publish our game on Steam, WeGame, PlayStation 4, Xbox One, and even Nintendo Switch! Our efforts were not in vain! It also means that Original Journey is really being accepted by the games industry. As a small indie team from China, it's impossible to express how exciting this is – there are no borders in the gaming world!
Review Fix: Who will enjoy this game the most?
Xu: We think players who enjoy a challenge will enjoy Original Journey, but we developed the game with the goal that anyone will be able to play and enjoy it. We have had a diverse group of game testers, from 7-year-old girls to 40-year-old men. They all seemed to enjoy the time they spent with Original Journey.
Review Fix: How do you want this game to be remembered?
Xu: This isn't something that we've really thought about. Our goal has been to make the game enjoyable and fun for those who play it. We hope that people will remember the art style and the characters we introduce them to!
Review Fix: What are your goals for the game?
Xu: Initially the game was a product of Tan's interests. But now it's a team effort to make that vision perfect. We just want to make a good game!
Review Fix: What will you do next?
Xu: Our next project is a title called Kill IT. The setting and plot have already been settled and we will begin development after we have finished developing Original Journey. We hope that we can learn from our experiences with Original Journey and push ourselves even further.