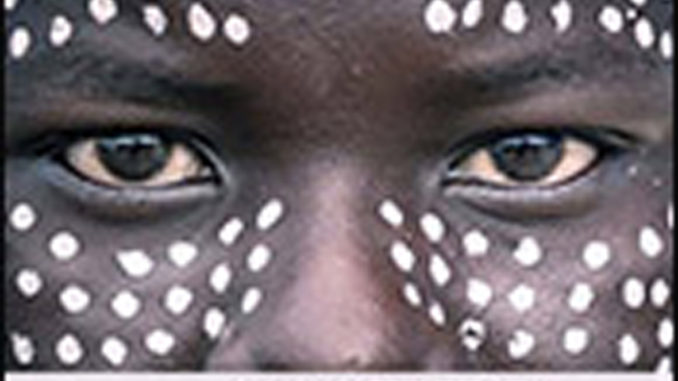 Review Fix chats with director Tom Marion, who discusses his latest production, The Water Carriers.
About the Production:
The Water Carriers, a deeply moving family drama with music by South African playwright, Michael Williams, brings to life African legends, Sunjata and The Tree of Life, to help tell the very timely and turbulent tale of six refugees stowed away in a shipping container bound for who-knows-where.
Set in one small place, this powerful story reveals the immensity of a global crisis… which cannot be ignored.
About the MITF:
The Midtown International Theatre Festival returns for another summer of quality stage works. New York's oldest continuing theater festival will present 100 plays in 23 days.
One of the leading reasons to visit New York in the summer is the theater – from Shakespeare in the Park to the best of Broadway. New York is also known for its amazing theater festivals. This year, the venerable Midtown International Theatre Festival takes its place as the oldest continuing summer arts festival in New York. To usher in this honor, producer John Chatterton presents nearly 100 new and fascinating live stage works – plays, musicals, variety acts, short plays, solo projects, and so much more. Visit www.midtownfestival.org for further info.
Review Fix: What's your creative process like?
Tom Marion: I'm much more an actor at heart, so can I speak of that process?  It may not be what's best for directing but informs everything for me.  Reading the play over and over and trying to identify the inner need for each character, finding what makes relationships special, and understanding what's at stake in each scene.  But then, the overall…what is the play saying.  It's been said that if you don't have anything to say with a play then if you shouldn't direct it.  But maybe part of that is just letting the play speak to you and being deeply affected by it.  If I auditioned for the Water Carriers, I wouldn't cast me.  I don't think there is a part for me.  But isn't it wonderful to direct and still be able to feel a part of these characters lives?  And in my mind, to move as they do.  Movement is important to me – discovering impulses and physical responses.  It's great to set up a scene and watch how the actors improv.  One thing leads to the next.  But sometimes when there is a block, and an actor is looking at me for an idea.  But I can't just think it up, sometimes I have to stand on the stage, facing the audience, placing myself in the character's role to know what to say.  It's interesting because something else is telling me what move will work.  A director needs a sense of truth, humor, rhythm, dynamics, beauty, form…but so does an actor, really.  It maybe just comes from a different place?
Review Fix: What makes this different or special?
Marion: Good question.  Thank you, because this play is very special and very different.  Special because it gives voice to displaced people, and at a time when there are more refugees throughout the globe than in any time in modern history, more than after WWII.  Tens of millions of people uprooted from their homes by war and climate change.  One in every 113 people on earth is looking for a new land to start again.  And yet, even this year when a variety of factors brought this decade building crisis to national headlines, it yet again seems to be sliding into the back pages and the furthest recesses of public thought.  It is also special because the play is not maudlin or melodramatic.  The characters are shown in a fully human light, good, bad, selfish, and giving.  Yet they are all heroic, and in their search for the strength to carry them through their journey, we witness the depth of their humanity.  The play is different because it works on many different levels.  There is the film-like reality of the refugees in a shipping container; the presence of their dead ancestors who seek to give them hope and tell their story; and thirdly, the enactment of African folktales told with the techniques of Africana Physical Theatre, a form of theatre where actors their use their bodies, voices and only the things they carry with them to create everything needed to tell a story.  There is also music, singing, and dance.  And in 75 minutes!
Review Fix: What did you learn about yourself through this process?
Marion: How I sweat the small stuff and have to let it go.  How much twelve heads are better than one.  For the sake of time, I would consistently bring in ideas only to find that they didn't work.  And only through full cast explorations was a clear structure finally realized.  Time and time again the cast came up with extraordinary solutions and new avenues to pursue.  Make a cast comfortable and they will develop works of wonder.
Review Fix: How does it feel to be a part of something like this?
Marion: Well, logistics may be a boring topic when discussing art, but with theatre, the show must go on and logistics make all the difference.  Juggling the competing schedules of twelve cast members, each having one or two or three jobs, plus school, and family commitments is not a restful occupation.  However, it is an extraordinary pleasure to see wonderfully talented and committed group of young actors tell a story of such importance.
Review Fix: What are your ultimate goals for this production and for the future?
Marion: That is up to the playwright, Michael Williams, who lives in Cape Town, South Africa.  The play was commissioned by the Theatre Department at Butler University, where it was performed in 2014.  I thought it would be a good play for us to do at York College, CUNY.  A colleague of mine heads the department at Butler and put me in touch with Michael.  He agreed to let us produce it, and even came to see the opening this past March, and very generously spoke with the cast and audience after the show.
Review Fix: What do you think your audiences will enjoy the most?
Marion: Different audiences will appreciate different things.  A child might like the roaring monster we create out of water bottles and plastic funnels, others may delight in the singing and dancing, and still others the honest depiction of relations formed under strain.  But for me, it is the end – to see characters change, to come to a new understanding of themselves of their strengths and capacity for love – that and a song from South Africa about the iniquity of building walls.
Review Fix: What's next?
Marion: A year off from directing, devoting myself rather to the continued development of the York College Theatre Arts program.  And perhaps finally finishing my second of a pair of articles for the VASTA Voice and Speech Review.