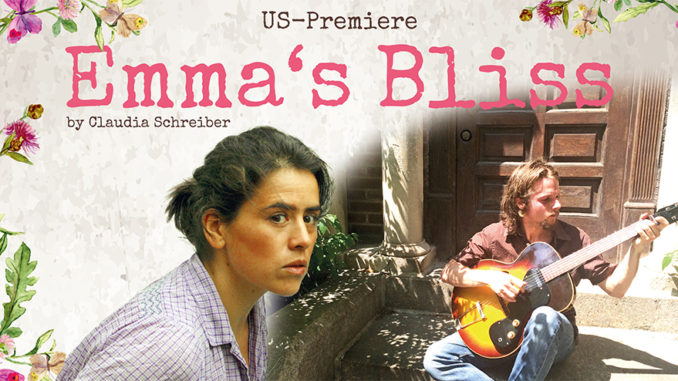 Review Fix chats with director Yarina Gurtner, who discusses the production and why it's one that must be seen this Summer.
About the Production:
This unique love story comes is an American premiere at MITF Claudia Schreiber's musical tale focuses on Emma. A lonely woman living on a foreclosed farm. In this dark time came Max, a thief on the run, dying of pancreatic cancer.
The joining of these two darkened hearts brings on a major decision that could be salvation for both … even just for a little while.
After receiving tumultuous acclaim in her native country, the Austrian entrepreneur, Yarina Gurtner, has chosen this engrossing drama to premiere here in New York City. "I am the International in Midtown International Theatre Festival!" she said with a laugh.
About the MITF:
The Midtown International Theatre Festival returns for another summer of quality stage works. New York's oldest continuing theater festival will present 100 plays in 23 days.
One of the leading reasons to visit New York in the summer is the theater – from Shakespeare in the Park to the best of Broadway. New York is also known for its amazing theater festivals. This year, the venerable Midtown International Theatre Festival takes its place as the oldest continuing summer arts festival in New York. To usher in this honor, producer John Chatterton presents nearly 100 new and fascinating live stage works – plays, musicals, variety acts, short plays, solo projects, and so much more. Visit www.midtownfestival.org for further info.
Review Fix: What's your creative process like?
Yarina Gurtner: It depends on the story. I think that every story needs an individual approach. I start from the images that I get from the text and from the people I work with. The way we communicate within the team is essential for me. What costumes and materials are utilized on stage are also interesting to me. While I observe and get more into the story, I stay permeable. I don´t believe so much only in the text but in the relations and the questions that are triggered in there. I like to read and listen to the words many many times to let it sink in.  I often learn my text while I am cleaning the house, ironing, running, hiking, doing other housework. Sometimes I help my mum in her shop labeling her products. That works absolutely for text learning. The language used in a story is very interesting to me. Although I think language can be very limiting, I like to explore the words and how I pronounce them. It´s fun. Once my text is with me in mind, I go to the bodywork and let the words find its way through myself.
While I produce my shows, I find the production itself also very creative and inspiring.
Review Fix: What makes this different or special?
Gurtner: Right now the shows of Emma´s BLISS is a very new experience. For the first time, I will act in English, I have done small films in English, but this was different.
My background as an Austro-Peruvian and my family background itself triggers in myself a combination of staying open in my mind, accepting new ideas and cultures and at the same time, I am very structured and organized. I can be very rigid in that. I love to go running and do sports, training myself and being disciplined. This is what I tribute to my work: I stay sporty with it and I like it.
I experienced, that people who I work with, like that too.
Review Fix: What did you learn about yourself through this process?
Gurtner: I learned to trust myself. This was one of the biggest gifts I got. Unfortunately, I had to fire one of my most important assistants. Although we were and still are good friends, I had to make this decision in service of the work. I had worked with him on stage for a very long time and he taught me a whole world. That moment I decided to continue without him, despite the sadness of letting go the work with him, I learned that there is so much more in myself that I had not considered yet. I learned to count on myself and this is one of the most important headstones in my actual work. With that in my mind, I also learned to lead my production on to a more professional level. I learned to motivate people how to assist in my production. Especially in the Salzburg Premiere, in that new theatre in my hometown Oberndorf, I enjoyed the attention I got because everybody was so happy that theatre is coming to Oberndorf. So everybody wanted to assist as best as they could. Once again I learned how important, healthy and inspiring it is to have space to create our expression.
Review Fix: How does it feel to be a part of something like this?
Gurtner: It is just amazing. I feel that my work is rising to a next level. All my ideas that I have been going through the last years, all my doubts and searches  – they led me to where I am now and I feel confirmed that I had the courage to go through every single doubt, experience, question, try and deep hit that I had. I feel confirmed that my natural trial and error approach makes sense and is hopefully sustainable. I am very excited about the shows in New York. For the US it will be the premiere of "Emma´s Bliss" in New York. For me, it will be my personal premiere in New York. This feels very exciting.
Review Fix: What are your ultimate goals for this production and for the future?
Gurtner: I am going to have more shows of Emma´s BLISS in Austria in autumn. There is also the interest of Austria's foreign ministry to promote this production within Europe. That will be in spring 2018. Now that I set the English version of Emma´s BLISS I will be happy to perform in other countries and also offer the q&a dealing the controversial theme of euthanasia. This production will definitely stay in my repertoire.
Review Fix: What do you think your audiences will enjoy the most?
Gurtner: In my show Emma´s BLISS I do take care a lot of my audience, I always stay in contact and ask them questions, explain, justify myself, report and I seek for their understanding for Emma. There is a big ambivalence in her, which she actually never names but reveals through the way she interprets her own story. She is just the way she is, – naturally wise and full of desires. I think people can identify with her. To me, her character is very inspiring and I love the way she is. I think she inspires a lot of other people too.
Review Fix: What's next?
Gurtner: I was asked to produce a play that deals with the controversial origin of the Christmas carol "Silent Night." This will be very exciting as they asked me to produce this together with my father Max Gurtner. He is the director and curator of the Silent Night Museum in Arnsdorf and completed his studies in theology just a year ago, after a long break. His knowledge about Franz Xaver Gruber (composer) and Joseph Mohr (poet) of this song is just amazing.  The little town school in Arnsdorf, where this song was composed is still working as a primary school and as the famous silent night museum.  Arnsdorf is a small village near Oberndorf, where it was performed for the very first time in 1818.  It is the place where I attended primary school, so this will be a very special approach for me.