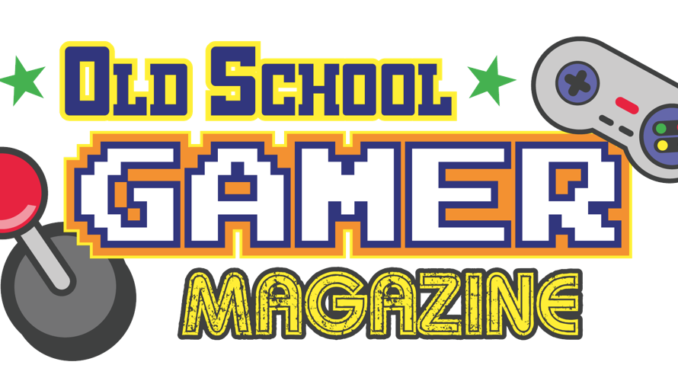 Old School Gamer Magazine is powered up and open to the public!
This new online/print publication is aimed at the gamer who enjoys collecting, refurbishing and playing classic arcade games, as well as the home console gamer reliving his or her childhood from the '70s, '80s or '90s — who also wants to pass on the love of gaming to the next generation of gamers. Old School Gamer Magazine (OSG) was created to meet the ongoing need for information in the retro gaming community. In North America over the last 10+ years, more than a half-dozen magazines have been attempted in this niche, but most haven't reached a dozen issues before "game over."
Meanwhile, in the UK, Retro Gamer Magazine has racked up more than a decade of success since going live in 2004. Old School Gamer Magazine aims to start a similar tradition. OSG is certainly poised for success, with ownership boasting a 20+ year background in publishing for the mobile disc jockey industry. Its sister publication, Mobile Beat, was published in print for 25 years (ending May 2016), and now maintains a popular monthly digital edition, distributed via a companion app and website, logging tens of thousands of readers per issue.
The driving force behind Old School Gamer Magazine is Ryan Burger, who is an experienced publisher and lifelong gamer. He grew up with his Intellivision and his Genesis, (being partial to the less popular systems) and now collects arcade machines and primarily for the Atari 2600-5200-7800. Ryan and the OSG team are looking forward to meeting you in person at one of the upcoming retro gaming expos.
FREE SUBSCRIPTION OFFER: Old School Gamer Magazine is offering free subscriptions to its digital magazine and a free printed issue to be mailed out later this fall.
Go to http://www.oldschoolgamermagazine.com to sign up. —- Publisher and staff writers are available for interviews: Contact Ryan Burger at 515-986-3344 x300 or [email protected].
Banners for promotion available at: https://www.oldschoolgamermagazine.com/spreadtheword/ . Also, use the above info to contact Ryan if you are interested in advertising to the gaming community.