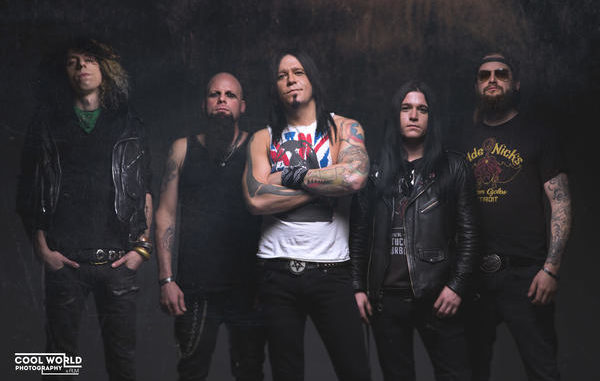 Review Fix chats with Bobaflex bassist Jymmy Tolland, who discusses the band's new album, "Eloquent Demons," as well as their creative process and goals for the future and current tour.
About Bobaflex:
The band was originally signed by Eclipse Records to release their first full length album Primitive Epic. the band went on to TvT Records where they released two albums in Apologize for Nothing (2005) and Tales From Dirt Town (2007). label went bankrupt in 2009.
The band decided to go the independent route and started their own label, BFX Records in 2010 in order to control their own destiny. They released an EP in 2010 called Chemical Valley. With the exception of a re-recorded version of 2007's Home, all the songs on the EP would become part of their full release in 2011 Hell In My Heart which featured 16 songs and their top selling single to date Bury Me With My Guns On and their very popular cover of Sound Of Silence (Simon-Garfunkel).  Hell In My Heart was followed in 2013 with Charlatan's Web which included the single I'm Glad You're Dead their most successful song at radio in their history.
Review Fix: For those who have never heard you, what makes you guys unique?
Jymmy Tolland: The most obvious thing is that 4 of us sing. We try to build vocals like most people layer guitars. Its a rare thing, having so many vocalists, especially live. Its a thing I'm very proud of.
Review Fix: Where are you are a band right now? What are your goals?
Tolland: Things are always changing and growing. We're still relatively underground so any path we jump on to grow is something we're going to go for. We just signed with Thermal Entertainment and since then our sales and radio play have jumped. Now we just need to kick it up on tour to really take advantage of that.
Review Fix: What makes this album different for you guys?
Tolland: Many of the songs are longer than we were writing a few years back. I don't know if its a subconscious rebellion against the old school "3:30 or nothing" thing thats been the law for the last decade or what but a ton of rock 'n' roll bands are really letting their songs breath more these days. This really let's us tell a story the way we want to tell it without constraints.
Review Fix: What's the song you're most proud of with this one?
Tolland: For selfish reasons – Say What You Will. That's the first song I really took the lead in writing on. I built almost the whole structure and  guitar arrangement in my room. Haha
Or Real Sadness. That was a group effort about a real gruesome story Tommy told us about a childhood friend of his. We all kind of wrote it on autopilot. It was a weird kinda spiritual process that only took like an hour before we finished the song.
Review Fix: What's next?
Tolland: Keep pushing. We're in a better position financially than before so opportunities are really popping up for us now. We've been busting our asses for a while now so we're 100â"… ready to bite when someone dangles the  prize in front of us.
Review Fix: Anything you'd like to add?
Tolland: Come out to a show and buy our new album, ELOQUENT DEMONS! We'll be on tour until 10/1 across the whole country. Rock n Roll.