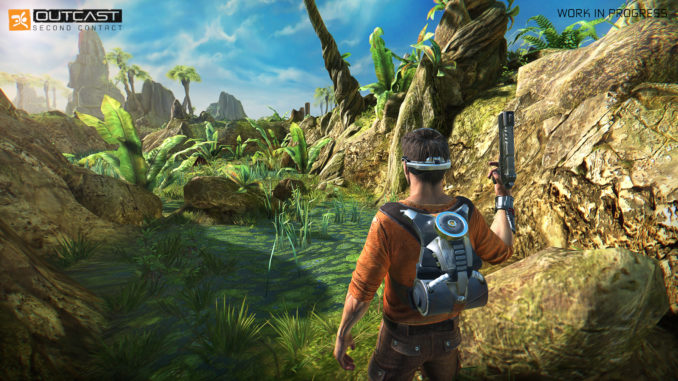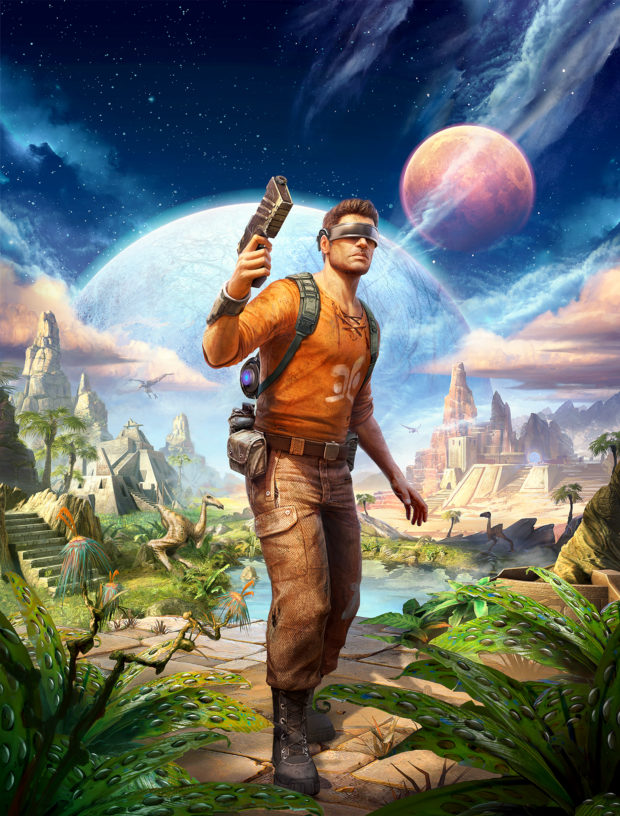 Review Fix chats with Yves Grolet – Game Director of the upcoming Outcast-Second Contact, which is set for an October release on PlayStation 4, Xbox One and Steam. A remaster of the 1999 cult release, the original Outcast was a cult classic that took open-world 3D adventures to a level never seen before. Detailing the creative process of the remastered version, Grolet lets us know what to expect and the possibility of a release on Nintendo Switch.
About Outcast- Second Contact:
In Outcast – Second Contact, the action takes place on Adelpha, a vast open world to explore and the cradle of an ancient alien civilization, the Talans. This video shows a bit of the gameplay in Outcast – Second Contact and the depth of its unique world, in which exploration is at the heart of adventure. Sacred portals, called Daokas, let you travel freely to the four corners of Adelpha from the very start of the game, as you search for your crewmates and the lost terrestrial probe.
To successfully complete your mission and the hundreds of side quests, you will need to gain the trust of the local inhabitants. Talk with the people, negotiate with rich merchants, save oppressed farmers, take on dangerous predators and even undergo a mystic ritual with the great Shamaz priests of Adelpha. Each Talan has a unique history and personality.
For More on the Game, Click Here.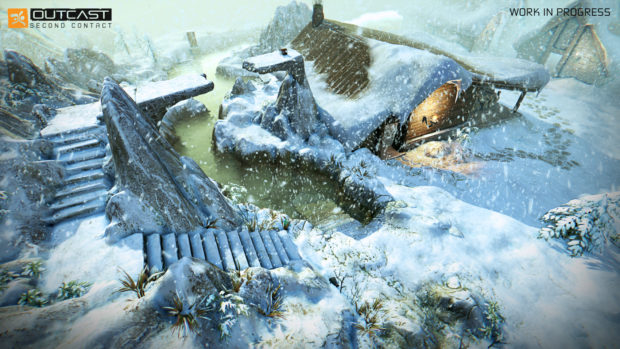 Review Fix: How was this game born?
Yves Grolet: Back in the early '90s, we (Yann Robert, Frack Sauer, and myself Yves Grolet) were working at Art & Magic, a studio that specialized in arcade games, but the aging hardware was not capable of supporting the new ideas we had for video games. We wanted to make a 3D game where the player could live an adventure and explore beautiful natural environments. In order to achieve that, we parted from Art & Magic and created our own studio, Appeal. At Appeal, we developed our own voxel rendering engine to create an early prototype of the game. Thanks to that prototype, we convinced a publisher to fund the full project… and Outcast was born, I guess.
The original game took us four years of development and was made in a very different environment. Just imagine: PCs were not equipped with graphics cards yet. We did a lot of R&D back in the days to be able to offer the kind of experience we wanted and the result was a game that pushed the boundaries of what was achievable. Outcast mixes of a lot of different game styles and journalists had a headache classifying it in the existing genres at that time. Nowadays we would call it an action-adventure game.
Review Fix: What did you learn most from the original game?
Grolet: Honestly, those were crazy times. Doing something as bold and innovative as we tried to do with Outcast back in the late '90s would be a very different ball game today. I praise the courage of Hello Games and other troublemakers that take the risk. Honestly, I would not do it again (or would I?).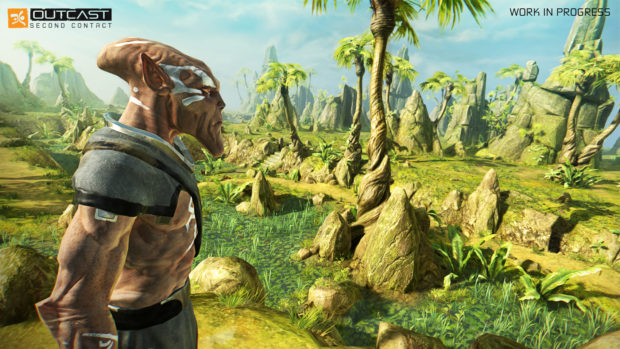 I would say that this project taught us multitasking and flexibility the hard way as Outcast mixes a lot of different gameplay and made use of the most cutting-edge technologies at that time (motion capture, Artificial Intelligence, 3D rendering, etc.).
Review Fix: What was development like?
Grolet: It was both hectic and exhilarating. In the '90s, game development was the land of freedom and the sky was the limit. Our team welcomed a lot of very talented people and as they came and went according to development needs, we met with friends that are still today filled with passion about the project and helped us make this remake real.
Review Fix: What makes this version of the game special?
Grolet: This isn't a mere remake, it's a rebirth for Outcast. For us, this version is special for us because we got to work on the game we made twenty years ago, but after all those years, we have a very different perspective.
It's also special for the players because some of them have been asking for this for so many years… while others will explore Adelpha and meet Cutter and co. for the first time. Anyway, we hope that this is only the beginning.
Review Fix: What games influenced this one the most?
Grolet: Apart from the original game, obviously, we also played recent action-adventure games to get a feel of what modern players are used to and expecting. Zelda, Uncharted, The Division are among our favorite recent titles and analyzing them certainly influenced us in one way or another.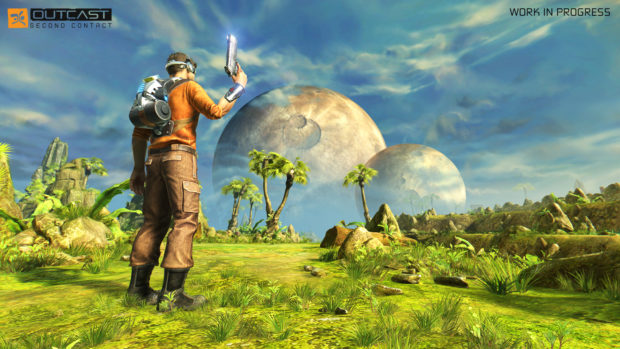 Review Fix: What inspired the art?
Grolet: When we started the development of the original game, we were a bit frustrated by what we thought was a lack of ambition in contemporary games. So when creating Outcast, we draw inspiration from movies or our own travels rather than from other games. The art is inspired by classic movies such as Indiana Jones, Star Wars and the first Stargate movies. But more than that, we used our own experience as travelers as a creative drive. At the very beginning, the game was supposed to take place in a South-American environment, and you can find some hints at what we found were exotic cultures for us throughout Adelpha (the Chinese rice fields in Shamazaar, the middle-east ancient civilization for Talanzaar, etc.).
Review Fix: What makes this game worthy of a remake?
Grolet: Outcast fans! Outcast's vivid community together with our passion for making a game and building worlds is our main drive. Some consider Outcast as a cult game, one of the first 3D open-world titles. I don't think that's a reason enough. Games deserve a remake if there are people ready to play them, and the love of our fans fuels us with a passion to deliver the best remake of Outcast possible and hopefully give Cutter another adventure to live.
Review Fix: What's special about the story?
Grolet: The story is melting pot of all we liked about science-fantasy. There are some twists and surprises, but most of all it's an epic adventure that everybody can enjoy. What's really special about the narrative, though, is all the details and life that has been infused in the world building. We wanted to create a world that felt consistent, one you could explore freely and interactively. Each alien has its own backstory and behavior and your actions will have an impact on them. That is, according to the players we've had the opportunity to speak with, what's really enjoyable about the game.
Review Fix: As an indie studio, what do you think you guys do differently than the big studios?
Grolet: To tell the truth, we do not see ourselves as indie developers, or care about any labels honestly. We bought back our IP, we are a small team, we tried to kickstart our project… But we are focused on the games themselves and we accept looking for external findings if that means being able to make those games.
I'd say flexibility is our main asset. For instance, for this the remake, we decided to do remote working to save time and money. This was possible as we all know and trust each other and our common history makes everything easier.
Review Fix: Any fun stories or wild moments during development?
Grolet: Working on this remake is really a different experience from what have done in the past. It's funny, but we are often surprised by our own code! Sometimes in a good way, when we read a piece of script that could not have been written better, but often we also realize how much video game programming has evolved.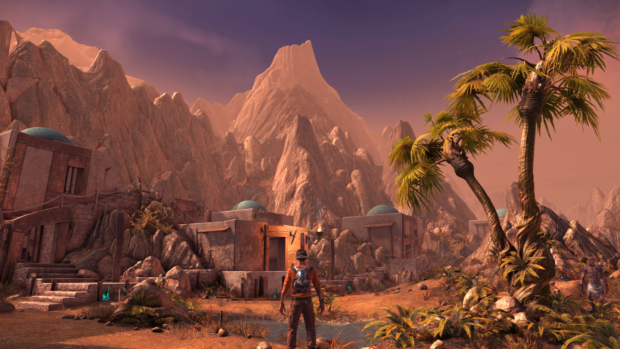 Review Fix: How does this game disrupt the video game landscape?
Grolet: Talking about the Original game: In 1999, people described Outcast as "the game from the future." I think what was really innovative in the game was the non-linear quest system, the vast and living open regions you could explore and the production value of the title. For instance, the music score was performed by a real symphony orchestra, all the voices were dubbed and the animations used early motion-capture technology. Nothing was too big and we treated the game as an interactive movie. It really showed the world what a video game looked like when means and money comparable to Hollywood movies were put into it.
Review Fix: Any chance at this hitting the Switch?
Grolet: The Switch nomad particularity is well adapted for solo adventure games with rich open-worlds where you can hop-on and hop-off, games where you always have something to do and can play sessions of any given time. There have been discussions, but nothing has been confirmed.
Review Fix: Who will enjoy this game the most?
Grolet: Outcast – Second Contact is a truthful remake of the original game. We are using an improved version of the original source code in C++ within Unity the new game engine. Unity is communicating with the source code constantly and many key game components such as the level design, the quest system and the AI are still handled by it. If you have played the original game, you won't feel lost!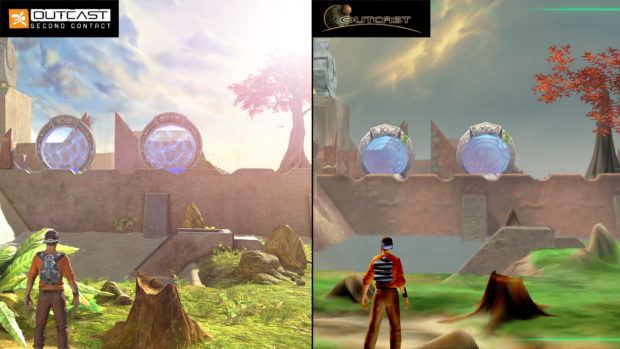 But more than a mere remaster, our goal is to deliver the same awe-inspiring experience to modern players. We focused most of our efforts in revamping all the visuals and making the gameplay more dynamic to please gamers of all creeds. All the environments and models are completely remade by hand and we added a lot of details to them. The physics and the UI is also recreated and improved within Unity. The lightning and weather effects, something we work a lot on, are also new and help convey the original and unique atmosphere of each region of Adelpha, the alien planet you'll explore in the game.
Outcast – Second Contact is us trying to open our audience. We are optimizing the game for consoles, we are adding a lot of visible feedback and indications and, most importantly, we worked with Bigben to rejuvenate the brand itself. We want today's players to explore Adelpha and meet Cutter and co. with the feeling that this is only the beginning of a wonderful journey in Outcast's saga.
Review Fix: How do you want this game (the remake) to be remembered?
Grolet: We hope that you will find in Second Contact the definitive version of Outcast. The goal is to really deliver the same experience to a modern audience on the current generation of gaming machines.
Review Fix: What are your goals for the game?
Grolet: Our goal as a studio remains the same: create fun and interactive worlds to tell epic stories. Our goal with the remake is to introduce the Outcast world, Adelpha and Cutter to a new audience and prove that Outcast is a world worth exploring.
Review Fix: What's next?
Grolet: There are of course many more adventures Cutter could experience, however, our focus for now is to make the best Outcast remake possible. This installment is a critical milestone both for the players and for us. It's the first installment of the saga we have in mind, and it's the first time many adventurers will meet Cutter and travel to Adelpha. We are also learning as we go along from tons of feedback and many discussions we've had with the community. We have many ideas for the future and we hope that a successful Outcast – Second Contact will pave the way for future projects.
Review Fix: Anything else you'd like to add?
Grolet: May the yods be silent!