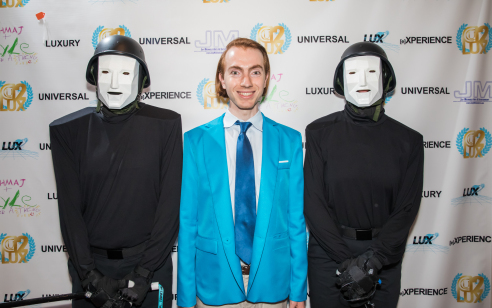 Review Fix chats with LUX spokesman John Pointe, who discusses this unique entertainment experience and how it is a live theatre/film experience you can't afford to miss.
About UVX:
The Luxury Universal e[X]perience corporation – a communications juggernaut of the 1980s – returns to the mainstream with the next generation of cinematic entertainment: THE UVX FORMAT. A way of melding live action theatrical entertainment with the panorama of film … in an interactive format. Basically, YOU CAN CHANGE THE MOVIE YOU ARE WATCHING.
LUX has acquired Holmé an underground film masterpiece that – thanks to the film's creation of "surreality" a hybrid of realism and absurdism – is now enjoying success in commercial circles. Directed by a mysterious cult filmmaker from a screenplay by an underground French auteur, based on the works of a poet associated with the surrealist movement, Holmé centers on a  family coping with life by retreating into a world of fantasy so deep as to blur the lines of actual reality.
The UVX format when applied to Holmé creates an immersive event extravaganza allowing VIP patrons (the LUX Deluxe) the power of the director's chair, the power to change the entire audience's experience – WITHOUT EVER LEAVING THE COMFORT OF THEIR THEATER SEATS!  With the power of LUX's real-time digital film editing, Holmé promises to be the most FUN movie screening you'll attend … ever.
Review Fix: What was the inspiration for this project?
John Pointe: Luxury Universal [e]Xperience (LUX) is all about creating an experience that is 110% more FUN. Ever since our inception in 1981, we've been the word leader in it. The LUX is committed to a vision of vertically-integrated film financing, distribution and theatre presentation, all in the service of putting the customer first–and, in the words of our Founder, Paulbert Fillius Pontifex III, Esq. providing "110% More Fun!" And we see Holmé as the continuation of that legacy.
Review Fix: What's your creative process like?
Pointe: We use a proprietary runtime dll that allows for an industry leading 110% more FUN at each LUX screening. First, we reload the first order optimal logic notions, we do run through all four, and then it applies a critiquing algorithm to them and then selects the notion that most suitably the requirements directed by director protocol override. It's a very complicated algorithm, but it works.
Review Fix: What makes this different or special?
Pointe: At LUX, we're committed to the Ultimate Viewing [e]Xperience, our proprietary screening format that allows our LUX Deluxe patrons (our VIP patrons) the power to change the film the audience is watching. It's a once in a lifetime experience each time you see a LUX film. You never know what might happen at a given screening, resulting in an experience that is 110% more FUN.
Review Fix: What did you learn about yourself through this process?
Pointe: Throughout this process, I have automated all kinds of functions for interacting with patrons in ways that had not been executed in a live setting. A lot of the training we have at LUX is theoretical or simulation based, but the real world application of these programs causes a significant degree of variation in responses from patrons. It is quite FUN.
Review Fix: How does it feel to be a part of something like this?
Pointe: As anyone who has ever worked at LUX can attest, this is one of the most important undertakings of our time. The cinema is in danger with theater audiences declines 0.0247% year over year. LUX is the answer to this problem and offers a viewing experience that is 110% more FUN.
Review Fix: What are your ultimate goals for this production and for the future?
Pointe: We believe that Holme is the future of tomorrow's cinema, today. The UVX featuring Hme premieres Friday, October 13th and ends Sunday, November 5th at the Abrons Arts Center. Tickets are already on sale. After Holme premieres at the Abrons Arts Center, it will go back into the LUX vault never to be seen again.
With that in mind, now that LUX has reactivated North American Operations, our boundaries are limitless and we will stop at nothing to achieve our goals. Join the LUX family today.
Review Fix: What do you think your audiences will enjoy the most?
Pointe: It's always hard to pick just one thing that an audience will enjoy, but if I had to choose it would be Holme in the UVX format presented at the Abrons Arts Center from October 13th to November 5th. Tickets are already on sale and if you use promo code JACKPOT you receive a special discount on all tickets purchased.
Review Fix: What's next?
Pointe: LUX is looking to expand into every municipality it can physically or electronically reach. Keep an eye out for the LUX near you or become a LUXKNIGHT today and join the WatchR program.