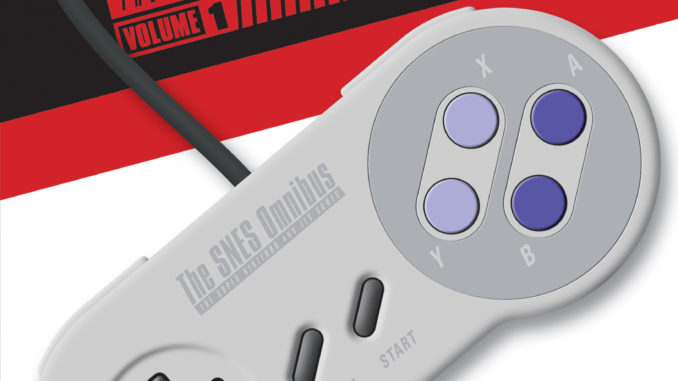 Review Fix chats with author and journalist Brett Weiss, who discusses the creative process behind his upcoming book, The SNES Omnibus: The Super Nintendo and Its Games, Vol. 1 (A-M).
Review Fix: What inspired this book?
Brett Weiss: I'm the author of the Classic Home Video Games book series, where I'm doing write-ups for every game for every classic console. Books in the series cover such systems as the Atari 2600, ColecoVision, Intellivision, NES, and Genesis, along with all the obscure consoles. These are cool books, but they have brief write-ups and black and white photos. When it was time to cover the Super Nintendo, I decided to go with a different publisher, Schiffer, which published my 100 Greatest Console Video Games: 1977-1987 book. This way, I could do longer write-ups and include color photos. Plus, the book will be in brick-and-mortar stores.
Review Fix: How did the SNES affect you?
Weiss: I'm usually a late adopter to new platforms. Or at least semi-late. I typically wait for the first price-drop before I pick up a new system, and that's exactly what I did with the SNES. I already had a Genesis in 1991 when the SNES came out, and I was still playing my Atari 2600, ColecoVision, NES, and other old systems, so I was in no hurry to pick it up. When I did grab one for $150 (down from $200), I became immediately immersed in Super Mario World. I loved the other NES sequels as well, such as Contra III: The Alien Wars and Super Castlevania IV. Just awesome. As a huge Star Wars fan, I also enjoyed the Super Star Wars trilogy. And, of course, I love the classics, and Mr. Do! and Q*bert 3 are excellent. In fact, Mr. Do! is my favorite video game of all time, and the SNES version added a two-player battle mode. My wife and I played through Donkey Kong Country back in the day, and we recently picked it up again and are having a blast. It's one of the few games we play together as she's really not much of a gamer, but she loves DKC. The SNES rocks!
Review Fix: What makes it different from similar books?
Weiss: The main thing that sets The SNES Omnibus apart from similar works is that it features nostalgic stories about many of the games from industry insiders. Programmers, authors, retailers, convention organizers, arcade owners, popular YouTubers, and other industry professionals have written a wide variety of stories for inclusion in the book. These stories will take you back to the 1990s, when people read Nintendo Power, GamePro and Electronic Gaming Monthly to get their fill of info on new games, when renting a fistful of cartridges at Blockbuster to play with friends all weekend was a rite of passage, and when grabbing those little tickets in the aisles of Toys "R" Us and taking them to that game-filled room at the front of the store was a magical experience. There are funny stories, sad stories, uplifting stories, stories about bonding with friends and family members over games.
Plus, each game has a detailed write-up written by yours truly (along with quotes from vintage magazines and other features). I've been gaming since the mid-1970s and writing professionally since the mid-1990s, so hopefully that experience comes through in each and every game write-up.
Review Fix: What was the experience of putting this book together like for you?
Weiss: Wonderful. The game write-ups were hard work—making them informative and fun to read is always a challenge—but reading and editing the submissions was a blast. There's a ton of nostalgia here, with prominent gamers like Tim Lapetino (author of Art of Atari), Shawn Long (RGT 85 on YouTube), Brittney Brombacher (BlondeNerd.com), Eric "8-Bit Eric" Perez (YouTuber), Benjamin Reeves (senior editor for Game Informer), John Riggs (RIGG'd Games on YouTube), Greg Sewart (former Previews and Reviews Editor for Electronic Gaming Monthly), David Warhol (one of the original Mattel Intellivision "Blue Sky Rangers"), Steve Woita (longtime programmer for Atari 2600, Genesis, etc.), and Martin Alessi (former Senior Editor and Art Director for Electronic Gaming Monthly) giving readers insight into their gaming history. Great stuff!
Review Fix: Bottom line, why must someone read it?
Weiss: Video games are supposed to be fun, so reading about them should be fun as well. I think The SNES Omnibus is a blast to read, particularly the nostalgic stories. Plus, with thorough write-ups of each game (from A through M—Vol. 2 will cover titles beginning with the letters N through Z), you get a good look at the SNES library from someone who has been gaming almost from the beginning of the industry. This will be a large, full-color coffee table book with more than 2,000 photos, so even if you aren't a big reader, you can have fun looking at the pics and maybe skipping around to your favorite games. You'll also learn about obscure titles that haven't been written about much elsewhere.
Review Fix: What's next?
Weiss: I'm hard at work on Vol. 2 of the SNES Omnibus. After that, I may take a little break from book writing, but I'm sure there will be more books in the works. I may do something similar for the Sega Genesis, and I might publish a second Retro Pop Culture book. Meanwhile, I do a lot of freelance writing for a number of publications, such as Filmfax, The Fort Worth Star-Telegram, AntiqueWeek, and Old School Gamer Magazine.
Review Fix: Anything else you'd like to add?
Weiss: You can pre-order The SNES Omnibus: The Super Nintendo and Its Games, Vol. 1 (A-M) through Amazon, or you can pre-order it directly from me and receive a few bonus items. For links, ordering info, and all that good stuff, check out www.brettweisswords.com.
For everyone who has bought my books and/or read my articles, thank you! I truly appreciate it!