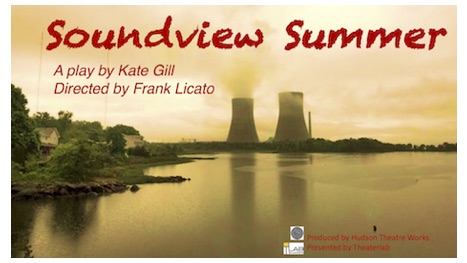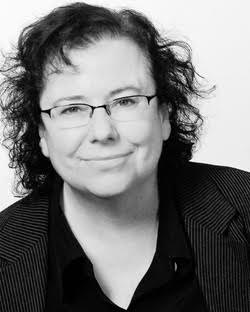 Review Fix chats with playwright Kate Gill, who discusses her upcoming show, "Soundview Summer."
About the Production:
Hudson Theatre Works will present a limited run of Kate Gill's powerful stage play about two young men's altered lives due to the unsafe surroundings of their summer job at a nuclear power plant.
Billy and Jack thought they had found the ideal summer job. Decent hours … good money … and it was a no-brainer … just clean up the Soundview Nuclear Power Plant.
Years later, the effects of that summer are shortening their lives. Both young men – each deathly ill – must deal with the outcome … each in his own way. The play serves as a multi-faceted parable of world understanding and the courage to make a change … if not for yourself then for others.
Performance Dates & Times:
Preview November 3 @ 8:00 pm
Opening November 4 @ 8:00 pm
November 5 @ 3:00 pm
November 9, 10, 11 @Â 8:00 pm
November 12 @ 3:00 pm
November 16, 17, 18 @Â 8:00 pm
November 19 @ 3:00 pm
At Theaterlab, 357 West 36th Street, NYC
For tickets, go online at www.theaterlabnyc.com.
About Kate Gill:
A longtime communications strategist at a New York City ad agency, Kate Gill utilizes the thousands of interviews over thousands of hours, as fodder for the creation of her deep, engrossing, and very real characters. The core inspiration, however, for her writing is usually one small thing that inexplicably stops her and allows her to see things in a new light. It might be a newspaper item, a personal story, a scientific fact, or an odd comment, and the tale begins to unfold.
Review Fix: What was the inspiration for this project?
Kate Gill: A report in the New York Times a friend was discussing – it was about workers in a nuclear power plant that might have over-exposed to radiation when they were cleaning the dome of the plant.
Review Fix: What's your creative process like?
Gill: Something makes me stop and think – usually an injustice that people must find a way with which to deal.
Review Fix: What makes this different or special?
Gill: It really is a very personal story about how a Nuclear power plant might have ruined a man's health but his denial about it ruins his whole life.  He did something stupid when he was young (we all do) and it will kill him – but his lie about it ruins all of his relationships and leaves him living in fear of discovery.
Review Fix: What did you learn about yourself through this process?
Gill: I can persevere through years of effort trying to get this play produced. Also, by chance I met a man recently who believes his health was ruined by working in a nuclear power plant and he shared his very moving story with me.  Today with all the political talk about less regulations and letting business do what's best for business –  there's an environment emerging where workers could be less protected and more likely to be damaged or exploited.
Review Fix: How does it feel to be a part of something like this?
Gill: I love the team I am working with on the play. Frank Licato, the director, and Charlie Fabrizio, the associate producer (and also a playwright), and I worked together at Tom Messner's ad agency years ago. The three of us did a theater production together – my first production. I owe so much to Ludovica Villar-Hauser who helped me hone the play in her New Voices program as well as two readings – one at the MITF and one in the Cherry lane Theater Tongues series. The actors and production team are wonderful and  joy to work with.
Review Fix: What are your ultimate goals for this production and for the future?
Gill: The goal is to showcase the play and the great talent that is bringing the play to life. I hope the play will be done in more theaters throughout the country.
Review Fix: What do you think your audiences will enjoy the most?
Gill: I think ultimately it's a story about one man's redemption when he finally tells the truth and gets his life back in his own hands.
Review Fix: What's next?
Gill: I have four other plays in development that I would like to see produced in the coming years.