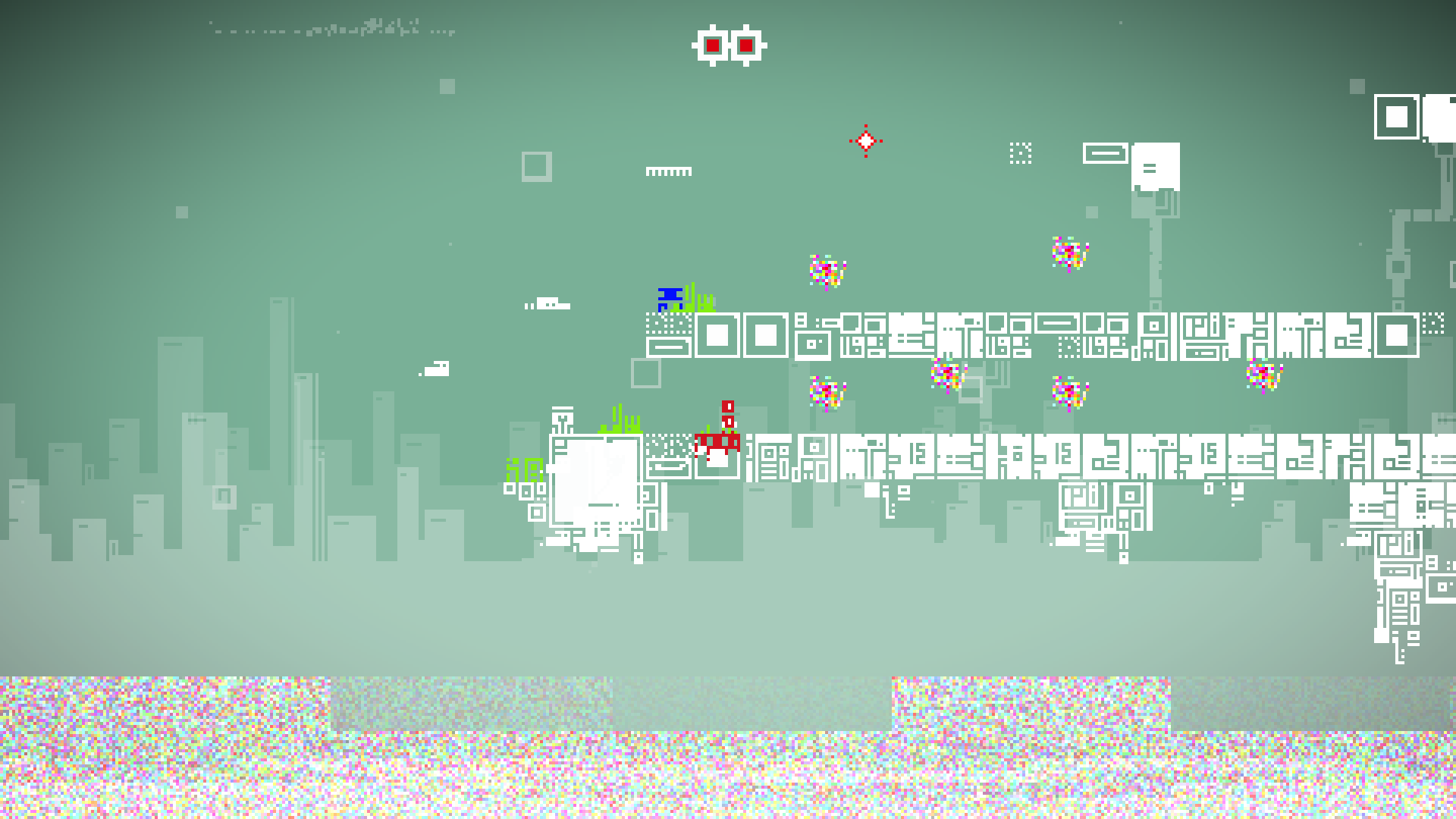 Review Fix chats with AJ Gonzalez (lead designer, Vector Arcade), who discusses the hardcore platformer, "prog. 1," detailing its inspiration to why platform games still matter in an age where graphics and super deep gameplay have become paramount.
Review Fix: For those that don't know, what is "prog-1"?
AJ Gonzalez: At its core, prog.1 is a simple puzzle platformer. You play a tiny anthropomorphic virus character traversing through a computer system — infecting the level components in different ways. On top of this, you experience the story of two scientists attempting to create an artificial universe — only to discover that the mysterious virus (you) is attacking the system.
I believe in solid gameplay, and I don't think that needs to be sacrificed in order to tell a thoughtful and engaging story. You just need to approach it creatively — and prog.1 is my attempt at proving this theory.
Review Fix: Why do platformers still matter?
Gonzalez: I don't think any genre loses its significance as long as you execute a fresh idea and find your inspiration outside of current trends. I didn't set out to just make a platformer for the sake of it — or because of the success of any other games in the platforming genre; prog.1 was just an idea that worked with the mechanic I had in mind.
Review Fix: What has development been like?
Gonzalez: It's definitely been a rollercoaster ride. There were times when I absolutely loved what I was doing, and there were times when I hated what I was doing. Many all-nighters and cups of coffee were had.
I do wish that I had a team, or at least a partner, during production. I have some friends that are programmers and such, but they had other matters to attend to. It's difficult to find other game designers in my area. I've actually had to resort to just approaching people in coffee shops, judging them by the stickers on their laptops. That's surprisingly more successfully than it sounds. Still, they had their own projects and were more inclined to add me to their game — rather than having me add them to mine. Working alone can be maddening, especially since you don't have fresh eyes to tell you that what you've been working on for hours doesn't really work for the game.
Overall, though, it was an amazing and incredibly rewarding experience. It's definitely what I want to continue doing for the rest of my life.
Review Fix: Any hurdles?
Gonzalez: There have definitely been a few. The main one is that the engine I decided to use doesn't have a lot of successful Steam releases, so it was difficult to figure out how to get everything working correctly on Steam. The limitations of the engine have given me some headaches as well — including a lot of strange workarounds that would have been much simpler in a more popular engine, as well as just having to figure things out most of the time.
Review Fix: What have you learned about yourself as a developer through this game?
Gonzalez: That I can actually do this. I skated around game design for a long time in my career as a graphic designer. I never thought I had the ability to make a game by myself. After some intense personal events in my life in the past few years, I decided that game design was what I wanted to do — and that nothing was going to stop me from following that dream.
Not only did I buckle down and just start making games, but I committed to finishing and shipping a complete project — something I wasn't sure I could do.
Review Fix: What games inspired this one?
Gonzalez: A huge influence is 140. I discovered it just around the time I started making games. It's short and sweet — and I loved it. It helped me realize that I didn't need a million polygons, a thousand levels, and a degree in computer science to make a "real" game.
I want to say Super Meat Boy as well — not just because of its success, but because it was a game that wasn't afraid of being hard. I like a challenge.
Review Fix: Who do you think will enjoy this game the most?
Gonzalez: I think people that want something a little different in a game or just want a nice challenge will enjoy prog.1. I've built parts of the game that encourage speedrunning, and I'm hoping that I can build a small community of speedrunners around prog — but we'll see. I didn't really focus on a specific audience for this game when I started it. I mostly made it for myself — and I hope others will enjoy it the same way I do.
Review Fix: Any chance at a 3DS or Vita release?
Gonzalez: Anything is possible.
Review Fix:Â The sound is great. Who put it together?
Gonzalez: Luckily, I have a few very talented musicians — Bryce of AftrThought, and Wine Taxi — as close friends. I did help on a few tracks with Bryce, but the majority of the music was done by them. However, I did do most of the actual sound effects myself. I plan on releasing the soundtrack soon as well — perhaps on Steam.
The voice acting was done by my girlfriend, Nicole, and my friend, Aaron. Both are talented stage actors. I put together the story as I built the actual mechanics of the game. Once I felt that I had a narrative I enjoyed and that complemented prog.1, I wrote out a rough script and recorded the actors in my makeshift home studio. It ended up turning out great, and I think it's one of the main strengths of the game.
Review Fix: Bottom line, why is this game special?
Gonzalez: This game is just an embodiment of myself. I wanted to make a game that represented me as much as possible. It's a game that I would have instantly bought had I come across it randomly on Steam. I believe it stands alone in a current trend of "retro" 2D platformers on the indie scene; its minimal pixel graphics represent the core of the game and aren't intended to evoke nostalgia.
Overall, I think prog.1 is a unique experience — whether you love it or hate it.
Review Fix: What's next?
Gonzalez: Good question. No matter the success or failure of prog.1, I intend to continue making games that I would want to play. I currently have a few project ideas in my notebook — and some prototypes and mockups that have been made.
Ideally, I want to expand my indie studio, Vector Arcade. I want to hopefully hire a dedicated programmer, since that is my weaker skill. So who knows exactly what my future holds, but you can be certain that I'm not going anywhere.