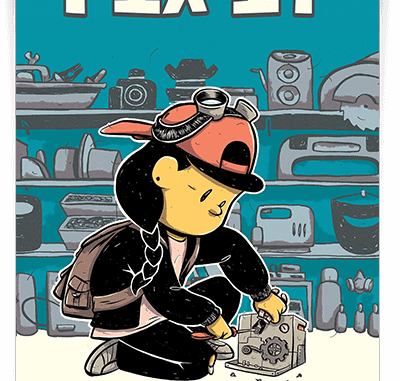 Review Fix chats with comic book writer and artist Brão Barbosa who discusses the creative process behind his newest work, "Fix'It."
Review Fix: What inspired this comic?
Brão Barbosa: My relationship with my grandfather. He was an odd guy. He was almost 88 when he passed away and months before he was using his Photoshop, fixing some electronic devices… So he was very active and I learned a lot from him.
Review Fix: How is it different from your previous work?
Barbosa: At first sight, "Fix'it" is bigger than my previous works, "Jesus Rocks" and "Happy Anniversary, My Beloved", both in size and in the number of pages. But more than that, it is a more mature and deep work. I think it's my best work so far. I think my script is better, my drawings are better and they are working better together.
Review Fix: What makes this comic special?
Barbosa: It was a very intimate work. I gave a lot of myself producing it. But since it's a kind of a universal story, many people have had this mentor figure at some point in life, a lot of reader have been identified with the story and taking it for themselves as a personal story.
Review Fix: What creators do you think have influenced you the most?
Barbosa: My biggest influence is Skottie Young. But there are many Brazilian artists that have a direct influence in my work as Edu Medeiros, Hiro Kawahara and Gustavo Duarte. I intend to write good stories with a good ending, with good humor in most cases. So, I direct my drawings in this direction, with fast traces, irregular brushes, and so on. Looking more for a good feeling than a perfect anatomy.
Review Fix: How do you want it to be remembered?
Barbosa: Like a time travel to these good memories, with these so special people that have changed our lives.
Review Fix: What's next?
Barbosa: For now, I'm focusing on releasing "Fix'It." My great effort is directed at looking for publishers to release the book abroad.
Review Fix: Anything else you'd like to add?
Barbosa: For Portuguese speakers, I made a podcast talking about the production process of "Fix'it". I've invited many other Brazilian authors to talk about their process, so, it's a nice way to know how to begin making comics. It's at braobarbosa.com/reparos/makingofreparos/