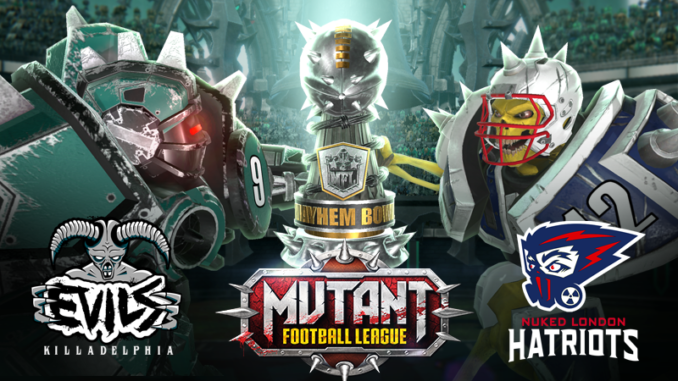 Bomb Shady and the Nuked London Hatriots overcome a 
21-point deficit to win the 2018 Mayhem Bowl! 
Minneapolis, MNÂ -Â 

February 1, 2018

 - 
The Killadelphia Evils delivered a near knockout blow to the Nuked London Hatriots with a 21-point first quarter lead at the 2018 Mutant Football League Mayhem Bowl – a simulation of this weekend's big game. However, the Hatriots were down, but not out, and the team fought back to win the game 33 to 30 in a bruising battle between two football heavyweights.
Watch the entire Mayhem Bowl now:
Watch the Mayhem Bowl highlights now:
This trailer/video may only be displayed if it is behind an age-gate that: (1) is age-neutral (i.e., requires the user to input their date of birth or select it from a drop-down bar; (2) employs reasonable technical measures to keep underage users from re-entering their age after initially being denied access; and (3) does not display any ESRB rating information on the video player or the age-gate itself. Failure to implement these requirements may jeopardize your ability to obtain material of this nature from us in the future.
Run Your Own Mayhem Bowl with Free Killadelphia Evils MFL Download
Mutant Football League players can stage their own Mayhem Bowl match-up with
the NEW Killadelphia Evils Team, home arena, and Mayhem Bowl play mode, available for FREE on Friday, February 2ndfor everyone who purchased Mutant Football League on PlayStation 4, XBox One, and/orPC.
The new Killadelphia Evil update includes a new Evil's team theme song, "It's After 
Midnight
," performed by Lucky Boys Confusion, courtesy of Mutant League Records, the newest Indie jam to appear in Mutant Football League.
 
About Mutant Football League
The classic Mutant League Football game, released in 1993 by Electronic Arts for the Sega Genesis, was a #1 bestseller and garnered a loyal cult following for its blend of monsters, mayhem, and good ol' American-style team sports.
The reborn and modernized Mutant Football League is a 7-on-7 arcade-style, fully 3D sports video game where a variety of gruesome creatures take to the gridiron to battle it out in the most violent game ever played! The hilarious and brutal parody of professional American football will introduce a new generation of gamers to some of the wildest, most bloodthirsty superstar players to ever strap on shoulder spikes.
Support from diehard fans resulted in a successful 2017 Kickstarter campaign to raise funds to complete MFL's development. The campaign reached its pledge goal in a mere four days, fortuitously achieving its funding aims on Super Bowl 
Sunday
.
Additional Game Details
Mutants, Monsters, and More:Â Choose from 18 blood-thirsty, wisecracking teams including the Skeletal Deadheads, Armored Bruiserbots, Criminal Aliens, Mutated Humans, and Monstrous Orcs.
Boom-Shacka-What?:Â Legendary voice-over actor Tim Kitzrow–best known for being the voice behind NBA Jam–provides the game's 'colorful' commentary.
Gridiron Carnage:Â Players inflict maximum carnage on the opposition with brass-knuckle punches, steel-toed kicks, hand grenades, clubs, battle axes, chainsaws, and more. Exploding body parts, comically horrific deaths, and blood splatters fuel the MFL visual experience.
Down 'n' Dirty:Â Use dirty tricks during gameplay to "Bribe the Ref," throw bombs, or equip weapons to inflict maximum carnage for real game-changing moments!
Full Season Mode and More:Â Dive into Exhibition, Practice, and Playoff games, or try and survive the Full Season grind to reach the ultimate showdown: The Mayhem Bowl!
Killer Stadiums:Â The 18 unique playfields are filled with diabolical and dangerous traps and hazards, including explosive landmines, buzz saws, toxic moats, lava flows, and crazed fans cheering on their favorite murderous squad.
Multiplayer Madness:Â Two-player online or four-player local multiplayer gives offers the choice to clobber opponents or team up with friends to crush opposing miscreants
About Digital Dreams Entertainment LLC
Founded in 2010 by Michael Mendheim and Maxim Novikov, Digital Dreams Entertainment LLC specializes in creating fun, entertaining, and innovative video games for PC, console, and mobile platforms. The company is headquartered in Morton Grove, Ill., with development anchored in Kiev, Ukraine, and focuses on developing high concept, classic retro-style games that engage hands and kick-start hearts. For more information about Digital Dreams Entertainment LLC, go to 
www.digitaldreamsentertainment.com
.
Michael and Maxim have developed numerous game projects including Need for Speed: Pro-Street, Tazmania, BattleTanx, FIFA Street 2, Robocalypse, Mutant League Football, Mutant League Hockey, Def Jam Icon, The Four Horsemen of the Apocalypse, Army Men: Sarge's Heroes, SSX on Tour, CrimeCraft, and Carnivores: Dinosaur Hunter.