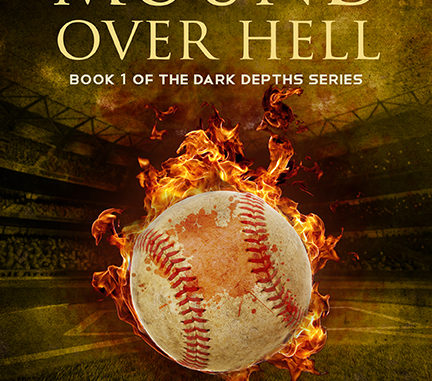 Review Fix chats with author Gary Morgenstein, who discusses his latest book, "A Mound Over Hell." Delving into his creative process and goals, the accomplished author lets us know what fuels him.
About the Book:
As A Mound Over Hell opens, baseball is beginning its final season—forever. The once all-American sport is now synonymous with terrorism and treason. Holograms run the bases for out-of-shape players and attendance averages fifteen spectators per game. The only ballpark left is Amazon, the once-famous Yankee Stadium. Led by baseball historian Puppy Nedick and a band of former baseball greats, baseball regains its popularity only to become a pawn between those who want peace, and those eager for another war.
Review Fix: What inspired this book?
Gary Morgenstein: Baseball and science fiction are my two loves, and I'm also a political junkie and a history buff, so this was the perfect literary storm. The beauty of writing speculative fiction is you build upon existing events and take them to that next terrifying, thought-proving level, like Orwell's 1984 or Bradbury's Fahrenheit 451, along with a healthy dose of Philip K. Dick. The greatness of science fiction is asking "What if?". So in my dystopian baseball novel A Mound Over Hell, what if the current conflict with Islam went horribly south and America actually lost World War Three to an ISIS-clone? Then throw in the end of baseball forever. What would this look like but, most importantly, who are the people in this world, because I insist on writing people, not symbols. Even in the worst of times, people respond to basic needs and basic impulses. During the London Blitz, the birthrate soared. Hello. Humans don't give up and I wanted to explore how they'd live and perhaps change these frightening circumstances.
Review Fix: What was the creation process like?
Morgenstein: It's a lot of hard work. Questioning yourself constantly and daring to change your mind even if that means trashing something you've written and thought was good. I sit in my easy chair with my beloved pug as my muse, laptop in lap, and enter the creative warrens of my mind. That's the wonder of being a novelist, that it's you against yourself. As a playwright, you can always say well, the actor screwed up the lines, what was the director thinking. But you're solely responsible for your work as a novelist. There's a reason why I drink wine.
Review Fix: How is this one different from your previous works?
Morgenstein: What I found interesting is that I'm not in this book. Previous novels always had a significant character, if not the main character, somewhat based on me or my experiences. There's none of that here. I honestly don't know where these characters came from, but there's a large cast, almost all diverse by the way since this is the start of the 22nd Century. They're very complicated, not always behaving at their best as people often do, and the women are all very strong, from bad-ass 11-year-old orphan Clary Santiago to the 92-year-old Grandma. That's something I believe in. You'll never see a swooning, oh please mister man save me woman character here. Or in any of my writings.
Review Fix: What makes this book special?
Morgenstein: I've created a unique world, which was a joy building. There's no distinction by sex, race, sexual preference, ethnicity, on and on. All that matters is a society based on love and ethics, led by Grandma, head of The Family, which governs America from the Bronx (Washington was nuked and Manhattan eviscerated by chemicals during the war). What if it didn't matter whether you were gay or straight as long as you loved someone? What if you ran a business without cutting someone's throat? What if the most trusted professions were cops, teachers and doctors because if you can't trust them, who can you trust?
In this world, all acts of patriotism, from flying the flag to singing the National Anthem, are illegal. Social media has been banned under the Anti-Narcissism Laws. Religion, associated with Islam, is also illegal. In a nation where children are revered, abortion and the use of contraceptives are capital offenses along with pedophilia. Banks, lawyers, psychologists and the entertainment industry were banned by the Anti-Parasite Laws I and II. All rather self-explanatory. Robots with faces are also outlawed; during the 2030s the AIs caused havoc by posing as humans and blending into society.
As A Mound Over Hell opens, baseball, a sport now identified with treason, begins its final season ever, playing in battered Amazon Stadium (formerly Yankee Stadium), the only remaining ballpark. All of the nation's stadiums were razed after the failed terrorist attack by the pro-war, pro-baseball Miners at the Seventh Game of the 2065 Yankees-Cubs World Series.
Holograms play for out-of-shape players and attendance barely averages 15 fans a game. Just as the sport is about dead, everything changes. Infused by the miraculous appearance of great players from the past such as Ty Cobb and Mickey Mantle (and from the future, the greatest of them all, the female Mooshie Lopez), baseball regains its popularity, only to become a pawn between those who want peace — Grandma is reaching out to dissident Muslims chafing under the tyranny of the Caliphate — and those who want another war.
Review Fix: How did you merge baseball and sci-fi?
Morgenstein: I don't know of any other dystopian baseball novels. Sci-fi writers don't think baseball will make the cut into the future, although there was a baseball story line in "Deep Space Nine." I saw the best way in was that baseball would be associated with old-time America and, if those values are discredited, so would the game. As a baseball purist, I worry about the future of baseball, especially when I read polls like the latest Pew, which found only nine percent of Americans list baseball as their favorite sport, the lowest ever. I don't get it. There is no sport as magical as baseball. I hope my love for the game comes through to readers.
Review Fix: What creators do you think have influenced you the most?
Morgenstein: Philip K. Dick, George Orwell, Isaac Asimov, Ray Bradbury, Robert Heinlein and Ernest Hemingway.
Review Fix: How do you want it to be remembered?
Morgenstein: As someone who wrote what he believed to be his truth without compromising, but leaving open the door that he could be wrong. Must be the agnostic in me.
Review Fix: What's next?
Morgenstein: I'm busy working on Book Two of the series and no, I haven't a clue what it'll be called, only that it picks up two hours after A Mound Over Hell ends. I'm also proud of my most recent magical realism play Saving Stan, very earthbound and of this time period. In the drama, Stan Nagel, a rich 60ish lawyer, suffers an incapacitating stroke and can't talk. His best friend Jack Sanders, a 60ish failed writer, somehow hears him and believes Stan is asking for help to commit suicide in exchange for his estate. The third character, 40-something lonely Patrice Doner, the live-in health care aide, grows suspicious of Jack's intentions while falling in love with Stan, who somehow can dance with her. Okay, maybe it has a little fantastical elements lol. Guess I can't help myself. Saving Stan had a staged reading recently at The Dramatists Guild, of which I'm a member.
Review Fix: Anything else you'd like to add?
Morgenstein: I know I've picked a very controversial topic and I don't mince words. In some ways, the novel is the ultimate anti-PC, but if there is one underlying thread, it's that hate begets hate. As Grandma stresses in her Insights, All you need is love.
And for some shameless promoting, you can already pre-order the book, which will be out March 29 from BHC Press at the usual places such as Amazon, Barnes and Noble, Google, and iTunes, etc. It'll also be available to readers in the UK, Australia and Japan.