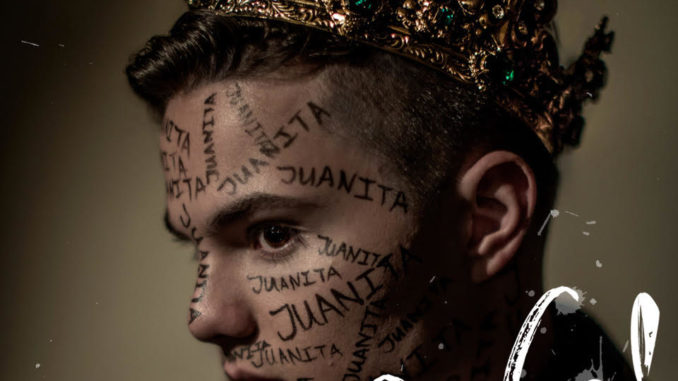 Review Fix chats with singer/songwriter Zach Callison, who discusses his new single, "War" and more.
The Los Angeles-based musician, voice actor, and actor is known for his work as the voice of "Steven" on Cartoon Network's hit show Steven Universe, his on camera acting as villain Chuck for Amazon Studios' Just Add Magic as well as guest appearances on ABC's The Goldbergs and CBS's NCIS: Los Angeles. Music has always been a huge influence— as a kid he watched his father play rock music in the blues bars of St. Louis— an experience that lives on in the sounds he creates today. He's been featuredon a number of soundtracks including the Emmy-winning Sofia the First and Steven Universe Soundtrack: Volume One, the latter of which hit the number one spot on the iTunes charts. No stranger to the stage, he's performed in massive musical theater productions at the St. Louis Muny Theater and cover bands throughout venues in Los Angeles, eventually shifting his focus to songwriting.
Review Fix: How did you get involved in music?
Zach Callison: I've been singing since I was seven years old. I started taking singing lessons and doing musicals back in Missouri around that time, and that got me acting…I was always studying and playing music in the background, but it kind of became something of a resume-building, "special skills" kind of thing once I started working regularly as an actor in LA. I was lucky to be able to work the muscle on shows like Sofia the First and Steven Universe, but I didn't really know I wanted it to be a serious pursuit until I got dumped at 17. Stuff like that tends to be good writing material, for better or for worse.
Review Fix: What are your influences?
Callison: Ever since I was a little guy I've been a huge nerd for music. To this day I make a point of pushing the boundaries of what genres I listen to and take influence from. My roots come from rock; I watched my dad and my uncle play rock and blues venues around my hometown of St. Louis. There's still some remnant of my musical theater days in my sound as well, a product of coming up as a young kid in stage productions.
Once I moved to LA, whole new worlds opened up for me musically…everything from Red Hot Chili Peppers to Kendrick Lamar, Hiatus Kaiyote to my all time favorite, Muse. The most important was the hip hop influence; it only grabbed my ear three years ago, but once I "got it" I knew that I had to adopt it into my style.
Review Fix: Is there a story behind "War"?
Callison: Ha, just a little bit…"War!" has a lot of words, all of them targeted. This song is my closest thing to a diss track that I've ever written, aimed at the real-life version of "Juanita" that I mention so many times. Juanita is just a pseudonym for a girl from my past,  chosen in a way so that she would know I was talking to her in the lyrics. When we went our separate ways, she liked to spit venom my way through her friends and social media…this song was me getting up and throwing punches back for the first time. She was a singer who had been been slacking on finishing her record for years, and "War!" was me calling her out by saying "here's my music, where's yours?" in the most theatrical way possible.
I'd love for her to clap back at me in a response song someday…but six years later, and she still hasn't released that record.
Review Fix: How has your sound evolved from when you first started singing?
Callison: Well, my voice changing in puberty kinda messed things up. It's pretty hilarious in hindsight, but was terrifying at the time…by the time my voice changed at nearly sixteen, I had been singing for nine years and working as a voice actor for six. I lost multiple gigs afterwards, as I couldn't really play the same roles anymore.
It was a dramatic change, not just in pitch but in tone; I had a very clear, smooth boy soprano voice for many years. Then, suddenly, I had gained the ability to add a lot of grit and power to my vocals which finally enabled me to make something inspired by the rock I grew up on. I think it was less of an evolution and more of an awakening…I never felt the urge to create my own sound and my own music until after I had my adult voice and I'd had more life experience.
Review Fix: What makes your brand of music special?
Callison: It's risky, and it's the quickest way to know what I'm all about. Risky in that I'm not out to make something corporate, and risky in that it's a fusion of sounds that has its own small corner of genre all to itself. I have the dual challenge of not only establishing a musical identity to my fans, but also overcoming my image as "just" a child actor and cartoon character. I love playing my roles, but they're exactly that: playing a part. I wanted to play me for a while, and my history coming up in entertainment as a young kid is a rarity…this record has allowed me to press my coming-of-age into something physical, and that's as much a time capsule for me as it is a CD for the fans. It's an autobiography of a very unusual upbringing, and that's special enough for me to justify telling the story.
Review Fix: Why do you think people should enjoy it?
Callison: I try to avoid asking myself stuff like this, because once I get too into my listener's head I'm suddenly stranded outside of my own. I think they'll enjoy for the reasons I can control: musically, it's well played, produced, mixed, et cetera…it's rock solid on the technical side because of my team. Emotionally, it's truthful and personal to my life, and has a strong central narrative. Beyond that, people are either going to love it or hate it. It's a very dynamic album; has a lot of theatrical highs and lows, and overall it's pretty dark. That's my style, unapologetically. For a lot of people, that's not their speed…some want their music subtle and lyrically abstract, others want danceable and repetitive. I'll lose my mind before the record is even released if I try to talk people into liking it.
Review Fix: How do you want your music to affect people?
Callison: I don't know if that's up to me to decide. Instead, I just make it to affect them, period. I felt it necessary to cut this record in small part because I was hearing so much music that didn't really have soul…from people I met, and on the radio. I wanted to create something that would compel people who were really affected by it to take their time and dive deep into every aspect of it. Once they reached that point, there would be a whole layer of subtext and intent waiting for them to reward their appreciation. That's the way I listen to music that matters to me.
Review Fix: What are your goals for 2018?
Callison: Drop the record, get out on tour, start up my sketch project again, shoot music videos, play a show out of country, finish more songs, get back to acting class and do some ridiculous scenes, let my 21st birthday get out of hand, wake up two days later, start a revolution just in time to get millennials out of the house for the midterm elections, make contact with extraterrestrial life, invade antarctica
Review Fix: What's next?
Callison: There's a new single from the record coming soon, and the EP will drop later in the spring of this year! I've also got a ton of YouTube content planned out for the year, music and otherwise.
Review Fix: Anything else you'd like to add?
Callison: Just a HUGE thanks to the fans, new and old, that have supported "War!" and the upcoming project so far…it's gotten an even better reception than I could have asked for, and it's made me realize that taking these projects all the way up isn't a fantasy like I used to think. We're taking this to the top together, so thank you!