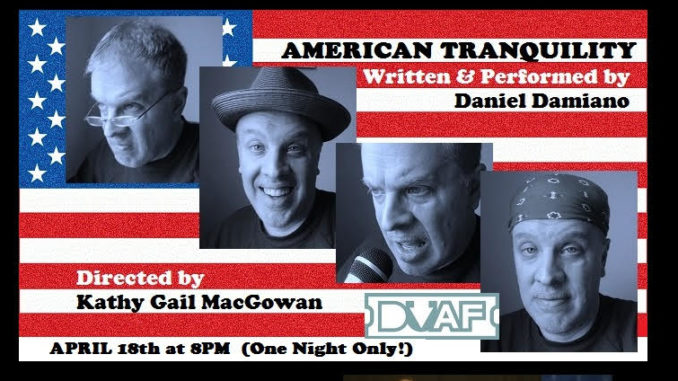 Review Fix chats with "American Tranquility" playwright Daniel Damiano, who lets us know all about the production and why it's a special one.
About the Production:
A southern retiree, an Iranian subway station poet and percussionist, a talk-radio show host and a Brooklyn existentialist reflect on the human divide in 21st century America.
Review Fix: What was the inspiration for this project?
Daniel Damiano: I wrote AMERICAN TRANQUILITY over the course of a couple of months in the late Winter/Spring of 2017.  It was born out of a combination of my desperation to get back on the stage and not wanting to wait for someone to hire me combined with the post-election climate that fed into some of the themes in the piece, along with other themes that I thought meshed well in terms of how they relate to modern America.
Review Fix: What makes this different or special?
Damiano: I think the fact that a large canvas is given to four very different characters gives the piece a certain balance which I feel is unique.  It's not simply a liberal show.  It's a piece that is designed to take you into 4 very different worlds and experience the views of four very different individuals in a humorous, cerebral and sometimes visceral way, and it sort of dares the audience to both be endeared by what they identify with and also repelled by what they may be opposed to
Review Fix: What did you learn about yourself through this process?
Damiano: Because this was a piece I was writing for myself to perform, it struck me that I am developing more of an emotional connection to certain things the older I get.  At least for me, I feel age has been good in that regard.  It's enabled me to give more nuance to things I might have seen in a more linear way when I was younger.  The other thing that I didn't necessarily learn but that this experience crystallized for me in the writing was about seizing the momentum of inspiration and environment;   when you have an idea and stuff is just coming to you, you must strike while the iron is hot.

Review Fix: What are your ultimate goals for this production and for the future?
Damiano: I've done the piece twice before, as part of Solocom 2017 for 1 show, and then a two-show encore run at the PIT Loft in January.  Having my druthers, I would love to perform this for a few weeks at a single venue.  I think it'll be timely for a while, and would just love to have the opportunity to share this with more people.  And it's such a cheap show.  Me, a set of bongos, 3 chairs and that's it.
Review Fix: What do you think audiences will enjoy the most?
Damiano: What I've observed in the few times I've done this already is that, while audiences very much respond to the humor of the piece, they are more deeply affected by the themes and how they are conveyed by these characters.  The one unifying consensus from those who've seen it is that this is very much a piece for these times, and one that has stuck with those who've seen it, which is why I do this.
Review Fix: What's next?
Damiano: My play HARMONY PARK will receive it's World Premier with Detroit Repertory Theatre in late March and will be running through May 20th.   I'm also continuing to work on my first (and probably only) novel, called BUBONIC PEG.  There are some other up-in-the-air projects that may or may not come to be, so we'll just see what happens.  Let's just say – I'm hireable!