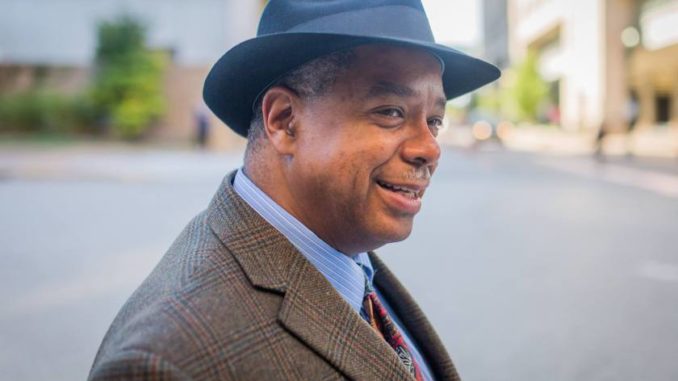 Review Fix chats with J. E. Robinson, who discusses the creative process and goals for his new production, "The Strong Man."
About the Production:
Decades ago, at the head of his gang, Pearl Crabtree was strong enough to kill any man. Is he now strong enough to kill one of his own?
Review Fix: What was the inspiration for this project?
J. E. Robinson: Indeed, I found myself listening to the blues a couple Julys back. I saw a lazy day in the American South, where there was nowhere to go but up, but people—men—claimed control over their lives and mastered them. Looking outside, I saw a neighbor sit beneath his arbor and smoke a cigarette; he removed his hat and fanned the smoke away. What lives have we lived, and how shall we die? That July afternoon sparked an answer to begin.
In many ways, THE STRONG MAN is a play about the end of life. Its characters struggle with the kinds of issues inherent to realizing one's days spent far exceed one's days hoped for. Such a realization can come at any time—these men find it in their fifties—and now they have come to accept that how they choose to spend those remaining days rests in the palm of their hands. One, Victor, the barber, chooses his end as his choice; another, Pearl, the railroad porter, chooses to accept the sanctity of life. Each opt for the good death the way men must, as something entirely within his control. I hadn't realized it before, but that makes my play rather existential.
In writing THE STRONG MAN, I found religious parallels to the Christian myth of the Resurrection. During the last night of His life, Jesus of Nazareth tries to pry Himself free from prophesy—Nikos Kazantzakis' novel The Last Temptation of Christ theorizes that night and its moral implications exquisitely. Toward the end of the play, I chose not to excise these parallels. No, indeed: that was not my intention, most assuredly. I simply wanted another play in May 1934, to complement Spades. Nevertheless, it did illuminate the themes of how men die.
Review Fix: What's your creative process like?
Robinson: I don't know. It varies. Sometimes, it begins with dialog, sometimes with a scene. Sometimes, some person's life speaks to me, and I follow because it is so different. It varies. I don't even realize that I have had a "creative process" until I reach the end of something, and deem it worth saving for another day. That can be months later; it can be within a second. It varies.
More important than a creative process is a need for me to see humanity within my characters. I must take interest in each one of them in order to present their lives and events in an interesting way, and I need to present their lives and events as interesting in order for an audience to take interest in them. Making them human, in detail, facilitates my desire to take interest in them. Disinterest in their humanity renders my characters as insipid, as commonplace. Who wants to spend ten seconds with that? Such trash doesn't even get tossed out the back door. We flush them.
Review Fix: What makes this different or special?
Robinson: I suppose it is because it is mine. It works for me. That is all I ask. Someone else may find it poison.
Review Fix: What did you learn about yourself through this process?
Robinson: "To be a schizophrenic in the arts is to be offered a gift!"…sorry, Muriel Rukeyser. Or, better yet, from Godspell, "I put a pebble in my shoe/and watch me walk!"
Any mind can conceive anything, even when it is a sick one. Mental health professionals both, my parents instilled that in me long ago, when I was very, very small and the concept that our family disease would touch me as well seemed beyond the unfathomable. Creation, the process of speaking directly to the minds of audiences, vindicates my parents in ways even I cannot imagine. Joyce and Preston have always taken care of me. Past dust in their graves, they do so now. Through this process, I have learned to thank them for it.
Beyond that, and perhaps more importantly, through creation, I have learned, clearly, that the ways I see myself varies from the ways others see me. Perhaps I see myself as a plunker, a poetaster, not unlike an acquaintance, a bookseller about town, who proclaims to the world he is the greatest poet since Allen Ginsberg. Audiences, however, tell me that I really speak to them, and fellow theatre artists, such as the costume designer Cathy Robinson (no relation) and the director Lawrence Martin, respond favorably to doing another piece of mine. Such reactions warm me. I appreciate their enthusiasm very much. Creation has taught me that I love the euphoria of gained connections.
Review Fix: What are your ultimate goals for this production and for the future?
Robinson: I would like to lose myself in its presentation, and forget where I was or what I was thinking when I wrote such-and-such word. Once again, I want to sit in the back of the theater and muse "this J. E. Robinson, he sounds pretty good."
Believe me, that happens, and it is marvelous when that happens. I have had such a reaction in fiction, when I hear someone reading a paragraph from my books, or hear someone speculate about what a character would have done, had they been in a certain situation. This happening in theatre, though, indeed, that is different. Seeing theatre artists interpret work independently sheds a most divine light onto that work. It puts a grand smile on my face. Only hearing Beethoven's Choral Symphony approximates such a reaction, in my book. And, most delightful of all is that audience reaction, their "ah!" moment. It is very easy to understand why playwrights become addicted to doing plays. We all seek to replicate that "ah!" moment. Hopefully, in this production, I shall delight in the interpretation, and I shall hear that "ah!" from the audience. Who knows? Maybe someone, somewhere, who had seen this play in production would track me down and say "THE STRONG MAN! Now, that is the reason why I create plays!"
Review Fix: What do you think your audiences will enjoy the most?
Robinson: Well, given the renewed interest in language the hip hop generation spawned, I would like to think that my audiences will enjoy THE STRONG MAN's use of language to convey subtleties and nuances in its characters and actions. The language of this play uses Sterling Brown's poetry as its major antecedent, and, through it, the blues. Hopefully, someone observing this play would seek out the blues. Should they do so, they would hear many of the same voices as what appear in this play. If they do so, the folk from the Southern Piedmont shall, once again, walk this planet. If they do so, they shall sanctify my work.
Review Fix: What's next?
Robinson: Currently circulating is a longer play, set in Ashante country, in Ghana, between the 1500s and the twenty-first century. In it, Mother Ashante sends storms across the ocean to regain her stolen children, and she rejoices when her children return. It is called MOTHER ASHANTE GATHERS THE WAR CLOUDS FOR HER CHILDREN. And my current project is a screenplay set in the 1930s, featuring a trouser-chasing director forced into a relationship with a starlet to save his job at the studio. Its title remains in flux.