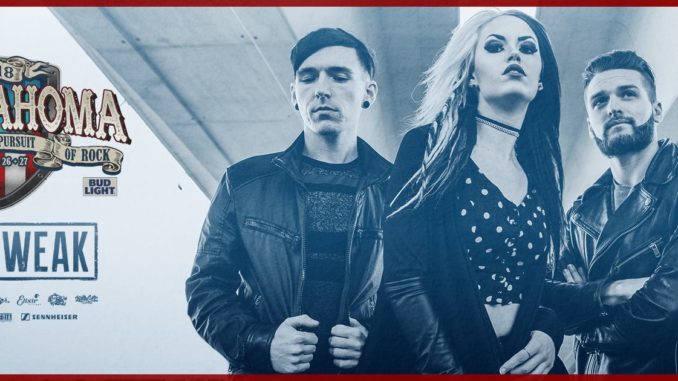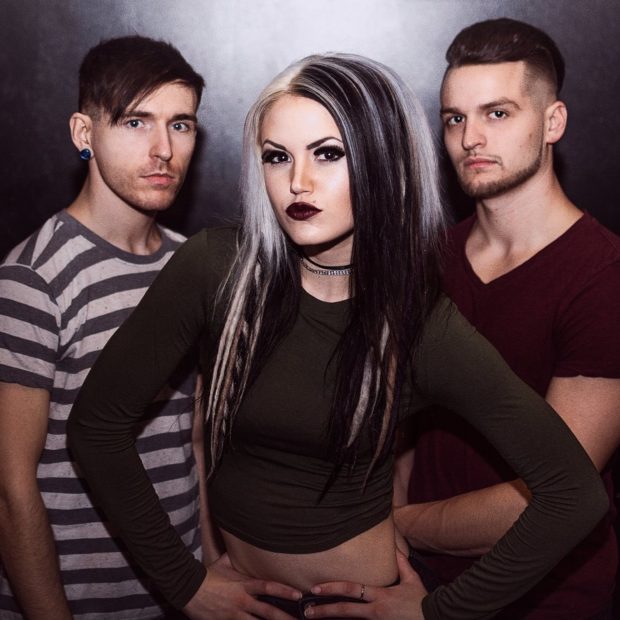 Review Fix chats with City of the Weak's Stef w/an F, who details the band's origin, creative process, connection with fans and goals for the future.
Their first full-length album, produced by Craig Owens, will be available in June 2018, accompanied by their performance at Rocklahoma.   Prior to that, the band released their cover of Incubus' Pardon Me digitally with a music video to accompany.
The band had previous released White Fire Alarm (EP) in 2013, Disclosure (EP) in 2014, Censor This (Single) in 2016 and Ungrateful (Single) in 2017.
Review Fix:Â How did you get involved in music?
Stef w/an F: When I was about 5-7 years old I liked to write stories & illustrate them. Eventually those stories turned into poetry which turned to lyrics. I would play my piano & write out a chord progression, and add my lyrics to it. Eventually I had entire notebooks and binders full of songs. It just kind of happened. I loved running home after school and just being creative, and telling people stories through my songs. It made me feel alive.
Review Fix:Â What makes your brand special?
Stef w/an F: Our brand is edgy, fresh, modern, & trendy. We are currently trying to branch off into other avenues & provide an experience that is only available under the COTW umbrella. We are pushing ourselves to be more than just a band that puts out music. We want to CREATE an entire empire of art & connection & experiences. We want to take care and go above and beyond for our die-hard fans.

Review Fix: What's your creative process like?
Stef w/an F: For our first two albums, we jammed in our rehearsal space until something really stuck. We would create a song around it, & then we would get into the studio and record it, hearing everything on the track together for the first time. For the new record coming out in June, we decided to demo everything out first. Any idea was tracked immediately, and then we passed it back and forth between me and the instrumentalists. By the time we got into the studio, we already had studio-ready demos. Everything getting tracked for the final time was laying down what we already knew, not hearing the material for the first time like on the first two records.
Review Fix:Â What makes you different?
Stef w/an F: We have a really close connection with our fans- they are literally family to us. We love hanging out with them and doing fun things. We've done everything from hotel suite after-parties to BBQ cookouts to Taco-making house parties with them. There was one Eau Claire show where we got super drunk with a whole bunch of people that came out, and one of them challenged us to a dance off. You bet your ass we got Big Sean's "I Don't Fuck With You" on those main speakers, Brent (guitarist) & this dude in a suit hopped on stage pulling out all the moves. It was pretty hilarious, and then Brent out of nowhere, busts out a fucking backflip. Like, who knew?! That night was so fun, and everyone had a blast. We can't wait to see everyone from that night again. I think most of them are coming out May 18th for the Chippewa Falls show, & I couldn't be more excited.

Review Fix: What's your standout song on the album? How was it written?
Stef w/an F: Every song is so different, & different songs resonate with different people. So it's hard to pick ONE that is going to stand out to most people. There's one called "Not This Time" that I think will do the best at radio, which will in turn automatically make it a standout song. The melody has such a flow to it, it's hard to deny.
Review Fix:Â What are your goals for 2018?
Stef w/an F: We want to continue to create growth in our fanbase & brand. Since we have a record coming out in June, we really want to focus on touring hard until the end of the year.
Review Fix:Â What makes your latest album special?
Stef w/an F: Working with Craig Owens & Jordan Disorbo was really amazing. They inspired and pushed our creativity to great lengths. We really wrote from the heart, and they respected that 100%. I love how they worked WITH us, and they didn't try to change who we are or our musical style. A lot of producers kind of trump over the artist & try and push them into whatever cookie-cutter vision the producer has. We hate working with people who do that, so we were extremely grateful with the team that we had. We can't wait to put this one out.

Review Fix: How do you want your music to affect people?
Stef w/an F: We want people to be inspired to live their lives the way they want. Rock n roll is all about sticking it to the man and telling people to fuck off if they don't like it. With technology I feel like we've all created a false world where everyone kind of puts on a front. Just be honest and make sure you are living your life for yourself and not for anyone else.

Review Fix: What's next?
Stef w/an F: More shows, more music!

Review Fix: Anything else you'd like to add?
Stef w/an F: Thank you to everyone who has supported us over the years, and thank you to everyone new who is just getting on board in 2018. We love you all! Make sure to sign up for our mailing list at http://cityoftheweak.com & follow us on social media to stay up-to-date with all of our adventures!
[embedyt] https://www.youtube.com/watch?v=07oxYrdts34[/embedyt]