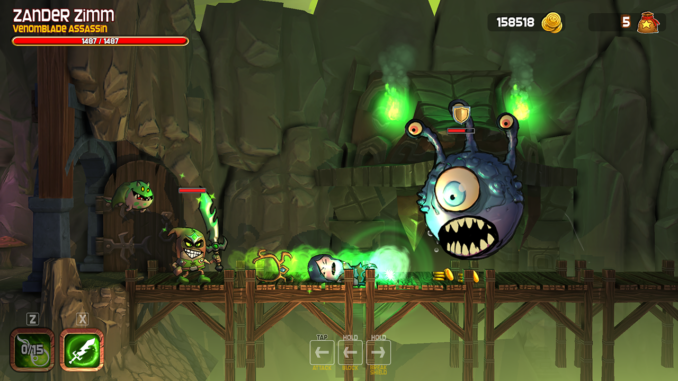 Review Fix chats with Allan Ditzig, Senior Creative Director – Furnace Games who tells us all about their new game, Dungeon Stars, which takes the Dungeon Crawler genre to an old-school, but innovative place- 2D.
About Dungeon Stars:
Use sword and spell to delve deep and battle through hordes of powerful enemies. Does the next room contain a healing fountain, a rare treasure, or the Toxic Ogre King? You need to keep on your toes as you face unknowns in every room. If you delve deep enough, you may face the legendary eater of light, the Conqueror Worm!
Review Fix: How was this game born?
Allan Ditzig: Once upon a time, two battle-scarred game developers decided to try to make a pretty decent sized game in a meager amount of time with very little help. They toiled and toiled and toiled and just when their heads were about to explode, the awesome people at Riposte said, "We'll be your publisher and get it to some gamers". The two battle-scarred game developers were very tired but very glad…and here we are.
Review Fix: What has development been like so far?
Ditzig: It's been a breeze! Honestly its everything we thought it was going to be. A lot of hard work and toil…but a lot of growth, learning, fun. Like many other devs, we used Unity to maximize our productivity, and haven't regretted it.
Review Fix: What makes this game special?
Ditzig: It's a hybrid of a runner and an action RPG. More of the gameplay is about timing and combat decisions and how those influence outcomes (like a fighting game). Less about running around and exploring. That and the expressive characters and visual style.
Review Fix: What games influenced this one the most?
Ditzig: Believe it or not, imo, probably Diablo. I know it's at a much different scale and such, but Diablo had a more fun/casual side to it where you get a good build going and you just mow down hordes enemies and grab tons of loot.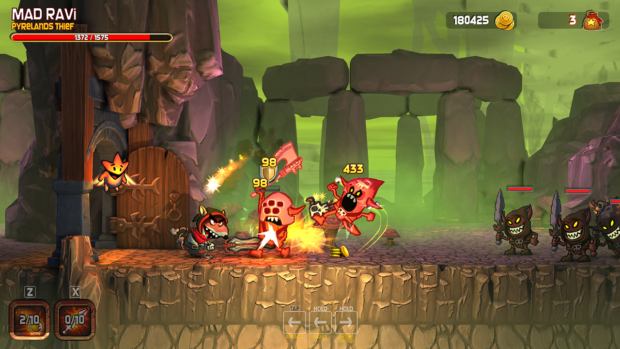 Review Fix: Any fun stories or wild moments during development?
Ditzig: Nope. Just work. But work can be fun sometimes. We've been doing this for a long time, so we're familiar with the big beats of development, so we just set 'em up and knock 'em down.
Review Fix: Do you think preserving older gameplay mechanics in new games is important?
Ditzig: If they are relevant gameplay mechanics that support an experience and make it fun, absolutely. Innovation in games is a great thing but sometimes a familiar mechanic just makes sense. When you look at the history of games going back to the original home consoles, you find that there are core mechanics have come up so often that they're now part of gamer DNA. Leveraging that is a no-brainer.
Review Fix: What's your favorite memory as a gamer?
Ditzig: Boy, that's a loaded question. I guess one experience "in a game" that just leapt to mind is Sinistar: "Beware, I live!" when the big robot head comes to life and begins to hunt you down. I can also remember some amazing social experiences in Everquest, sitting on a zone edge with 30 other people, chatting while pulling mobs to the party to beat them down. It was a snapshot of what the future of online gaming was going to be.
Review Fix: Who will enjoy this game the most?
Ditzig: Gamers that want to just have fun cracking heads and grabbing loot while not taking themselves too seriously. I mean, even when our characters try to look serious, they're still laughable.
Review Fix: How do you want this game to be remembered?
Ditzig: "No one, not even you, will remember if we were good men or bad. Why we fought, or why we died. All that matters is that two stood against many. That's what's important!" – Conan
Review Fix: What's next?
Ditzig: We still have much we want to do yet with Dungeon Stars as we're only in early release. We always imagined the game as a growing/expanding thing. Beyond that, we're in talks about next projects but don't have anything we can share just yet.
Review Fix: Anything else you'd like to add?
Ditzig: We sure hope people enjoy playing Dungeon Stars! We'd like to make more games!
[embedyt] https://www.youtube.com/watch?v=R8PLV0r2e0Q[/embedyt]