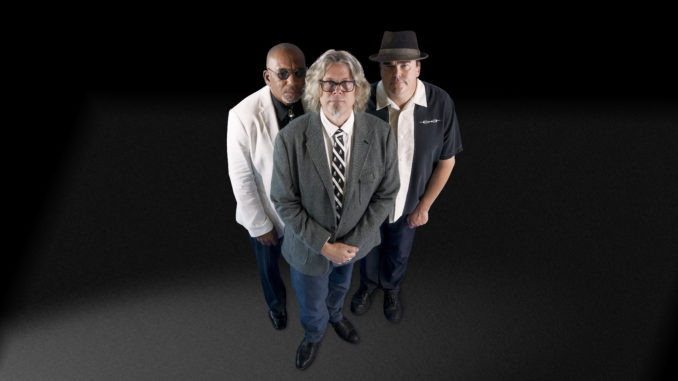 Review Fix chats with Kurt Stifle and the Swing Shift's Kurt Stifle, who details his origin in music and the what makes his band a special one.
The Los Angeles band, seemingly born out of a need for music experimentation and diversity, pride themselves on crafting a sound that draws from the past 60 years of pop music. Comprised of Kurt Stifle (Vocals, Guitar), Steve Reed (Bass), and Bob Lee (Drums), they're heavily influenced by classic rock icons such as Cheap Trick, Black Flag, and Bob Dylan. Each one of their tracks submerges listeners in a unique journey through musical history, while the band remains grounded in modern experimentation. Their latest album, "The Pilgrims' Guide to the River of Salvation" is a stylistic voyage of sound, a rock opera that possesses all the camp and humor needed to entertain, while maintaining the musical integrity one would expect from musicians of their caliber.
Review Fix: How did the band get together?
Kurt Stifle: I was putting together a bunch of songs, and I needed a rhythm section. So I asked Bob Lee if he wanted to participate in the recording project and sent him the demos. He liked and came aboard.
After a few rehearsals, Bob recommended Steve Reed for the bass. So initially Bob and Steve joined up for recording. After the album was cut, I asked Matt Lake if he wanted to back me up on guitar so I could focus on vocals for live shows, so here we are.
Review Fix: How did you get involved in music?
Stifle: Since an early age, listening to the Beatles, Doors, Tom Jones, from 1967 onward. I started playing guitar at 16, and joined up with the Nip Drivers when I was 17.
After I left the Nip Drivers, I took many years off. I started up again around 2012. I felt like a fresh beginning, and I fell in love with making music again.
Review Fix: What's your creative process like?
Stifle: Depends, but I usually start with a riff, or a beat. Sometimes a phrase or song title and build up from there. Sometimes it's quick, a few hours and a song is done, sometimes it's very slow. Months
Review Fix: What inspires you?
Stifle: Life in general… anger, love and everything in between.
Review Fix: How would you describe your sound to someone who has never heard you?
Stifle: Perhaps heavy rock in the traditional sense with a punk rock influence. Then I throw in some jazz and horn section for a kick.
Review Fix: How are your live shows different from your studio work?
Stifle: That's to be determined.
Review Fix: What are your goals for 2018?
Stifle: We're recording more tracks, and are starting to do some live shows. We would love to do some touring at some point later in the year.